As evolved promised
The promise vibrating ring by evolved is a marvelous invention. It is a bullet that could safely be inserted without worries. It is water-proof, and 100% travel friendly. It adds extra stimulation during intercourse, and solo performance. The promise ring could be used by anyone. It also has a cord distance of over 12 inches. Perfect, for shared stimulation. The promise ring is small, but it carries a punch.
Published:
Pros:
Insertable, Water-proof, Multi-Setting, Beginner Friendly, Comes with extra batteries
Cons:
Watch batteries, A little loud, Not enough texture for some
The ring is on my finger now. The evolved promise finger ring is a cutie pie of a vibrator. It is extremely straightforward, yet convenient at the same time. The promise ring is a multi-speed bullet style vibrator that can be inserted. You could just use it to stimulate then clit if you do not want to insert it. I'm in love with evolved. Although, I have gotten about two items from them that did not make me happy. I ordered the promise finger ring with high hopes, and fingers crossed.
I received the bullet vibrator, and I loved the packaging. It comes in this little, yet highly informative package. The box is all clear. The box comes with information about the toy. The information has things such as the functions, and a few other key points. The box is extremely little. You could fit the box in the palm of your hands. You could slide it into your pocket. That is how little the box. It was a pleasant change of pace. It also would be suitable for gift giving.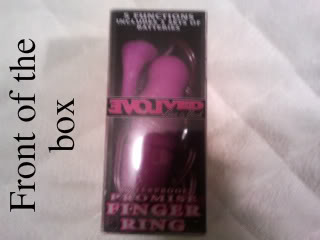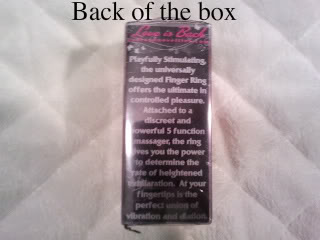 Opening the box took me a minute, because it confused me a bit. I cannot explain it in words. It is something you would have to see in person. You will have to fold them back. If using the box for storage, you can just pull the edges off. When, you remove the inner thick plastic holder. Inside sits the cute little bullet vibrator, and the ring/controller. Housed also in that compartment is an additional set of batteries! The promise ring runs on 3 watch batteries. The fact that it comes with extra batteries is a serious plus. A set of batteries are in the toy, and the other is in a plastic tray.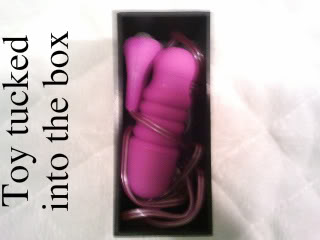 The promise ring is attached to a cord. The cord connects the controller, and the vibrator together with about a little over a foot of slack. The ring part of the vibe fits just about if not all finger sizes. It does not have a closed bottom, so it helps it accommodate most finger sizes. The bullet it self the length of your pinky finger.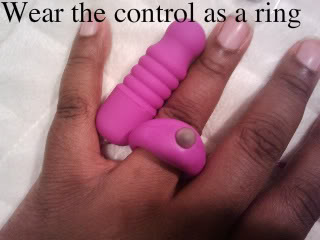 The measurements are as followed:
Length:2 1/4"
Insertable
length:2 1/4"
Circumference:2 1/2"
Diameter:3/4"
Weight:0.1 lb
The vibrations are as followed:
Medium (3bees, 3vrooms)
High (4bees, 3vrooms)
Pulsations(3bees, 3vrooms)
Fast pulsations (3bees, 3vrooms)
High longer pulsations (3bees, 3vrooms)
The promise ring does have a little texture. You really will not notice it. At least I did not feel it.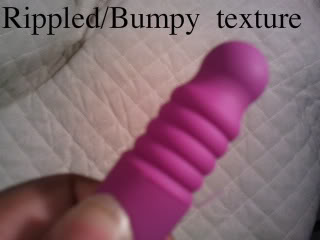 I do have to admit, that the bullet is loud.(High pitched buzzing) It is something you could hear through the covers. You cannot hear it through a closed door. When, used in the water the sound is muffled. The vibrations are not effected at all, when used in the water. That brings us to cleaning. Cleaning the vibrator is easy it can be fully submerged. You can clean it with soap, and water. You can also wash it with your favorite toy cleaner.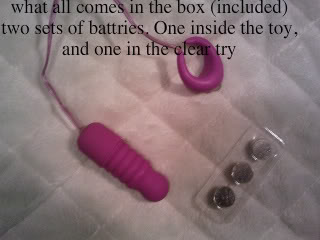 The promise ring is suitable for anyone. It is not limited to one group of users. The promise ring is convenient for traveling. You could take it, and put it into your pocket. You will not have to put effort into taking it around. It can be used with oil, water, and silicone lubricants.
Experience
I had fun playing with the promise ring. I used it with two separate occasions with my guy. We used it during oral sex. My guy performed oral sex, and he placed the vibrator inside me. The combination of the vibrations, and his tongue going to work. It helped me achieve an orgasm faster than normally. With the wire being so long, I was able to change the settings without having to bother him, or go out of my way. The next time we used it. I allowed my guy to take control. I paired it up with a dildo and gave my guy full control of the vibrator. That was one of the sessions, where I came more than once. I loved that I was still able to masturbate with him being with me. Him having the control kept me trying to figure out, when he was going to change the settings. Whenever I was close to cumming, he would change settings on me. I personally loved it. I thought this toy was well worth the money. I can not wait to order the others.
This content is the opinion of the submitting contributor and is not endorsed by EdenFantasys.com
Thank you for viewing
Promise finger ring
– bullet vibrator review page!