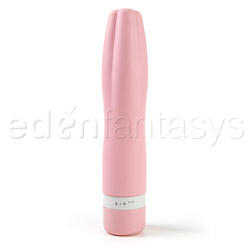 SinFive Ilo
Traditional vibrator
by Wolwin GmbH
Betty Does SinFive...........Meet the ilo
All in all, the ilo was fun to open, nice to look at, and impressive in stature and origin. But dear readers, I have to tell you... the result from the ilo is the same as the result you could get from a ten dollar remote control bullet. They will both make you come quick, but with the gas prices... save some money, buy a pocket rocket.
Published:
Pros:
Impressive packaging, intense vibrations, ergonomic controls.
Cons:
The price is just not right. Bob Barker says no.
I had read up on this unique piece before it arrived, trying to understand it's origins and design.
SinFive
is a relatively new German company (less than three years old) producing contemporary erotic products ranging from vibrators to
couples games|Adult games for couples
. Their website is a little difficult to navigate (much of the available information was in German) but I managed to browse through a bit. What I can tell you is that before it arrived at my door, I was well aware that this toy was well-designed and should knock my socks off. I was ready!
The box resembled the type of packaging you would find a high end electronic device in. From first glance, I knew this toy had to be a winner. As I dug deeper into the box, I was surprised to find a user's manual (tell me how many toys you own that have THAT) and a WARRANTY. I almost died. A one year guarantee with an additional four year option. How do you like that? I didn't want to throw the box away. Actually, I plan to store the
SinFive ilo
in its box. That's how impressed I was with the package.
Now the vibe itself is strange. Made completely out of TPR, the texture is a little wild. Very soft, but a little tough. However the vibe bends with little effort and springs back quickly. The top part of the shaft presents with four ribbed sections, meeting together at the tip. Looking down at the tip of the vibe, the four sections come together in a four leaf clover shape.
The controls are ergonomically placed on the shaft of the vibe, right above the battery compartment: a plus sign to increase intensity and change function and a minus sign to reduce intensity or power off. According to the manual,
SinFive ilo|SinFive Ilo
is safe to use with silicone- or water-based lubes. On the down side, this toy is not really made for group fun (much to my chagrin). TPR is very porous and cannot be sanitized with boiling water. So unless you use a condom with it, I do not recommend sharing. However, clean up is simple. Soap and water or any commercial toy cleaner is safe to use.
So DJ and I made some alone time to play with my new toy. I am not one to purchase a traditional vibe (I prefer multi-function) but I opened my mind to give ilo the best chance possible to make my day. I was very enamored with it so far, so I expected an intense experience.
Now, as far as a clitoral vibe goes, the ilo is spot on. She sports six levels of intensity and three different functions. Moderately noisy but not loud enough to be heard through a closed door. The vibration itself was very intense, the highest setting left me a bit numb after a minute or two. The function I found myself adoring was the "rollercoaster" setting. Very nice, total win. DJ flipped through the settings over and over again, training the clover on my clit. The clover shape is ingenious, covering a very wide area and bringing pinpoint precision to stimulation. DJ decided to see what it would do if it were inserted. Truth be told, I could have left it on my clit and called it a night, but...
By itself, the ilo felt like any other ordinary vibrator. Without clitoral stimulation, the result was a bit boring. So, after a few minutes of the old "in and out" we returned the clover to my clit and the rest was history. The orgasm was nice, but not what I would expect from a hundred dollar vibrator. For that price, I wanted to be blown out of the water, but I found myself floundering in low tide. I was disappointed, I really wanted to love the ilo. What I love most about toys is their ability to provide you new sensations and experiences. This toy left me wanting more.
This product was provided free of charge to the reviewer. This review is in compliance with the FTC guidelines.
Thank you for viewing
SinFive Ilo
– traditional vibrator review page!