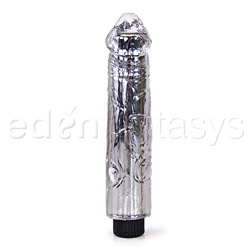 Waterproof silicone
Traditional vibrator by Pipedream
Big Splashy Fun? Maybe a Little TOO Big...
Sometimes it's better just to have the cake and leave the icing--the plain silver vibe under the fantastically tempting silicone sleeve actually works 3x better on its own. With the sleeve, it becomes too large and the vibrations die down to a dull buzz. For in-the-shower fun, I leave the sleeve behind and just take the vibe!
Published:
Pros:
Realistic look, sleeve is easy to remove, strong vibrations without the sleeve, waterproof.
Cons:
Flimsy plastic cap/base, too big, can't be used with silicone lube, weak vibrations with the sleeve.
This
Waterproof Silicone Vibrator
consists of a transparent silicone sleeve over a silver vibe. Fresh out of the package, it has a faint rubbery scent, but it is not inoffensive and goes away with a few washes. The
TPR silicone sleeve
is nice and stretchy, with a realistic penis shape. The head of the sleeve is just silicone, so it's rather plush and "bendy", as opposed to the rest of the sleeve, which is filled by the vibrator and is therefore rigid with very little give on the sides. The sleeve is easily removable from the vibrator with only a little tugging. The vibrator is cylindrical with a blunt head. The dial base also doubles as the cap for the battery compartment. Made of black plastic, at first I was afraid that it would be very flimsy and crack within the first few uses. Fortunately, this has not happened yet. The seam between the base and the silver plastic of the body is sealed with a watertight ring.
I popped two AA batteries in and turned on the vibrator to give it a test run. Without the sleeve, it is QUITE loud. I live in a dorm and I had to stuff it under a comforter or two to get the noise down to a level that I felt "safe" with. The vibrations are nice and strong for clitoral stimulation and I got off easily with it. In terms of insertion, however, the head is simply too flat and blunt to make insertion pleasurable.
When it was time to test the star features of this toy--the sleeve and waterproofing--I slid the sleeve back onto the vibe with very little trouble, wrapped a towel inconspicuously around my new silver penis pal, and tiptoed into my floor's bathroom. Sneaking into one of the unoccupied shower stalls, I closed the curtains, ran the shower till it was nice and steamy, and stepped in, vibrator in hand.
Once in the shower, however, I couldn't get the vibe in. I am what my boyfriend refers to as "compact". I'm small. Tight. My engine needs to be well-oiled and warmed up before I'm ready to go. Et cetera. The toy was a bigger than what I could handle. Also, due to the fact that I was in the shower, where any natural lubrication I was able to work up with the weak vibrations that made it through the thick sleeve was washed away by the hot water, the vibe was having a hard time getting in. I did everything I could. I spread my legs as wide as they could go in the tiny shower. I angled my hips differently. All attempts were to no effect. Finally, frustrated, I shoved it until it violently shot in and punched my cervix, much to my pain and sorrow. I yanked it out, tore off the sleeve, and consoled myself with the plain, unclad silver vibrator.
If you were thinking "why didn't you just use lube with it in the shower if you were having such a hard time getting it in?" The answer is: because the only waterproof lubes that I know of are silicone, and using silicone lube with silicone toys is a BIG no-no! Silicone lube is known to degrade silicone toys, so best keep those two things separate.
The toy is truly waterproof, or at least effective enough for the shower. Even after a thorough test run under steaming hot water, the battery compartment was dry as dust when I opened it afterward. The quality of its waterproof ring is good. However, as I have mentioned before, the cap does not seem sturdy enough to see long-term use. Any crack in it at all would deem it utterly useless as a waterproof toy.
To clean, a mild antibacterial soap or toy cleaner will do the trick. TPR silicone is relatively less porous than, say, your run-of-the-mill jelly and rubber, but it's still safer to use a condom if you plan on sharing with a partner or, despite the lack of a flared base, decide to incorporate it into your backdoor shenanigans repertoire.
I've had unhappy first-time experiences with toys before, so I won't say that this toy is a heap of junk. What I will say is that the toy with the sleeve was too big for me, so size could be an issue for other "compact" women. I am also very paranoid about the plastic cap--it is pretty flimsy so one strong twist in the wrong direction could potentially crack it and make the vibrator useless forevermore, not to mention no longer waterproof. However, if you are someone who is comfortable with slightly larger toys and who doesn't care about flimsy construction, then this could be the toy for you!
Follow-up commentary
21 days after original review
After a little more work, I'm starting to warm up to my silver silicone toy! It's still a little difficult without any lube on hand, but with enough patience, I can get myself wet enough to ease this toy in without punching myself in the cervix. And then--OH BOY! The girth of it is delightful for slow thrusting, and I love the feel of the veins. Some of the customer reviews claim that it feels like the "real thing". I'm pretty picky when it comes to the real thing (only my boyfriend will suffice!), so I'm not jumping on that bandwagon. However, it DOES feel pretty good. I couldn't get myself to cum with it, but I did get myself in a fairly aroused state and I was able to finish myself off with a bullet vibe to the clit.

My boyfriend likes to play with my toys, so he tried using the sleeve for masturbation. He dripped silicone lube into it and laughed when I freaked and ran into the bathroom to wash it out. We put some water-based lube into it instead (which I can't use because we don't have any glycerin-free) and he slid his shaft inside it and worked it up and down a bit. The sleeve produces a light suction when he pulls partway out, which he said feels nice, but not mind-blowing.

He also used the suction on my clit, which got me fairly aroused but did nothing more than that. The sleeve's opening is a little too big to get a good "grip" on the pubic mound, so that is fairly predictable.

Overall, not a bad toy at all! It just takes some getting used to if it's your first non-slender toy.
This product was provided free of charge to the reviewer. This review is in compliance with the FTC guidelines.

Thank you for viewing
Waterproof silicone
– traditional vibrator review page!