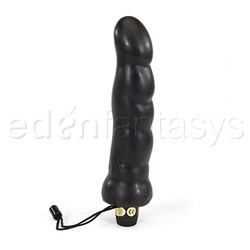 Pitch black vibe
Traditional vibrator
by Topco
Black, Thick and Wow What A Vibe !!!!!!
If you can forgive The Pitch Black for it's smell and sticky texture, it's a fantastic vibe. The size and shape can create some super hot orgasms.
Published:
Pros:
Size,shape,vibration,and stiffness are fantastic.
Cons:
Smell,Sticky texture, Needs a vibe in the tip, could be tapered more.
My wife Di and I thought it was about time we tried a toy that was suppose to mimic human skin and after reading the description of the
Pitch Black vibe made of SensaFirm
we decided to try it out.
The day the Pitch Black vibe arrived my wife was out of town for a while so I opened it up and checked it out. The first thing that I noticed; it was hard to ignore, was the strong rubber smell. Having had rubber and jelly toys before I was hopeful that it would go away after a few washings. Well no such luck. After we've used it five times and it's been washed at least ten times the smell is still there.
The smell aside, I checked out the Pitch Blacks other features. The size and weight are great if you're looking for a larger vibrator; 7 inches long and 1 7/8 inches at it's thickest point. The vibe is sculpted nicely with four large ripples down the back and larger bumps on the top that are placed so they give you maximum clit and prostate stimulation. The vibe only goes about half way up so using the tip for clit stimulation is pretty poor. We decided to try this vibe because it was suppose to feel close to human skin, well we're disappointed again. The Pitch Black is soft to the touch and flexible at the tip, but as far as feeling like skin, no way. The biggest problem I saw was it was very sticky even after numerous washings. It attracted lint and hair like a magnet so we had to wash it every time before we used it and because of the stickiness we also used a condom on it. Of course, using a condom is a must because SensaFirm is very porous and difficult to clean. Also make sure to use only water based lubes.
Even though I was slightly disappointed with the smell and feel of the Pitch Black, I decided to see how well it worked anally. After slipping a condom on it and lubing it up well, I laid back and worked it around my ass. The description says the tip is tapered for easy insertion, well I'm no anal virgin by a long way but, it took me quite a few minutes to work the big, blunt tip into my ass. Up until now, I know it sounds like there's nothing good about the Pitch Black but once I got the head into my ass the rest slid in nicely. I started the vibe slowly and realized the center bump where the end of the vibe was located was
resting on my prostate
and as I turned the vibe up and stroked it in and out of my ass, I started to get some wonderful sensations. The base is nicely flared so it works great for anal sex. This big vibe did its job fabulously and had me cumming in no time. It felt so good I continued through two more cum spewing orgasms.
Experience
My wife Di came home a few days later and after getting over the Pitch Black's smell decided to give it a try. Again covered with a condom, she worked it over her clit with the vibe going and was disappointed. She slowly worked it into her wet pussy and started to moan slightly when it was all the way in. She started rubbing her clit and stroking the vibe in and out pushing so deeply into her pussy that later I joke with her that must be what the string on the end of it was for, to pull it out when it got in too far. I had never seen Di stroke a dildo or vibrator in and out of her pussy so fast and so hard before. Later she told me that the faster she went the better the bumps felt in her pussy, the center one with the tip of the vibe worked her g-spot nicely and that the deeper she pushed it into her pussy the better and fuller she felt. This all lead to about five or six gushing orgasms and then she just laid on the bed rolling back and forth with the Pitch Black still inside of her. Despite it's smell and texture, Di and I intend on using the Pitch Black a lot.
Follow-up commentary
2 months after original review
Despite its smell which hasn't gone away, and the sticky feel, we still use the Pitch Black vibe from time to time. I do so enjoy using it anally on myself. Di likes the size for vaginal play. We do have a recommendation. If you purchase the Pitch Black we recommend that you store it in a Ziploc storage bag. We found that by doing that immediately after cleaning, it will stay nice and clean and be ready for your next use.
This product was provided free of charge to the reviewer. This review is in compliance with the FTC guidelines.

Thank you for viewing
Pitch black vibe
– traditional vibrator review page!