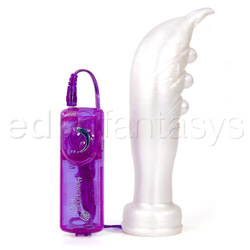 Diva
Massager
by Downunder Toys
"Blah" from Downunder...
I'm hard pressed to write a review on this toy, because quite honestly, there really wasn't anything truly remarkable about it to my way of thinking. It had a couple of interesting concepts, but for me, personally, they just didn't deliver in the long run.
Published:
Pros:
Silicone, easy to clean, gentler vibe for those that don't like strong clit stimulation.
Cons:
Not a functional shape. Vibes will be weak for most. Odd packaging.
...Packaging was the first thing that I found a bit strange. If you have ever received in the mail or purchased at a craft fair homemade bath and body products, then that's what it will remind you of. Simple, see-through flimsy box, and the toy was in a Ziploc bag (which I admit, bugged me from a sanitary point of view as someone more paranoid could easily deduce that there was no guarantee that the toy wasn't contaminated in some way) with an insert that looked like it had been printed off of someone's personal computer. I'm not saying that this bothered me necessarily, I'm just saying I found the packaging approach different from what I am used to and there may be others reading this review who wouldn't be sure what to make of that and might even have a problem with it. So I felt it worth mentioning.

I will say that this toy's best feature is that it is made from non-toxic pure silicone. Its silky texture is quite pleasant against the skin, and it makes the toy easy to clean and store.

Supposedly, you should be able to remove the vibrator that is within the toy in order to thoroughly sterilize it, if the instructions that came along with it are accurate… but I can honestly say, that even with the use of lube or oil, that just isn't possible unless I want to pull on the cord and risk breaking the toy.

As for the toy itself, I admit that I'm unsure as to why it's even designed the way it is, unless they were going for something that wasn't so much functional or had a purpose, but just looked totally different from everything else.

If that is the case, then they accomplished their goal, because I don't really know what to make of it. But every time I look at it, the closest comparison to something else my mind can make is some sort of mutated centipede. It's like the poor thing couldn't make up its mind as to whether or not it wanted to grow up to be a dildo or a clit vibe and somehow got stuck between the two.

Simply put, it's a toy with an identity crisis. ;p
Experience
The vibes aren't that strong, so if someone needs strong clit stimulation, then they are out of luck with this toy. But if someone only requires gentler, lighter stimulation, then they would probably enjoy this toy. As I said above, the material is the nicest feature on this toy. The tickler tip does feel pretty interesting, and if you flip it over onto the smooth rounded back of the head portion, then that feels pretty good as well as it sort of simulates a sensation of an actual tongue. But I was unable to reach orgasm with this toy, and none of its other features did anything for me. The nubs are not placed well, and the toy is much bigger than it should be for just an external vibe.

Its price is also higher than I would have wanted to pay for a toy that didn't offer more "Wow!" effect. There are other cult favorite clit toys out there that are far better at rocking a woman's world for less money.

Normally, when I get a toy that I really like, I can write a very in-depth review about the entire experience… some of my reviews on my favorites have been several pages long, but I just wasn't that impressed with this toy. I can't really think of anything else to say about it.

But if you are someone who likes very odd looking yet gentle clit vibes made from silicone, then you might enjoy this toy.
This product was provided free of charge to the reviewer. This review is in compliance with the FTC guidelines.
Thank you for viewing
Diva
– massager review page!