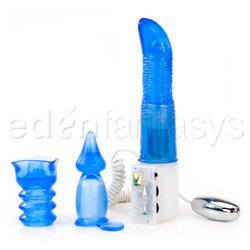 Blue delilah
Vibrator kit
by Vibratex
The Blue Delilah Gave Me the Blues
The Blue Delilah is a kit that offers options with versatile attachments. Despite the extras, the main features just weren't enough to curl my toes and keep me cumming back for more.
Published:
Pros:
Elastomer is a safer material than most.
Cons:
The vibrator lacked power.
I've never tried an Elastomer product; when touching the texture for the first time, it felt a little like stiff jelly, but had more give and was also
phthalates-free
, which has become increasingly more important to me when searching for new toys.
The
Blue Delilah
is a
g-spot vibrator
with a bullet attached by what looks like a phone cord. Most
dual vibrators
have
bullets
that are fused right onto this shaft, but this one can be moved to whatever body part you want! For the bullet, there are two attachments; neither of which look like animals. I know a lot of women that have trouble using toys that look like some adorable little woodland creature, so I'm happy to say these looked modern rather than mammal.
The cone shaped attachment was intended for
anal use
. A little over an inch on the
butt plug
was an indent which I could stop at without worrying if it would slip out ,or I could choose to continue to slide it in until the pull tab base. I liked the pointed tip on the teardrop plug; coupled with the elastomer it made insertion easy and comfortable. The second attachment was a little sucker intended to be snuggled against my clit. There were five nubs which when vibrating teased the hell out of me! Unfortunately, all the nubs did WAS tease me. The bullet was fairly powerful but didn't go deep enough inside of the suction cup attachment to bring me to close to orgasm. I had to take the attachment cover off and use the bullet naked in order to cum.
The description said it had a 5" circumference, but it didn't feel that thick to me. The elastomer felt slightly stiff inside of me, and coupled with the curved g-spot tip, there wasn't much give to the shaft at all. As yo what should have been a plus, it had a second dial for the vibrator to gyrate. I turned the rotations up to max speed, but the shaft barely moved. I could definitely hear it working, but I wasn't able to feel it working. I thought maybe I was too tight and my muscles constricted the shaft's movements, but when I took it out and held it in my hand the shaft barely wiggled.
Unfortunately, I didn't love this toy. The only thing to love is that the Blue Delilah shares it's the name with a great song by an obscure Rockabilly band, Penthouse Playboys. Vibratex obviously puts a lot of thought into their toys, but this one was too subtle. While it had some great features; a bullet with a 5 ft long cord, an on/off switch, various speeds on the dual dial base, it just didn't make it above 3 stars. The bullet didn't vibrate enough for me, the shaft didn't rotate enough for me, and it was just too loud for its obvious lack of power.
Follow-up commentary
7 months after original review
While I'd still only rate the Blue Delilah a 3, it doesn't mean that I don't appreciate this toy.

When I received this vibrator kit I was really just at the beginning of my sex toy sexploration. I've been buying vibrators for years but I had never bought an elastomer vibrator before. In fact, I didn't really know what elastomer was. Edenfantasys' guide on materials let me know that it was an upgrade from jelly and cyberskin toys but still wasn't nearly quite as good as silicone. The best bits of knowledge the material guide shared was that I could use both water and silicone lubricants with it and also that this particular toy is phthalates-free. I can't express how important it is to me now to have a toy that I don't have to worry about putting a condom on in able to use it. I also love not having to worry about what lube I grab. I know how it can be when you're in the moment, you just want to be able to cum, you don't want to spend minutes reading over labels to make sure your lubricants and toys are compatible; with elastomer you can use both silicone and water because it's such a versatile material.

The Blue Delilah is simple and extremely hassle-free. It isn't difficult nor intimidating to use. While it lacks in power and is a bit too noisy for my taste, it's biggest plus is that it offers a bullet on a 5 ft long coiled cord. That's phenomenal! Do you know what that means for mobility? You could actually stick your vibrator inside of a nightstand drawer next to the bed and bring the bullet into the bed with you. If anyone were to walk into your room unexpectedly you could play as if you were just talking on the phone and had pulled the receiver under the covers because you were surprised. (Trust me on this one, I've actually done it and it actually works.)

Another plus is that the kit offers 2 different covers for your bullet. One is intended for clitoral use (I'm not a big fan of it) and another for anal (this one I actually love). I loved the feeling of the attachment covers, the elastomer was smooth and comfortable, but I wasn't crazy about the stiff, texturized elastomer shaft of the vibrator. The only special thing about the vibrator is in it's ability to rotate, but other than that it's really just a simple, clean, phthalates-free vibrator.

After seven months in my collection, I can definitely say this is a toy that does belong regardless of it not being a first choice. If you want a beautiful vibrator that's simple but offers options for both clitoral and anal stimulation, this kit would definitely be a solid purchase.
This product was provided free of charge to the reviewer. This review is in compliance with the FTC guidelines.
Thank you for viewing
Blue delilah
– vibrator kit review page!