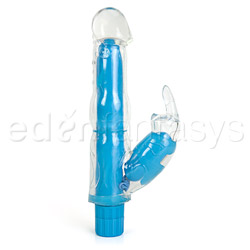 New impulse rabbit
Rabbit vibrator
by WHK GmbH
Bob Marley's Favorite Sex Toy
I would be cautious about purchasing this product if you are concerned about it being detectable, even by smell. The life of this product in my toy collection consisted of being tightly closed in a plastic bag. If this product didn't have such a terrible smell, then I would definitely recommend it based on penetration-less experimentation.
Published:
Pros:
Multiple modes, simple, easy to clean.
Cons:
Smells bad! Hard to remember which setting you enjoy.
I purchased the New Impulse Rabbit because I had never tried a dual-action sex toy before. When it arrived, I was quite excited to open the package. Plastic-wrap finally removed, I was extremely disappointed to find that the product emitted a TERRIBLE smell. Even after washing the product several times, the scent remained. It was not a typical plastic-smell and it actually put me in an awkward situation at one point; I made the mistake of taking the vibrator out while visiting my dad's house, and he could smell the material outside of my room! He asked me if Bob Marley was staying upstairs with me, and asked me not to smoke in the house (I don't smoke!). To put it bluntly, the New Impulse Rabbit smells like Mary Jane.

The smell of this product was enough to convince me that I would not like to insert this product inside of me. I did experiment with the different modes though, which seemed very appealing, some more than others. It's always nice when a sex toy provides many different options for pleasure - this one has a vibrating mode for every mood! The vibrations appeared to filter throughout the clitoral attachment as well. I was worried that the clitoral attachment might not vibrate enough to cause true pleasure, but the sensation that I felt with my fingers and while pressing it against my clit was very nice AND strong. The material was clear and easy to clean, and the batteries were equally easy to insert. It is not the loudest vibrator that I own by any means, but it does make a bit of noise, especially on some of the more intense settings.

As far as the multiple vibration settings are concerned - I liked the concept a lot. However, having so many different modes and having a small control button on the bottom made it hard for me to remember which modes were my favorites or how far I was through the sequence. So, it may take a while to play around with the different settings to find the exact set of vibrations that please you the most ;)

Aesthetically-speaking, I have a small pet-peeve about purchasing products that are made of clear material. This product is constructed of clear material - or at least the model that I received - and I tend to think it looks a little "unsexy" during play because any fluids are visible on the shaft in general. So, I tend to go for something with a little more color to make the experience seem less messy. This is just a personal preference though. Overall I thought the girth of the product was ample and not too big for any beginners that might be interested in trying it out. I myself was a beginner in the dual-function arena, and if not for the unbearable smell of the material, I think I would have had a great time experimenting further with this product.

I'm not sure if the smell was particular to the product that I received, or if this applies to all of these vibrators that are on the market. I sure hope not! It looks great, the vibrations feel very strong, and it is simple to use - if only the scent didn't waft across entire rooms . . .
This product was provided free of charge to the reviewer. This review is in compliance with the FTC guidelines.
Thank you for viewing
New impulse rabbit
– rabbit vibrator review page!