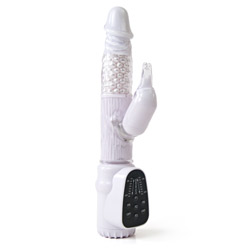 iVibe rabbit waterproof
Rabbit vibrator
by Doc Johnson
Bunny-less Rabbit Vibe
No animal poking at my clit, just a soft phthalates-free protrusion to get me off. The beads spin freely and the shaft rotates while the clit stimulator vibrates, all working together to create a blissful climax. Easy to clean and care for, this toy is simple and fun to use. Moderately quiet and quite strong, the iVibe Rabbit is a toy made for toy lovers.
Published:
Pros
Phthalates-free, powerful, simple to use, moderate size, waterproof, stylish.
Cons
Shaft has a slight back curve, battery cap takes some strength to fully close.
Do you like a
bunny
bobbing spastically about your clit? How about being licked by a
beaver
? Perhaps being poked by a
hummingbird
beak better suits your fancy? Or maybe, just maybe, you don't want an animal anywhere near your clit. I am in the "no animals or bugs, please" group, and I am happy to report that the
iVibe Rabbit
is not animal related. The clit stimulator is simply a soft flat prong with a forked end. The rest of the toy follows suit with a design pleasing to the eye. The sleek design is modern and simple, something I find irresistible.
When it comes to functions, this dual action vibe has a lot to offer. It's got the clit stimulator that vibrates, the beads in the shaft that spin, and the top half of the shaft rotates a full 360 degrees. The "on" and "off" buttons on the left side control the 8 speeds of vibration in the clit stimulator, while the "on" and "off" buttons on the right control the 8 speeds for the rotating head and spinning beads. Between these two sets of "on" and "off" buttons lays three function buttons. "F1" is steady vibrations and rotation, "F2" is long pulses of vibrations that coordinate with the rotating head and beads changing direction, and finally "F3" is short rapid pulses of vibrations with spastic rotational direction change in the shaft and the beads. The function buttons can be used independently of the vibrating and the rotating, meaning one or both of the features may be turned one while switching between functions. A little quirk with the controls that I must mention is that there is no "kill switch" meaning if you like it on the highest settings, you must press and hold the button (or independent presses) until you shut off each function. It isn't any big drawback, but it could be inconvenient for those who find stimulation after climax too intense.
The battery pack is marked with little hearts so you know when you have the cap twisted shut fully. I found the cap took a good amount of oomph to close tightly enough to get the little hearts to line up. Four AA batteries fit into the battery compartment, and I thought they were quite easy to install. This vibe boasts being waterproof, and indeed it is. I have used it in both in the shower and the tub without incident or any water sneaking into the battery compartment. I use rechargeable batteries in vibes that use AA, and that is all I have used in this particular toy. I have not used the toy long enough to completely drain the batteries as of yet, but I've put in at least 90 minutes of play time without seeing a reduction in power at all.
The vibrating clit stimulator was strong enough to easily bring me to climax, and I noticed no slowing of the rotating shaft during those pre-climactic moments when my body squeezes the hardest. The power was quite good, and the sound output I found to be pretty average. This is definitely quieter than the
original Rabbit Pearl
, but not quiet enough that a heavy blanket muffles it completely. I am confident it can't be heard through a closed door.
The toy is made from soft PVC, which does emit some smell and a tiny bit of taste. The packaging states on it that it is phthalates-free, so no worries there. The toy is porous however, and condom use should be considered for optimum hygienic purposes (especially if sharing between partners an/or orifices) and to extend the life of the toy. For cleaning simply use antibacterial soap and water, or your favorite toy cleaner. For compatible lubes you may use both water-based or silicone-based, so just go for your personal favorite.
Size-wise, the
iVibe Rabbit
is pretty standard. The shaft is 1 1/2 inches in diameter, and approximately 5 inches long of insertable length. This size should be good for most women.
Experience
Some of the things I enjoy about this vibe are the veined texture on the shaft and the prominent ridge on the realistically shaped head. While the veins aren't the main attraction, they do help create a little extra something that I appreciate. The shaft leans back some, which makes it less effective in hitting the G-spot than a forward curved toy would be. If it wasn't for that lovely ridge adorning the head, it probably wouldn't have even hit my G-spot. I do angle this some in order for it to reach, and it does an excellent job in getting me off via G-spot while I have it at the correct angle.

While using this, I have not had the beads jam, although they are flaking. The outer shiny layer on the beads is starting to come off, and while concealed within the toy, it doesn't look as great as it used to. Other than the beads flaking, I think this vibe is great quality and it seems well made.

Everyone could benefit from a good rabbit style vibe, and remember, these things aren't just fun for us ladies. Men can use rabbit style vibes anally (condom up first though, as this one can't be sterilized). The rotating shaft stimulates the prostate, the spinning pearls work on the anus, and the clit stimulator vibes the perineum. I don't have a man to test this on currently, but I've been told dual vibes are orgasmically delicious when used this way by men.
This product was provided free of charge to the reviewer. This review is in compliance with the FTC guidelines.
Thank you for viewing
iVibe rabbit waterproof
– vibrator review page!