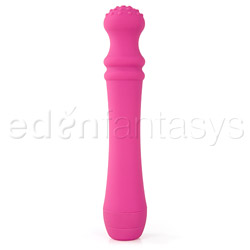 Illusion wand Passion
Traditional vibrator
by California Exotic
Checkmate? Maybe, Not.
The Illusion Wand Passion is made out of stiff plastic covered with a velvety coat of rubber. This splash-proof vibe has a nubbed head and ribbed neck for clit and vaginal stimulation. With 5 different settings of pulsation, this is a great intro to multifunction vibes. The Illusion Wand does, however, only have one speed and it's a fast one.
Published:
Pros:
Nice variation in patterns, GREAT for teasing, easy button operation.
Cons:
Rubber cote material cannot be sterilized, not multi-speed, nubs not great internally.
"It looks like a chess piece," was the first thing that came to mind when we first received the
Illusion Wand Passion
by California Exotic. It looks like a very tall, bright pink pawn with nubbies on the top.
This plastic-based vibe is covered in a velvety feeling rubber coat. While a slight seam can be felt with fingers, it is too smooth to be felt otherwise or be a problem when cleaning. Because this toy is coated in rubber, it is porous and cannot be sterilized, so you'll want to use a condom for safety, especially if sharing. I can't find anything claming the toy is phthalate-free, but there was also no strong chemical smell. Rubber is compatible with both water and silicone based lubes. To clean, use any toy cleaner or soap and water, though while the material doesn't hold onto lint, it does seem to keep hold of fluids and the nubs don't really help. Also, I know it looks super cute, but don't put it in your butt. There's not base to keep it from getting lost. So just don't.
The Illusion Wand takes two AA's and for some reason my re-chargeables didn't fit very well into the vibe while normal batteries fit just fine. Inserting the batteries is easy and the cap has a tight seal that is splash-proof. There is a single button on the bottom of the toy which is very easy to locate and press, but is not so easy to press that you can accidentally change settings mid-session. With this button, you can cycle through the 5 settings offered, but if you want to turn off the vibe, you must cycle though until the end.
The settings were surprisingly different than any other vibe we had played with before. (I'll try to represent these in the Experience section below.) The settings are really combinations of 3 different pulses and 1 straight vibration. The first one is the 3 pulses each for about 5 seconds before quickly transitioning to the next type of pulse. The second setting is like the first but with a straight vibration added to the mix and with a full second of pause between each pulse. The third is a sustained pattern of short pulses, the fourth is a sustained straight vibration, and the last alternates between these last two.
You cannot, however, adjust the speed of the vibration. Every setting is a relatively high power, so there is no variation in vibe strength. The quality of the vibe is somewhere in between a thrum and a shallow buzz. The vibration is very localized and feels like a very intense version of a shallow buzz type of vibe.
I think this would be a great second or third vibe for someone looking to expand their collection without going into too many bells and whistles, while still getting a variety of sensations. I would not recommend this to people who tend to prefer multi-speed vibes or lower power settings, or people who are looking for a thrusting toy.
Experience
In use, neither my partner nor I found anything spectacular with this vibe. It is, in essence, a traditional vibe with the twist of interesting patterns and a neat shape. By far, the best part about this vibe was the second setting. While not so exciting during partnered sex, during masturbation those pauses really made my partner buck and moan when the vibration stopped and jump when it started again. When alone it simulates having someone tease you and takes the power out of your hands, even when the vibe is in your hands. This setting is frustrating in the way that it prolongs the time before orgasm, although neither of us experienced greater than average climaxes while using this toy.

I rather enjoyed the very pronounced feeling of the nubs rolling over my clit and nipples, but these were very unpleasant for my lover. The nubs did make insertion rather uncomfortable, no matter how much lube was involved. They just seemed to grab on give me a lot of resistance. Internally, the distinct ribs were nice, but they are set so close to the head of the toy that any real thrusting action to make use of them made the toy slip out and that presented to prospect of having to get past those nubs again. It's also too straight to find any really g-spot stimulation.

Overall, my partner enjoyed this toy more than I did. For some reason, the frequency of the vibration completely numbed my clit. If there had been a lower setting in addition to the higher one, I might have been able to work up to the current speed of the vibe. I was able to get off with this vibe once, but the second time I used it, it completely numbed me and I lost interest. My fiancée didn't experience this at all, and while she also wanted a lower setting, she was able to get off on this toy a few times. I should also mention that in general, she has a much easier time reaching climax, while I usually have to work for it, and this one just didn't work with me.

Here is a representation of the five different settings as I can best express them in text. :)

1.
BZZZZ..BZZZZ..BZZZZ..BZZZZ..BZZ.BZZ.BZZ.BZZ.BZZ.BZZ.BZZ.bzz bzz bzz bzz repeat.

2.
BZZZZ..BZZZZ..BZZZZ..BZZZZ... BZZZZZZZZZZZZZZZZ…. BZZ.BZZ.BZZ.BZZ.BZZ.BZZ.BZZ... BZZZZZZZZZZZZZZZZ repeat.

3.
bzzbzzbzzbzzbzzbzzbzzbzzbzzbzzbzzbzzbzzbzz repeat.

4.
BZZZZZZZZZZZZZZZZZZZZZZZZ repeat

5.
BZZZZZZZZZZZZZZZZZZZZZ.. bzz bzz bzz bzz bzz bzz repeat.

That was pretty fun to do, so I hope it helps!
This product was provided free of charge to the reviewer. This review is in compliance with the FTC guidelines.

Thank you for viewing
Illusion wand Passion
– traditional vibrator review page!