Childish name with a lot of adult fun.
Lulu is a wonderful clit vibrator. You can pair it up with another one of your favorite toy. The size is perfect for traveling, and this toy is very much beginner friendly. It has a soft, velvety texture. With strong vibrations, the vibrations are so quiet that you can use it in the same bed as your partner, and they wouldn't suspect a thing.
Published:
Pros:
Strong, Multiple settings. Quiet,Smooth, Multiple uses,
Cons:
I wish it had more settings.
Lulu doesn't it sound like a childish name? That is what I thought when I first seen this on the website. I hoped it does not suck as bad as the name does. I'm getting into the wand type vibrators. I decided to give this one a go. I'm so glad that I did.
Lulu is a clitoral and G-spot vibrator by California exotic. I do not know if I would recommend this as just a g-spot vibe, only because I feel it is too short. Used as a clitoral vibrator, I think it is perfect. The Lulu comes inside of your normal plastic box. The toy is in full view; which might not make it perfect for gift giving in a non-adult setting. The toy is pictured on the sides and the back of the box, and it has key points on the box about the toy, and its functions. When you open up the lulu, it is sitting inside of a clear holder. The package is not discreet, but can be used as storage.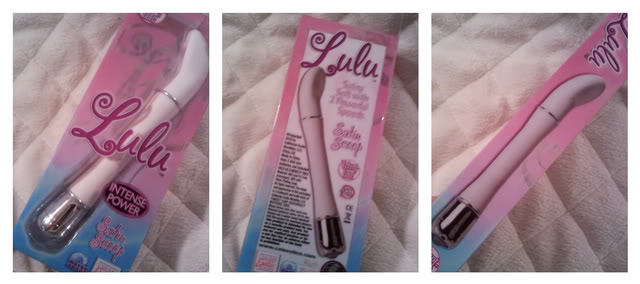 Now, for the Lulu, I did not think it was going to be, as thin as it was. I was kind of surprised but not disappointed. The Lulu is basically a clit vibrator with a handle. Lulu has a length of 6 inches and an insertable length of 5 inches and has a diameter of less than an inch. The handle of the lulu is really thin, and can somewhat feel as though you can break it. I did try and bend it, but you would have to apply a lot of force in order to break it. Lulu has a cup like bottom that connects to the handle. This is where you place your clit. The clit part is more of a scoop, it like a little bowl for your clitoris. The indentation of the scoop is very lightly indented. It is large enough to fit the largest clitoris.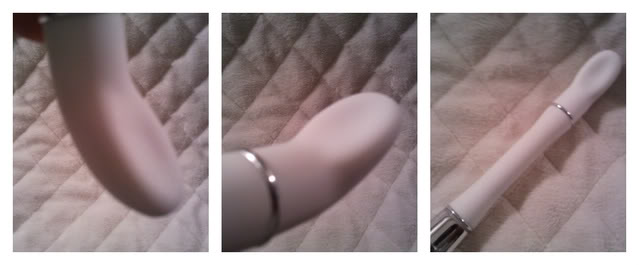 The texture of lulu is soft and velvety, and completely smooth. It has no rough edges on it what-so-ever. The texture does have a lite drag to it. It is made of ABS plastic with PU coating. It can be used with silicone and water based lubricants. Depending on the person, you may need to add a couple of drops of lubricant want using it.
Neither the product page nor the box has anything on it about it being good for G-spot stimulation. I personally think it would be. The curve of the neck is angled for g-spot stimulation. Although, I know some women may have a hard time angling it right because of the small size, but for those who could I think it would be perfect.
Lady Lulu is fully waterproof, so you can take her into the shower or bath. When cleaning her, you can use soap and water, or your favorite toy cleaner. The top of Lulu has an O-ring, which proves that it is waterproof. When using it in the water make sure that the top is tightly closed. If, it is not closed, you can get water into your toy and possibly ruin it. If, you happen to get water inside the battery compartment, take it apart and allow it to completely dry before using it again.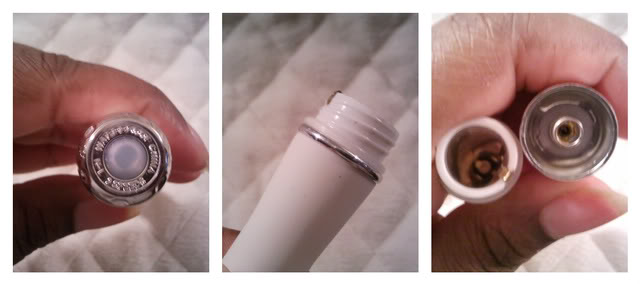 Lulu's vibrations are strong. It is not ground breaking, but it is very strong. The lulu only has two setting, which are a high vibration, and a high pulsation setting. I do not think there needs to be a lower setting, because the settings are perfect. It runs on two triple A batteries. She is operated by one push button that is at the bottom of the toy. The vibrations are not that loud. You can't hear it though the covers or a closed door. When used in the bathtub, the vibrations are still the same. Some toys are weakened by the water, but with lulu that is not a problem.
Traveling with the lulu is easy because she doesn't require much work, or much space. You can toss her into your bag, or depending on your clothing you can toss her into your pants pocket. You can't use lulu anally. She's way too small, and the curved head could make insertion awkward. Lulu is perfect for beginners, or people who don't want toys that need to be inserted. This toy is also perfect for the advanced and pairs well with a dildo or another toy.
Experience
I love lulu. I'm so glad that I decided to get her. I've had her three weeks, and I've used it about 4 times. I haven't yet used it with my boyfriend during sex. I can't wait because I know it's going to be awesome. I did use it in the bathtub. The vibrations were strong, and didn't even cause the water to ripple. I also used it in the same bad that my knocked out boyfriend was in. He's a hard worker sometimes he works about 40-50 hours a week, or sometimes more. He comes home too tired to do anything, and I'm all worked up. All he wants to do is sleep. So me being a horny monster, I just pulled out one of my toys. I pulled out Lulu and used her for clit stimulation. It was perfect. It got me off so fast, and the vibrations were so quiet that I couldn't hear it, so I know he couldn't. Lulu is wonderful.
This content is the opinion of the submitting contributor and is not endorsed by EdenFantasys.com

Thank you for viewing
Lulu satin scoop
– clitoral vibrator review page!