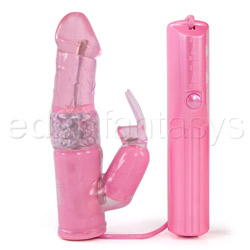 Climax rabbits pink princess
Rabbit vibrator
by Topco
Climax rabbits pink princess sex toy review
We really enjoyed this rabbit. I know we will be getting more rabbits in the future, but this is a definite must have for a first-time rabbit user.
Published:
Pros:
Rotating shaft, multispeed, ability to use each feature separately, quietness of motor.
Cons:
Not waterproof, the battery pack is a little big, and the toy is a bit cumbersome.
This was the most excited I have been with a toy to date. I opened up this toy and took it out and was literally in awe. I have never had a rabbit before, so I was really looking forward to letting this little bunny rock my world.
The packaging was very nice. I really enjoy the colors and the style of the box. I know many a sex toy that has the box with the naked lady. This one is classy and looks like some kind of royalty should be purchasing this
sex toy|Climax® rabbits pink princess
. The queen of England and a sex toy? I think it works.
I first thought that this rabbit used A batteries, so I was all ready to put in my rechargeable batteries and start this up. But this thing required C's!!! And did I have some? NO!! So I had to quick run to the store and get some batteries. I purchased some and quickly drove back to my house and got ready to get it on.
I looked at this rabbit and noticed the soft texture, beads and, the coolest thing, the rotation and rabbit! I really like the rotation feature as well as the rabbit. I figured it would be good not only inside, but clitorally as well. The speeds are very good. I turned on the little rabbit and it went through a good series of speeds. I tried the rotation and loved it. And I really enjoyed the changing rotation.
My fiancee has her own opinions that she would like to share in a little first person story-
Brian is my fiance and I love him to death, but sometimes a girl has to take matters into her own hands. I decided to use this toy by myself first before we used it together. I started by turning the shaft on rotate and gently rubbing it around my pussy. It was a nice and relaxing feeling. I started to get wet and so I turned on the vibrating rabbit and let those little ears go wild on my clit. I slid the toy in and it went in so smoothly. I put the bunny on the lowest speed so I could figure it out and then I cranked it up and fucked myself silly! I love the vibrating on my clit coupled with the rotating shaft. It made me orgasm in no time at all. Now let's get back to my fiancee and his take on this toy.
So after a thorough inspection of the new fun toy I decided to test it out on my fiancee. She was excited just as much she was for the new toy. We started out by kissing a little bit, and then some heavy foreplay. She was wet and I decided to use the rotation feature on her clit before I slid it in. She liked how the shaft rotated inside her. We tried it with just the shaft rotating, and then with the rabbit on. She liked how the "ears" hit around her clit, which made it easier to use for a longer period of time. The variable speeds for the rabbit is a definite plus.
We recommend always washing the toys after each use. We use a mild soap since it is a jelly vibe and we also use a condom on our toys. It's better to be safe than sorry. Overall, we loved this rabbit!
This product was provided free of charge to the reviewer. This review is in compliance with the FTC guidelines.
Thank you for viewing
Climax rabbits pink princess
– rabbit vibrator review page!