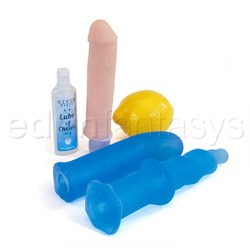 Dasha's toys
Vibrator kit
by Doc Johnson
Dasha's toys sex toy review
The best experimental sex I have ever had. Dasha's Toys are fun for both sex partners regardless of gender or sexual orientation.
Published:
Pros:
VR3 material, Included water based lube
Cons:
No batteries, Screw attachment difficult to use, Vibrator knob dificult to turn.
When
Dasha's Toys|Vibrator kits: Dasha's toys
arrived we got out our favorite love making game and laid out the included water based lube and kit, which by the way includes a g-spot stimulator (translucent blue), a screw shaped stimulator (translucent blue), and a small 1 inch diameter dick (light skin tone). Each attachment is made of very soft VR3 material. The g-spot stimulator is super smooth and approximately 1.5 to 2 inches in diameter making it not too big.
I inserted the dick attachment (with the vibrator inserted into it) into her. As I slowly stroked it in and out of her it was clear that she enjoyed it, a lot. She started to beg me for something bigger so I inserted the g-spot stimulator and began to twist it. Then I pulled it out until the curve of its shaft was in her vaginal canal turned it. She began to be aroused by the feeling of fullness it gave her. I then inserted the screw shaped attachment, which is approximately twice the thickness of g-spot stimulator at its widest point, and she still wanted more. I quickly grabbed the dick attachment and slid it over me like a condom. To me, it felt like a tighter version of her pussy. To her, it felt like a really big dick. As we continued to have wild sex with the dick attachment covering my erect dick she looked me straight in the eye, grab me by the shoulders, and threw me on my back. She then began to ride me like her life depended on it, pounding my covered cock deep into her slobbering pussy. When she was almost to orgasm she pulled me out, yanked the attachment off of me and thrust me back into her and finished her self nearly screaming in ecstasy.
On the flip side, when the game told her to stimulate me, she took the screw attachment and gently forced the end into my ass. Once she got it in she slowly stroked it in and out in short strokes. It was extremely flimsy on the end and difficult to keep in. It felt extremely erotic to me. I had never experienced anything in my ass before and was, to say the least, a little apprehensive. However, on the second time around, she decided to use the small dick attachment. It felt extremely awesome! When she inserted the toys she would stimulate my cock which made the sensations so intense it was almost impossible to keep from cumming. When she sensed that I could no longer contain myself she left it inserted and, with one hand, she inserted my cock into her pussy and began to ride me slowly until I came. She slowly stroked my ass, while stroking my cock making my orgasm last for an incredible thirty seconds.
Even after all that heavy play these toys cleaned up in less than three minutes with mild soap an warm water. I usually drip dry them or blot them dry with a lint free cloth.
This product was provided free of charge to the reviewer. This review is in compliance with the FTC guidelines.

Thank you for viewing
Dasha's toys
– vibrator kit review page!