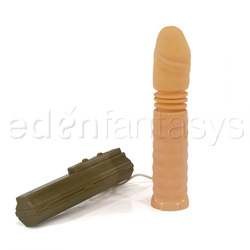 Deep stroker II - ms
Traditional vibrator by Doc Johnson
Deep stroker II - ms sex toy review
Unfortunately, this toy did not deliver as it was weak in power, provided minimal pleasure, and pretty much is only good as a vibrator disguised as the "Deep Stroker II."
Published:
Pros:
Provides thrusting action to simulate a penis. Can be used as an adequate vibrator.
Cons:
Not enough power to provide satisfactory pleasure. The material could be better.
I originally purchased this toy to use on my girlfriend during sex as well as a little solo action from her. The toy is essentially made of a soft rubber material that is firm enough in most places. The exception to this is where the "piston" is that provides the thrusting motion. This area becomes much softer, and the rubber will actually fold into the crevice created by the movement of the toy from smallest to largest extension. The controller has two switches on it - one which I assume controls the amount of power (2 settings) and the other controls how fast the thrusting is. The highest setting on the thruster switch is a pure vibrator.
So I introduce the toy to my SO as we get ready for a little foreplay. The first thing we notice when I insert into her pussy is that the toy is not nearly powerful enough. There is enough thrusting force to feel, but whenever her pussy would contract, the toy would just stop dead in its tracks like it lost power. She had to constantly be in a relaxed state in order to keep the toy moving in and out. Even with the toy at its maximum power, it would still lose its steam when any strong pressure was applied on it.
Other than this, it does seem to do its job of simulating a penis thrusting in and out. Whenever we did get it working, my SO enjoyed it quite a bit, but having to keep relaxed in order to keep it operable is a disappointment. Not very many people can stay relaxed when they're turned on, and she is no exception. We played with this for a little while before finally giving up and just going straight to the sex.
Overall, the toy advertises that it has more power than the previous model,
Deep Stroker|Vibrator by Doc Johnson
, but unfortunately, I didn't see it. Overall, I'd give this toy 2 out of 5 stars.
This product was provided free of charge to the reviewer. This review is in compliance with the FTC guidelines.

Thank you for viewing
Deep stroker II - ms
– sex toy review page!