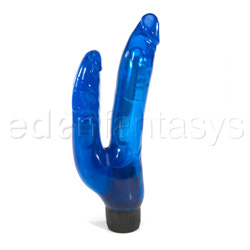 Devinn Lane's double action arouser
Double penetration vibrator
by California Exotic
Devinn Lane's double action arouser sex toy review
I had issues using this toy because it kept slipping out, but once it was inside, it felt great and was definitely a good introduction to double penetration. I really enjoyed this toy.
Published:
Pros
Great double stimulation; both dildos are a good size; delivers wonderful orgasms.
Cons
Really hard to keep the anal dildo in place; weak vibration.
For a while now, I've been fantasizing over the idea of
double penetration|Double penetration fantasy and strap on kit - Sexual fantasies
; just the thought of being that full gets my juices flowing. When I finally built up the guts to try one out, I picked
Devinn Lane's Double Action Arouser|Devinn Lane's double action arouser - Double penetration vibrator
.
When I received my toy, the packaging made me snicker; it looked cheaply designed and came in a thin plastic casing with a color faded image of a woman in her underwear looking at you with sultry eyes.
Luckily, when I started to investigate the toy, I found it to be constructed much better than the packaging. It's made of a material called "Crystalessence," which I had not heard of before buying this product. A quick investigation informed me that it is a form of rubber. It was firm but still soft enough to squish a bit when I squeezed it. It attracts dust, so I clean it directly before every use.
My first time trying out this toy was kind of awkward. While the vaginal dildo slid in easily, I found the anal portion of it difficult to insert. It kept falling out, no matter how deep I pushed it inside. This got pretty frustrating, so after a while, I gave up and waited a bit before trying again. It's been getting a little easier every time since, but I still have a lot of trouble with it and have to always keep one hand firmly pressing it in, and even then, it will occasionally slip out.
Once I was able to wriggle the entire toy inside of me, I was pretty shocked at how amazing it felt. I'm not too experienced when it comes to anal, but this toy didn't really hurt at all; it felt wonderful inside of both of my holes. It's just large enough to fill me up without being too large.
The biggest problem I had overall was how hard it was to keep inside of me. Both dildos were of a reasonable girth, and I constantly found the anal part slipping out. I had to hunch over with one hand pressing it up deep inside just to get it to stay, and even then, it would slip out.
I did not have this problem with the vaginal portion, only the anal. I think the product would have been much better with a longer anal dildo to help make sure it would not slip out. This could, however, be more of a problem because of my minimal anal experience; someone more experienced with anal play may have not had as difficult a time as I did.
The vibration for this toy is also pretty weak. I could feel it vibrating inside of me, but it wasn't enough to really stand out or contribute all that much to the experience. I would have been just as content without the vibrator.
All in all, I'd describe this toy as being pretty satisfying. While nothing really stands out as being really great and I had major issues just trying to keep it from popping out, the orgasms this toy has given me have been pretty intense and thoroughly enjoyable. It's definitely piqued my curiosity in regards to more anal or double penetration play, and I definitely think that I will be looking into similar toys in the future.
This product was provided free of charge to the reviewer. This review is in compliance with the FTC guidelines.
Thank you for viewing
Devinn Lane's double action arouser
– double penetration vibrator review page!