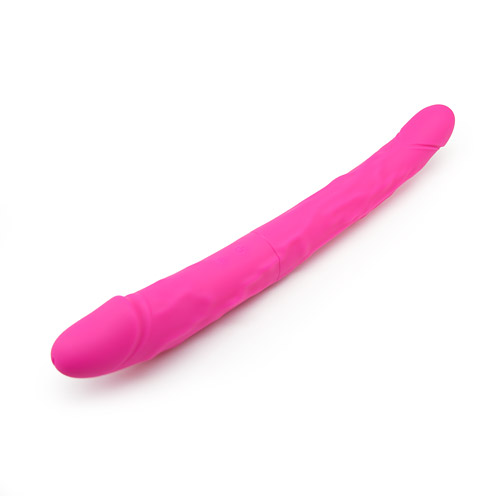 O-Flexer
Double-ended vibrator for couples
by EdenFantasys
Double the fun!
This is a great toy that is fun to experiment with. Maybe seasoned veterans of double-penetration will find this to be a breeze to master, but we found it to be challenging to get the angles just right. However, we are always up for a challenge, and having fun and working together in bed is a great thing!
Published:
Pros
Power double-ender that is very well made and easy to clean.
Cons
Buttons can be tricky to find, and positioning for double-penetration can be a (fun) challenge.
This toy was admittedly a little out of our comfort zone, given the obvious fact that it is designed for double penetration, which we have never experimented with a great deal. Dabbled maybe...but nothing serious. However, it was certainly intriguing, and as we did not have anything similar in our collection, so we figured why not?!
It arrived in the typical unmarked box from EF, inside of which was a nice pink box and packaging, with nothing lewd or suggestive on the outside. Inside we found some instructions (does anyone really ever read these?) and a magnetic charging cable. On a separate note, we have started labeling the charging cables when they arrive. Simply using an office label maker, we wrap a tag around one end of the cable. When the toy is fully charged, we store all the cables in a plastic baggy. This helps keep them organized and easier to find when charging is needed. This has done wonders to clear up the mess of cables collecting in the nightstand drawer!
Ok, back to the review! The double-ender definitely stands out as it is quite long - measuring a little over a foot tip-to-tip. It is made with silicone, giving it a smooth finish with some slight veining for texture. Remember to only use water-based lube, as anything else will definitely damage the toy. We've shown it here in comparison to the
Celestial Dong
, which is by itself a fairly hefty toy.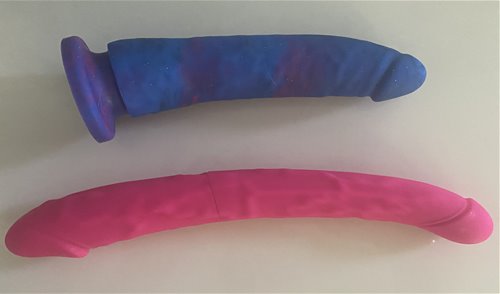 The tips are different sizes, the largest being about 1 3/4" in diameter, and the smaller is about 1 1/8". Both ends gradually taper down towards the center. There are only two buttons. To turn the toy on, you push the power button. A flashy light and a quick buzz lets you know it's powered on and ready for fun. Pushing the power button again sequentially progresses through various patterns and strengths of vibration. Already we could tell the vibrations in the larger tip were quite strong. The second button cycles through the vibrations in the smaller tip. The buttons sit flush on the toy, making them a little difficult to find at first, but you'll figure it out quickly.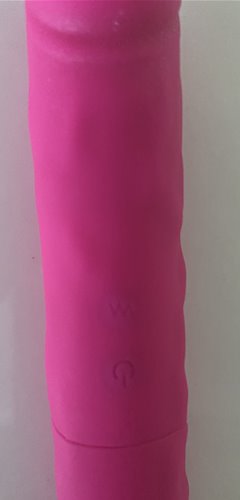 Charging, as mentioned above, is through a magnetic cable. We love the magnetic chargers as it makes toys like this virtually waterproof and very easy to clean.
Experience
The point of this toy is for double penetration with two partners, which I mentioned before is something we're fairly new to. We didn't find that it was flexible enough for double penetration on the same person, and being a male-female couple, we figured it was obvious that the larger tip would be for vaginal, and the smaller one would be for anal. However, positioning was the next issue to overcome. The pictures on the website show the man and woman lying on their backs, with their legs intertwined. This worked OK, but actually thrusting was awkward as you're lying flat, and the natural hip thrusting motion is more upwards, causing the toy to move up and down rather than in and out. We figured we'd get creative and try kneeling on all fours, butt-to-butt. This worked a bit better as we could rock forward and backward, but we found that if we both moved away at the same time, the toy could come out of one or both. Also, everything doesn't necessarily line up perfectly, meaning there was a bit of "move your legs further out" and "tilt more." The buttons also posed a bit of a difficulty. As both partners are either back to back or lying flat, finding the buttons and adjusting the vibration patterns is difficult on the fly.

Despite these "troubles", it was a blast to try, and teamwork during sex is never a bad thing. We'll have to practice more and work out some of the kinks (actually, I guess we have to work on the kinks!). Given the quality of this toy, it's worth the effort!

On a separate note, I couldn't help but remember just how strong the vibrations were when I was just holding this in my hand. After cleaning everything up, I wanted to feel how they would be just on my clit. All toys, to me, seem to have a slightly different vibration feel. Some are pinpoint and "sharp" whereas others are more broad and "coarse." For example, bullets with a sharper point direct the vibrations in a smaller area, whereas the broader ones seem to vibrate deeper in a wider area. I find that I like toys with a more broad vibration pattern and the O-Flexor vibrations are perfect.

Simply lying back and rubbing my clit with the bigger end of this toy was amazing! Yes, I know that isn't what this toy is specifically designed for, but it is certainly a bonus, and after some great foreplay, it took no time to finish me off.
This product was provided free of charge to the reviewer. This review is in compliance with the FTC guidelines.
Thank you for viewing
O-Flexer
– double-ended vibrator for couples review page!