Double The Pleasure, Double The Fun
The only disappointing thing to me was that it didn't come with instructions covering the basics of the toy, and the vibrations are a little buzzy. Overall, it is a great vibrator, I absolutely love my G Vibe. It comes in cute colors, is soft to the touch, and is fun in so many ways. My favorite thing about the G Vibe is how ergonomic the design is. The design is essentially flawless, in my opinion. There are countless ways to enjoy the amazing G Vibe to double your pleasure and your fun.
Published:
Pros:
A unique design, so many ways to enjoy this toy, fun to use, easy to hold, fits like a glove.
Cons:
Lack of info, a little buzzy, hard to get pressure from the flexible tips.
Finally, a vibrator with such a unique and flexible design that seems to adapt to each user individually. This soft, flexible design quickly exceeded my expectations. With several different functions and countless ways to explore new sensations, this toy has really brought my big o to a whole new level.

The first thing you will notice is the unique packaging. It comes in a lovely box with a painting on the front. As you open the box, you find it comes with the toy, a nice silky storage bag, a pamphlet with picture diagrams of diverse ways to use the toy, and a charging cable, which is USB. Yes, this magnificent beauty is rechargeable! At the base of the toy, on the very bottom, there is a small port to plug your charging cord into. It's so small, I almost didn't even notice it! It blends in with the rest of the toy, assuring me the G Vibe can take my fantasies for a swim with no fear of it drowning. While charging, the control pad lights up and blinks. The initial charging time says eight hours(I charged mine for two and it was ready to go) which will give you four hours of play time with the G Vibe. I was slightly disappointed after searching the contents of the box, I found no real instructions. I reviewed the outside of the box to find that the G Vibe is water resistant, has a one year warranty, is made of premium-class hypoallergenic medical silicone, has six vibrating modes and has two motors, one in each tip. Those are the only real instructions that it came with. I thought it odd that I needed to go to the website to find out what is recommended to clean the toy with. You can clean the G Vibe with antibacterial soap and water. If you choose to use lube, use a water based lubricant, do not use a silicone based lubricant.

One of my favorite things about the surprisingly lightweight G Vibe is its incredibly unique design. It's so different than anything I've ever seen or used. Being an owner and fan of a rabbit, the G Vibe is really the rabbit reinvented. It has many more options than any toy I can think of presently. You can use it solo or with a partner easily. If you choose to go solo, you don't have to worry about anyone in the house hearing it because it is awkwardly quiet for its size, even on the highest setting. It does have a ring at the base, which can be used as a handle for easily holding in place or thrusting. The size is virtually perfect for someone who doesn't need something very big and very thick. It measures at 9" long (6 is insertable) and 3" in diameter. While it is not small, it was comfortable for me to use this.

The control pad is located on the top of the ring, which makes for easy access or changing vibration modes without interrupting your rhythm. There are three buttons that make up the control pad: an addition sign, a wavy sign, and a subtraction sign. To turn the toy on, you simply press the addition sign. It starts out at the lowest level of vibration. It has ten levels of intensity, with ten being extremely powerful. Even at level ten, it is remarkably quiet as far as sound.

Now for my favorite part of the G Vibe. The wavy button. First, you choose the intensity that best suits you. Next, hold on for the ride of your life, and hit the wavy button. It starts with function one of six different vibration modes. You can choose which one you like best, and increase or decrease the intensity of it. It makes it so easy to customize the vibrations. While most toys have the basic options of low, medium, high, functions 1,2,3, and so on, the G Vibe lets you customize your functions while staying with or changing the intensity of the vibrations. This toy is creative and lets you play multiple ways at multiple speeds.

Now for the minus button. If you want to decrease the intensity of the vibrations, you simply press it until you have reached your level. To turn off the G Vibe, you just hold down the minus button and it shuts off. A great thing about the minus button is that if you are interrupted and need to power down quickly, by holding it down, it quickly runs through to the lowest level and shuts off. I do wish that it had a way of turning off quicker instead of having to cycle through each level to turn off.
Experience
The G Vibe is very comfortable to use solo, as the ring shape handle makes it easy to hold. I recommend putting your thumb on the top of the ring where the control panel is and your index and middle finger in the ring for easy access. It is also fun to use with your partner. Mine found it to be insanely fun using it on me, which I thoroughly enjoyed how it allowed us to spice up our sex life. It is great for trying new things with your partner, because with the limitless G Vibe, it can be different every time you use it.
It is strong enough for me, but I am extremely sensitive. The vibrations are a little buzzy, but it delivers well for me. You can use this toy for double penetration, strictly for vaginal penetration, or use it to hit your g spot while enjoying the other tip for clitoral stimulation. You can also use the tips on each side of your clitoris. You can also use it on a male partner. If he likes vibration, you can easily use the tips at the base of his shaft. Or, for a little extra fun, you can use it for clitoral stimulation during intercourse, but for the size of this vibrator, it's a little hard to use during intercourse. The only downfalls to the G Vibe is that the vibrations were a bit buzzy, but not too bad. If you need a lot of pressure for clitoral stimulation like I do, it is hard to get because of the ears being so flexible. I prefer to use it for vaginal and clitoral stimulation at the same time. It takes longer because of the lack of pressure, but it gets me where where I want to go.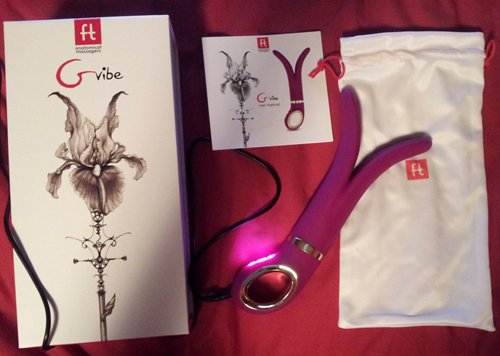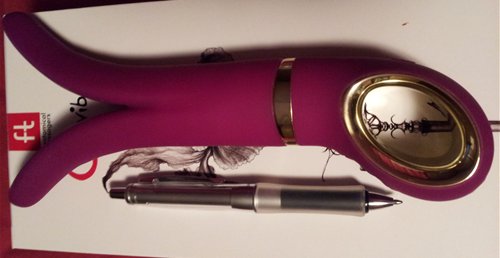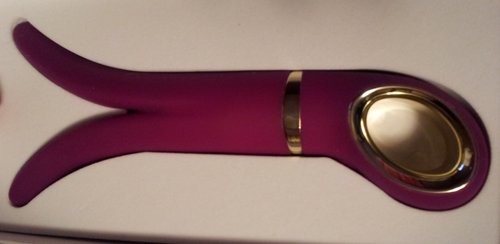 Follow-up commentary
1 month after original review
After having the G Vibe for a little over a month now, I still find it a fun toy. I have noticed that when it needs to be recharged, even though the battery life is very long, the vibrations pulsate (and not just when you're using that function!). Other than that, it's still one that I favor above others!
This product was provided free of charge to the reviewer. This review is in compliance with the FTC guidelines.

Thank you for viewing
G vibe
– g-spot vibrator review page!