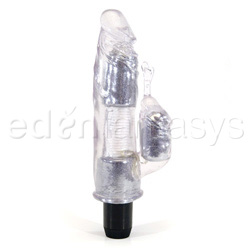 Double impact
Rabbit vibrator by Nasstoys
Double Your Pleasure
The Double Impact is a simple, but surprisingly powerful rabbit style vibe. Substantial girth and strong vibrations make it perfect for filling solo play.
Published:
Pros:
Powerful and adjustable.
Cons:
Poor quality materials.
I have to admit that I was skeptical about the
Double Impact "rabbit" style vibe
. For one thing it's made of jelly rubber, which tends to be smelly, sticky and unsanitary. Plus, in my experience, jelly material is a general warning sign for overall cheap toy construction. The Double Impact also runs on AAA batteries, which I've rarely found to provide enough power to get me off. I also had to wonder what exactly can be accomplished with a rabbit vibe that can't be accomplished with a vibrator and a dildo, or two vibrators?
I am truly delighted to report that I was completely wrong. Wrong in an Oh My God I am going to wake the neighbors sort of way. Wrong in an awesome orgasm in less than five minutes sort of way. Completely and totally wrong.
Ok, so I was not totally wrong about the jelly rubber. It is neither sterilizable nor hypoallergenic, making it a less than optimal sex toy material, but I guess you can always cover it with a condom if you want to share or are concerned about
adverse reactions, infections
etc.
As for the power issue, I was truly impressed by how much vibration this toy gets out of three AAA batteries. The toy has two bullet type vibrators embedded in the multi-penis jelly casing, one near the end of the insertable penis shaped-shaft and one in the mini-penis shaped, clit tickler. The bullet in the clit tickler seems to be more powerful, but that might just be because there is less jelly casing on the clit tickler. Either way, this arrangement suits me just fine, which is lucky for me because both bullets are controlled by a single dial at the base of vibrator.
While overall I feel that the lack of separate controls for the internal and external vibes counts as a negative, for me personally it did not matter one iota. This vibrator made me come harder and much, much faster than any toy I have ever tried. I do not come fast (ask my poor, patient boyfriend), but this toy had me moaning uncontrollably in five minutes flat. This is seriously some sort of record for me.
While a large part of me wants to scream from the roof tops, "Buy this vibrator! It is awesome!!!" I feel that as a reviewer I should take into consideration the limitations of this toy. It is after all made of jelly rubber, has no independent controls for the two vibrators and none of the fancy bells and whistles of the higher priced rabbit vibes such as silicone materials, beads and rotation. Personally, all of this pales in comparison to intense, multiple orgasms, but if you are sensitive to jelly material or really want separate control over the two vibrators, you are going to want to look elsewhere. Thus, my four star rating.
Experience
I had never used a
rabbit style vibe
before, so when the Double Impact arrived from Eden Fantasy, I was eager to get started. I pulled it out of the (rather trashy) packaging and loaded it up with three AAA. At 1 ¾" the main shaft is big and fairly realistic--for something made of clear rubber. Even with lube, I was obviously not going to just shove this baby home and get started. Warm-up was clearly necessary. I grabbed my
Laya Spot vibrator
and relaxed for a while. When I felt ready for penetration I grabbed the Double Impact, lubed it up with some water-based lube and turned the dial up. As I slid the vibrator in, the tickler extension created interesting sensations, but when the bullet hit—wow! Toe curling orgasm in minutes.
Next session I tried warming up with just the Double Impact in the bathtub. It was rather awkward and unwieldy for just clit stimulation, but it did get the job done. Better yet it held up to the dunking without issue.
This product was provided free of charge to the reviewer. This review is in compliance with the FTC guidelines.

Thank you for viewing
Double impact
– rabbit vibrator review page!