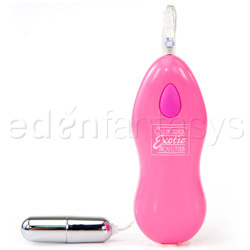 Ballistic slimline
Bullet by California Exotic
Eeeeeek, what is a bee doing on my clit.....
This bullet is a backup toy and not the first toy I reach for because of its buzzing/tickling property. Its shape is practical, but the plastic material and the fact that it does not deliver deep vibes takes away from its potential. It should not be the only vibe in your arsenal.
Published:
Pros:
Small, good for travel, takes AA's.
Cons:
Buzz rather than deep vibe, and the material.
Hectic student life can somewhat slow you down in the bedroom! If I was a mother I would probably need more than 24 hours to fulfill all I would want to do in a day.
Eventually I got round to look at the bullet and test it. It comes in a clear plain plastic box without any little extras such as pouches. I took it out and it had that new out-of-the-package kind of smell (which is normal when you get a new toy). I was kind of put off by the material of the bullet. It's made of plastic with a sort of silver coat paint which seemed to have scratches or something as though it had been used before (- one star!) I was so freaked by that I cleaned it by putting alcohol on a towel to wipe it down. I put it aside to relieve my disconcerting feelings about how it looked.
The whole thing is pretty basic and I have to say one must assume that is what they will get, taking in consideration the price of the product. The battery compartment flaps open and closed and it was hard at first but once you get the trick it's fine. The bullet wire is about 30" long with a plug in to the controller (which does not fit to your general mp3 player like other vibes do :P). There is a little plastic cover on the bullet to protect the wire so it doesn't get damaged at the level of where it connects into the bullet. So that is a great advantage since that is where I usually damage mine. The controller has one button that turns the toy on, goes through the two speeds than turns back off again. I think there isn't enough variation in the speed levels and it would be nice to have an on/off button for those of us who need to turn the darn thing off quickly when getting unexpected visit, etc.
I specifically chose the article due to the shape of bullet. My reasoning was that it was slimmer than the oval shaped or egg shaped bullets and would be easier to handle in different positions during intercourse. It was not as slim and small as others, which I doubted would have vibration strength. Since it is a
small bullet|Ballistic slimline
(about the size of my thumb) it isn't easy to get a grip on mostly if you've got lubey fingers.
I find the controller is big and gets in the way even with the long cord. My bed tends to cave in when we are lying in bed so the controller follows the law of gravity and always ends up somewhere that causes us discomfort.
In terms of noise it is a vibe, so it isn't really quiet. You can hear it through the covers but not through a closed door (unless the vibe is taken out from under the covers and put directly on the bed).
Experience
Alright so how did I like this vibe? Well, my thoughts about it are very "been there, done that". But also, "whoa, so thats what a buzz on the clit feels like!" I felt like it was just buzzing on me and it sort of made me a bit squeamish at first (- another star). I tried to get used to the feeling and I did eventually get an orgasm but it was a defective firework barely going off kind of orgasm. I continued thinking maybe the next one will send me off to the moon like a rocket. Alas, I took off but crashed very suddenly. It just buzzed on there and sort of tickled in an irritating manner. It serves its purpose of giving orgasms but it doesn't give you that deep kind of vibe that other bullets (such as the
bnaughty|Bnaughty review
) can provide.
It's fun with a partner to give you something different and non-intimidating (for a tingling experience for him put the vibe against your cheek while giving your man oral, as proposed by another reviewer). It may be a good introductory toy for a beginner before moving on to greater things. I use it mainly for extra fun with my lover rather than for self love.
Follow-up commentary
3 months after original review
I don't really use this bullet often but it hasn't made it's way to the bottom of my toy box. If I want to use a vibrator during sex I use this little bullet since it is much easier to handle than a more traditional vibe.

Also I really like to use it in conjuction to an anal toy.

I have started to like it more but I prefer thuddier vibrations to the little buzzy light one this bullet provides.
This product was provided free of charge to the reviewer. This review is in compliance with the FTC guidelines.

Thank you for viewing
Ballistic slimline
– sex toy review page!