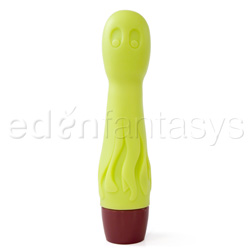 Fabio
G-spot vibrator
by Feelztoys
Fabio sex toy review
I didn't like this vibe and would recommend the dial-a-dream which is $15 less over this one every time. Too bad because it has great potential.
Published:
Pros:
Made of silicone and easy to clean.
Cons:
Barely-there vibrations and the head is too bendy.
Fabio|Fabio G-spot vibrator by Feelztoys
is one of those toys that I want to like but don't. He's bigger than he looks online, by the way, so be careful. Anyway he shows up and I am impressed with the leanness of the packaging, it makes my environmentalist innards all happy inside. So I whip out my trusty rechargeable batteries and open up his base and receive my first clue that all is not great with Fabio. You see there is no clear "this way up" for the battery tube.
Undaunted, I forge on and I guess which way the batteries go in- of course I'm wrong. Thus arrives my second clue. I try both beating Fabio against my desk and shaking my arm out of its socket and eventually I drag the batteries back out and flip them around and try again. Success! I am rewarded with five different vibration patterns that feel truly lovely on my wrist. I forgive Fabio for the bad battery design and proceed to try him, and?
Bored now.
The vibrations that feel so great with your hand wrapped around him don't travel through him very well, and although you can stimulate your clitoris you can't really get it anywhere. The five settings are great but a little more power would be wonderful. Perhaps even a few different 'intensity' settings along with the five great vibration patterns.
So I tried different batteries. No change. I had really hoped it was due to my batteries being dead but no such luck. Tried him on my g-spot after wrestling his bendy head inside me and still didn't really like him or feel much of anything at all.
I recommend Fabio for people who like their toys kinda big who can barely handle any vibe pressure at all. In short? Not too many people. Too bad, because the five vibrations types are awesome, but too weak to get me off.
This product was provided free of charge to the reviewer. This review is in compliance with the FTC guidelines.

Thank you for viewing
Fabio
– g-spot vibrator review page!