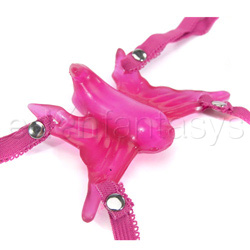 Fluttering monarch
Strap-on vibrator by California Exotic
Flutter Away!
Considering that the Fluttering Monarch is mainly for solo use by females, it can also work quite well for couples too! If you are looking for a great strap-on vibe, that can be used by yourself or with a partner, definitely try this one out. It not only has a multi-speed control, but the straps can also be adjusted to any size. Overall, the Fluttering monarch is the total package!
Published:
Pros:
Has straps to keep in place, multi-speed vibe.
Cons:
The vibe can be a bit loud.
My wife and I have used several different types of toys in the past, but this time I wanted to try something that would take a little experimentation. I was pretty excited when I first came across the Fluttering monarch by California Exotic. I was interested to see how a couple could use this strap-on vibrator, considering that it is mainly marketed as a female product.

When I first opened up the box, I was already amazed with the construction of this toy. The material was very soft to the touch, and was pretty smooth. Connected to the toy was the elastic waist band/leg strap that keeps the toy in place during use. The elastic straps can be adjusted to fit perfectly for any size. The Fluttering monarch also runs from a control pack that runs off of 3 AA batteries (which are not included.) The remote can be set to different levels of intensity including a slow, medium, and fast setting. The fluttering monarch is made of a pink TPR silicone material that is hypoallergenic and phthalates free so that is really nice. Overall, this toy is really light and only weighs ½ pound. It also has a length of 2 ½ inches and a width of about 5 inches.

I am not going to lie, I was really turned on when I seen my wife putting on this strap-on vibrator. It had a large strap that went around her waist, and 2 smaller straps that fit around her thighs. It was so sexy to see my wife with this toy strapped in place. To begin, I first wanted to see how this toy worked in a solo style like intended. So I set back and got a show of my life as my wife used this toy in front of me. I could not believe what I was watching! From this moment I was already sold.

She began by setting the speed on the lowest level and worked up from there. This vibe is pretty intense on the highest setting, so it may work best to move through the settings one by one. On a side note, the vibe can be pretty loud. It is not too distracting, but it may be able to be heard through a door. This is something you might want to check out if others are around. Anyways after a little while of watching my wife, I moved into the picture to see how this toy could work for couples.

I really liked the fact that this vibe stayed in place during use, because it gave me the feeling that I had three hands to work with. It was really easy to work around this toy for oral stimulation. I liked it because the tip of the toy stimulated her clit, so I could use my tongue and hands freely, as I wanted without having to hold the vibe in place. This worked EXTREMELY well. As her clit was being stimulated, I could use oral stimulation on the lips of her vagina. While one hand massaged the perineum area, the other could run the length of her body.

To describe this from the female perspective, I will actually just have my wife discuss her point of view. "Well, I could not be happier with my husband's decision to try a toy like this. At first I was not too sure if I would like it. All I can say is that I am glad I did! I have never felt anything like it in my life. It was like my husband had 2 sets of hands. Being stimulated in so many different ways simultaneously really sent me into another world! It really caused me to have a whole body orgasm that I cannot even begin to describe into words!" If you didn't notice, I'm pretty sure my wife loved it.

I also wanted to see how the Fluttering monarch could work during intercourse. I first thought that it would just be in the way, and would not work well. I was pleased to find that it actually worked quite well after all. We moved the toy up a little so I could slide my penis into her vagina. With doing so, we were able to have sex while still using the toy. Not only did it continually stimulate her clit, but I could also feel the vibrations, which was really nice. I was blown away by how this toy could work so perfectly for couples.

The cleanup for the Fluttering monarch was pretty simple. All you need to do is wash it off with a toy cleaner, or mild soap and warm water. It can be a little tricky trying to keep the straps from getting wet.
Experience
I would advise using a lubricant with this toy, but just make sure it is water based.
This product was provided free of charge to the reviewer. This review is in compliance with the FTC guidelines.

Thank you for viewing
Fluttering monarch
– strap-on vibrator review page!