Free?! Yes Please!
The Eden Bullet is a great value, whether free or around 10 bucks. It is a great toy for those interested in bullets. It's not intimidating and is a great gift to give a friend to spread the Eden love! With its only qualms being noise and a seam, it's quite a delight. It deserves a solid 4 stars.
Published:
Pros:
Strong
Easy to Use
Price
Cons:
Loud
Really, Mwar? Do we really need another Eden Bullet Review?
You guys probably don't. I know. There are literally 100 Reviews on this product already. Why should I bother you with another one? Maybe its because I like being heard (or like making reviews) but I don't think you can have too many opinions, especially on vibrators. People are so different that there are so many views on something. So here's mine :)
Fine. I'll read your review. Tell me about this Bullet
Why thank you! The Multispeed basic vibrating bullet, which I will call the Eden Bullet, is a simple bullet designed for vaginal insertion and stimulation. It has a retrieval cord so it can be removed easily. On the other end of the cord is the controller that has a simple turndial to control the strength of vibrations. This little sucker packs a punch! He's pretty strong and will make you all rumbly inside! Because it is completely inserted, you can use other toys easily with this toy during masturbation. Once you have it at the setting you like, your hands are free to reach for toys or your partner. The bullet is also great for couple's play and foreplay. Insert the bullet and give your partner the controls. They will have a blast, trust me. The metal is also good for some temperature play (not to extreme, since it does have motors and electrical components).
The eden bullet is not designed for Anal play. You can tease the entrance with vibrations if you want, but I would advise against going further from that.
As we know, this bullet is generally a free or runs for a price of 10 Bucks or lower. For what it is, this little guy is a great value! For more advanced users (or those of use who are on here a lot) the Eden bullet is a great toy to give to friends to spread the word about Eden and thank them for all the awesome things they do here!
Okay, got it. So give me the specs. What am I looking at?
The eden bullet is simple in design, texture, and material. The bullet is a standard oblong, egg shape made of metal. It has a noticeable seam around its middle and can easily be felt with your fingers. But once you have the vibes going, most people shouldn't feel it. The egg is a hefty little fella compared to some other corded bullets. The bullet is smooth except for the seam.
The wire is transparent and is coated with rubber/plastic. The remote is a clean, tear drop shape that fits easily in the palm of your hand. Sorry about the shadows. I had crappy lighting.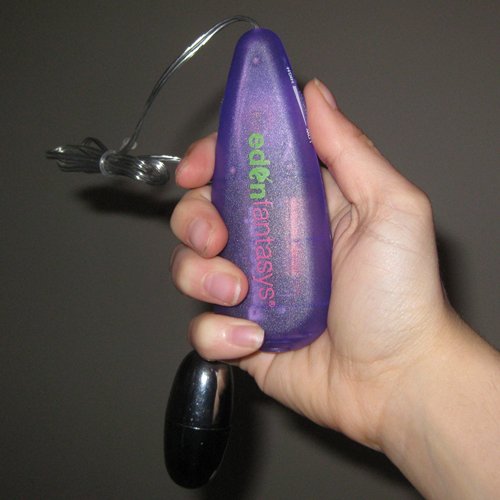 The dial is textured with ridges so it is easier to grip and manipulate the settings. The controller is made of semi-transparent plastic with the Eden logo on the front. It is very obvious what this little guy is and is not discreet in appearance. This bullet is a great toy for beginners (to get them hooked on Eden! *insert evil laughter*) and those who are fans of bullet vibes that pack a good amount of power.
Nice! So what controls does it have? Will it work for my anatomy?
The eden bullet is in no way large, measuring in at 3 1/4 inches around its middle. For comparison, many vaginal weight systems are at least 4 inches in circumference. If you have a little trouble inserting the bullet, a but of lube should have you ready to go. The bullet is squat, at about a little over 2 inches long. Here's a picture of the bullet and controls in comparison to a pencil.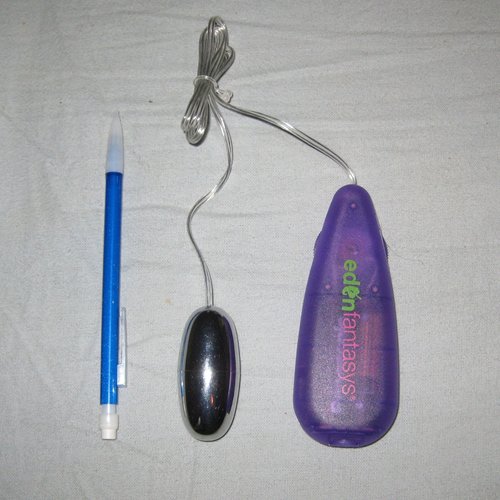 The controls are simple and easy to use. I'm actually pleased that the turn dial is situated in a way that left handers can use it with no issue. You'd be surprised at how many toys are made with the controls contoured for the right thumb. So that is always nice for the other 10 percent of the population. Moving the dial counter clockwise turns the bullet on. The lowest vibration is about 2 Vrooms. Cranking the dial all the way up gives you a high 4 Vrooms. The vibrations are all steady vibrations, no patterns. The dial allows you (or your partner) to easily move through intensities at your whim)
This little guy is pretty loud. He is louder outside the body when in, but I wouldn't wear this one in public unless its the absolute lowest setting. Even then its tricky. The bullet ranges from 2 to 3ish Bees when outside the body, pretty close to 4 Bees. It's not as loud when inserted, but still easily heard. This toy is meant to stay in the bedroom.
Experience
No public shenanigans? Fine! Then at least tell me how to clean this thing.

Tough crowd! The eden bullet is pretty easy to clean. Being metal, the bullet has a variety of cleaning options: soap and water, wipes, toy cleaner, and alcohol wipes to name a few. Be sure to clean around the seam and at the base of the bullet where the cord joins. It is also goof to wipe the cord down as well. This toy overall is pretty easy to care for.

It's best to remove the batteries whenever you are no using the eden bullet. The slightest motion can turn this toy on. To preserve battery life (and prevent embarrassing situations) it's best to only put in batteries when using this toy. The same goes for travel too. The bullet is small and can fit in a hand or makeup bag with no issue. Just pop the batteries out.

All right, anything else I should know?

The packaging for the eden bullet was only clear plastic meant to be torn and thrown away. There is an insert in the controller showing how to properly insert the batteries. You can use water or silicone based lube with this bullet.

Mwar's Soapbox

I love using the eden bullet in conjunction with other toys. This is especially great for wand toys or clitoral vibrators. The bullet is also interesting to have inserted during anal sex. The cord can easily be moved out of the way while you and your partner are having sex. My partner says he can certainly feel the vibrations and makes the experience more intense.

It's not great for public use, but you can but the controller in a hoodie pocket and have it in. Then you can vibe around the house. Or have your partner change the vibrations at their whim.

There are fun things to do with this bullet. And did I mention it is a great value? It is.
Follow-up commentary
2 months after original review
This is a cute, affordable bullet. The friends I have given my extras too like it was well. A great strong vibe for a good price.
This content is the opinion of the submitting contributor and is not endorsed by EdenFantasys.com

Thank you for viewing
Multispeed basic vibrating bullet
– bullet vibrator review page!