Fuchsia is not my favorite color
Taya is a great toy for a beginner or a couple utilizing it for foreplay. The detailed cleaning for the product can be a major turn off, but the vibrations are enough to get anyone warmed up and in the mood. It's a nice addition to a toy collection and will make you feel good.
Published:
Pros:
Slim, good for beginners
Cons:
Detailed cleaning, easy to turn off, overly stretchy sleeve, not waterproof
Taya UR3 soft sleeve and vibrator made an impression, but not all good.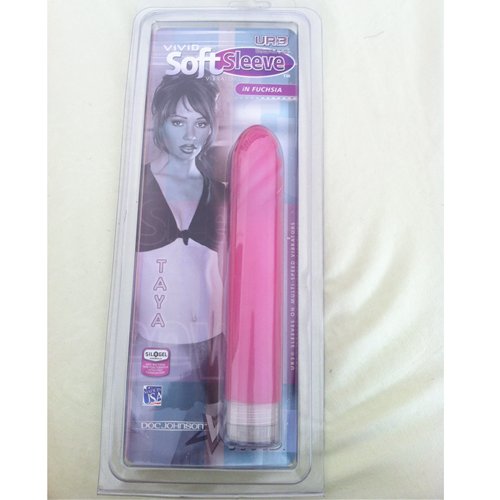 Manufactured by Doc Johnson, the Taya is considered a traditional vibrator that is covered with a soft material made of Ultra Realistic 3.0 (UR3), which gives the vibrator a realistic feel. UR3 is a combination of PVC and silicone and that aids in its soft texture, flexibility, and fairly realistic feel. I'm not sure I'd go so far to call it skin-like though.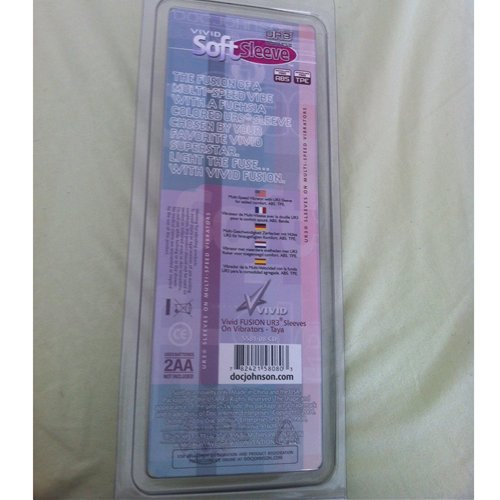 Arriving in a clear plastic box, the toy is visible through the front. The back displays manufacturer and general information on the product. It's easy to open when it arrives--a nice thing because typical plastic packaging like this isn't so easy to open. It is advertised as fuchsia (a purplish-red color), but looks very pink to me on examination.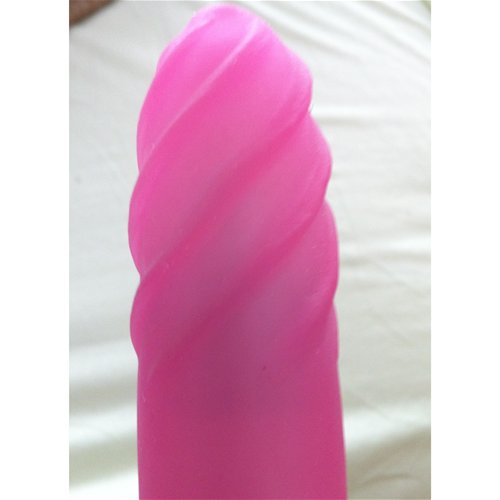 Measure: 7" from tip to toy bottom, 1.2" in diameter (the product page says 7 1/2 & 2). It has a swirled tip that makes for a pleasant sensation on insertion (measures 2 1/4 inches from top down shaft). It's slim and cute--not for someone looking for size.
Functions: The cap contains the mechanism for turning on the vibrator, which turns at a low setting and progresses gradually in vibration from low to high as you turn the cap. There is no variation in the vibrations themselves (As in, it doesn't pulse once then escalate when you turn it to the next setting). The buzzy vibes travel up the entire shaft and can be felt through the length of the toy. When it's on the highest setting, it was like I could feel the bed beneath me vibrating. The vibes on this toy may not meet the needs of those people who like really intense sensation.
Power/Noise: On a scale of one to "I'm sure my neighbors can hear through the walls", this product was a solid 7 or 8. The walls to my townhouse aren't so thin that neighbors would hear, but someone in the other room may wonder about the high pitched buzzy noise.
Where it works best: Vaginally or for clitoral stimulation, but not recommended for anal usage because of lack of flared base. It's a great warm up toy if you're about to progress to something beyond teasing.
The bottom has a screw cap that releases easily and screws back on tightly. The soft sleeve is harder to remove, not sliding off the vibrator as easily as I thought plus there were powdery dots on the underside of the sleeve. Replacing it was a little tricky as well; it stretches out a little on reapplication. It stretched and bunched during penetration and thrusting. The on/off mechanism is easy to turn, which is nice.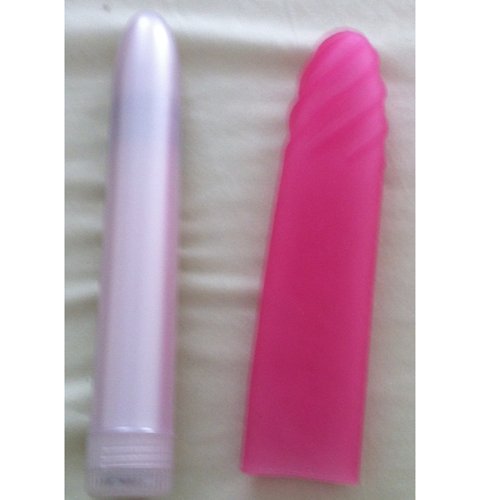 Straight out of the package, I anticipated a smell. Having owned a few toys, I always anticipate anywhere from a heavy chemical odor to a powdery aroma. The Taya had a slight plasticy smell that I found odd, but not overwhelming compared to other products. It feels a little tacky and comes precoated with a powdery substance that prevents it from getting sticky. The substance sticks to your skin and feels greasy so make sure to clean it before use. Very important.
Care Notes: This is not an easy material to care for. At. All. UR3 isn't a familiar product to me so I did a little research comparing it to other products that I've worked with.
I've used Pleasureskin before, which is also porous and requires careful cleaning with antibacterial soap and warm water, but UR3 requires a few more important steps in cleaning. Clean before first use because of the powdery substance that coats it, and before and after use because of how porous it is and the possibility for germs to live in it. Use a condom if you're sharing this toy because germs are easily transferable.
Cleaning: warm water and toy cleaner/antibacterial soap. Careful, because this toy isn't waterproof (The cap doesn't have a tight enough seal at the bottom). The ridges around the top need to be cleaned closely because it's another place for germs to hide out. Coat with cornstarch after cleaning to prevent the toy from becoming sticky.
Only water-based lubes with this fuchsia princess. She doesn't like silicone, oil, or petroleum lubricant.
This silicone based produce needs to be stored alone in a plastic ziploc bag or thin sock because it hates to be near other produces and absorbs colors. Needs to be in a cool, dark place.
This product is a bit of a Prima Donna. It demands special attention, can only be around certain things, and is extremely sensitive. Keep that in mind when purchasing Taya. When she say told me she wanted to be alone, I left her alone.
Experience
Once I finally got down to business, I liked the way it glided in and it actually felt decent! Yes, I was as surprised as the exclamation point signifies. The swirls at the top don't offer enough sensation wise and the power cut off half-way through. It got me started and felt nice when I was using it for clitoral stimulation. I hit an O with clit stimulation within a few minutes, but this wasn't a toy that did anything for me on g-spot stimulation. As for the insertion length, I liked vibes for clitoral stimulation, and was fairly okay with texture.

It's an okay toy, but there are too many things that I don't care for; namely cleaning.
This product was provided free of charge to the reviewer. This review is in compliance with the FTC guidelines.

Thank you for viewing
Taya UR3 soft sleeve and vibrator
– traditional vibrator review page!