I'll Take the Twist...
In a market where the vast majority of rabbit style vibrators are made of jelly, the Merry Mermaid stands out as it is coated in 100% silicone. The carving is beautiful on this European-designed toy and its meant to look like a stylized mermaid. The rotating shaft with beads and buzzy clit vibe are sure to take some ladies on a deep sea dive. Those who crave a deeper rumble on their clit should look elsewhere.
Published:
Pros:
Beautiful, body safe material, Twist & Shake controls are cute, rotating beads
Cons:
Clit vibe is high pitched and not very strong, tail on the clit vibe is pokey, noise
I am a gal who can not turn away from underwater-themed toys. Though the Merry Mermaid cannot be used underwater, she'll conjure up images of sailing ships and legendary women of the deep. Beautifully sculpted, the Merry Mermaid is made by Fun Factory. A German company, Fun Factory is famous for making high quality body-safe toys with elegant presentation and construction. The Merry Mermaid is no exception to this.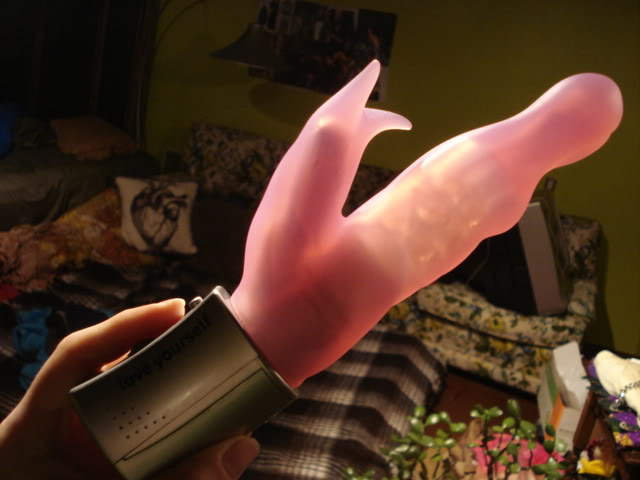 Like a good classic rabbit vibrator, the Mermaid has a rotating shaft with beads and a vibrating clit arm. The shaft acts as an automated G-spot stimulator, rubbing itself around inside the vagina and hitting all the right spots. When fully inserted, the beads rumble around at the mouth of the vagina and stimulate the lovely collection of nerve endings there. Meanwhile the clitoral arm has a vibrator embedded in it to give a light buzz to that most sensitive of organs.
The controls for the shaft and arm are labeled Twist and Shake which always bring the Beatles' "Twist and Shout" tune streaming into mind. Each function can be adjusted with its own wheel. That gives a lot of control for how strong or weak you'll take your stimulation. There's also a power button that simply turns the toy on and off and a power indicator light.
Packaging
The Merry Mermaid comes in a typically elegant Fun Factory package. There is a window through which you can see the toy from the outside. There's also a flap that opens to give you some more detailed information about the style of toy and give you a view from the other side. This flap can be secured via a magnet. When you open the box, there is a plastic molded shell that houses the toy.
I would post some pictures of the package for you as well, but some toy cleaner in the same shipment opened. That means that the packaging for my Merry Mermaid does not look so pretty anymore.
Technical Stuff: Power, Cleaning and Maintenance
The Merry Mermaid is powered by 4 AA batteries that are inserted via a sliding lid at the base of the toy. The lid is a little tricky to put back on with the batteries inside. Just make sure that the notches on either side line up and it should close nicely.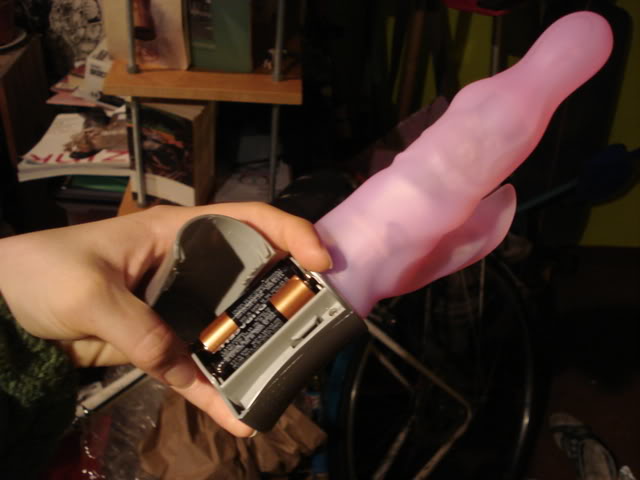 Do not store the toy with batteries inside as they can corrode over time (think of your remote control).
Because the Merry Mermaid is made of silicone, it can be sterilized! You can wipe it down with a 10% bleach solution to do this. Do not run it through the dishwasher or boil it as this will damage the electrical components. For day to day cleaning, you can also wash it with a cloth and warm soapy water.
Store the Merry Mermaid in its packaging or in your toy box. Because it is made from 100% silicone it shouldn't react to other 100% silicone toys in storage.
A Note about Jelly Toys
Reading articles about the toxic off gassing of phthalates in jelly toys and the horrible smell this causes is enough to make me not want to try a jelly toy ever. Using an unsafe sex toy is not worth the health risks, in my opinion. If you do use jelly toys I highly recommend covering them with a condom first before inserting them into your body. Fortunately you do not have to worry about that with the Merry Mermaid!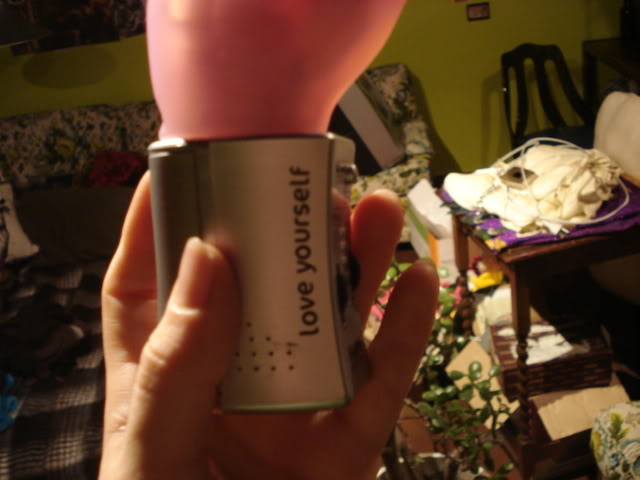 Experience
The Merry Mermaid was my first rabbit style vibrator. I know that a lot of women enjoy this style of toy and I wanted to know what all the fuss was about. But the vast majority of rabbits out there are made of jelly. If you read my note above you'll see why I am not interested in using jelly toys at all. Fortunately, I had noticed the Merry Mermaid before, and was really happy when my request was accepted to do a video review of it. (Thanks, Carrie Ann!)

So, I dig the rotating shaft. That is a lovely automated kind of g-spot stimulation. And the beads are lovely when I can get the toy inserted that far. The clit vibe did not do it for me, though. It's simply too buzzy, high pitched and weak for me to enjoy. I am a strong rumbly vibrations gal! On top of this I found that the ends of the mermaid tail were kind of pokey on my clit. My best use for this toy has actually been to turn it around so that the tail is aiming for my anus. Then I can just use the rotating shaft while my fingers or a better vibe work my clit. If I want to use the vibrations of the mermaid, my anus is a happy recipient!

It's funny, this is the second toy that I've tried from Fun Factory. Both the Merry Mermaid and Bendy beads are gorgeous, made of silicone, have beautiful packaging and I am generally attracted to them. However both of them just don't feel super awesome in my body and hence aren't the most fun to play with. Different strokes for different folks, I guess.

What I've learned is that if there was such a thing as a rotating shaft dildo without a clit arm, I would be interested in it.
Follow-up commentary
4 months after original review
This toy hasn't been getting a lot of use. I'm just not as turned on by automated sex machines as I think some women are. I enjoy toys that feel like an extension of my own fingertips or those of my partner. For me, having to put batteries into a toy means that it won't get used as much.
This product was provided free of charge to the reviewer. This review is in compliance with the FTC guidelines.

Thank you for viewing
Mary mermaid
– rabbit vibrator review page!