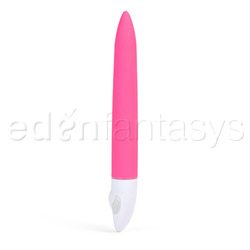 Love Candy by Kendra the Splendor
Traditional vibrator
by Evolved
I LOVE the LOVE CANDY
Overall, the Love Candy by Kendra is worth adding to the collection. I would get it again and will be taking it on a weekend trip soon to spice things up with my husband. The only thing I didn't like was the black pouch, but that was an easy fix.
Published:
Pros:
Waterproof, simple smooth design, discreet carry case, works well
Cons:
Small diameter can be challenging when using internally
This really is a fantastic little gem! At a petite 1" in diameter, the Splendor from Love Candy by Kendra goes to show that sometimes size really does not matter! (Please note that this measurement is different from the one given on the product page which says 2.5". The Evolved website however, has this listed as 1".)

The love candy comes in two colors, pink and purple. The outer packaging is your classic plastic toy casing. Inside however, is a hard cylindrical case of faux leather. It looks like something you would expect to find holding a bottle of perfume. This makes is easy for discreet travel; just toss it in your hand bag and go! Because the case is hard, you do not have to worry about accidentally pushing the button and having it vibrate in your handbag. Inside the leather case, the Love Candy is in a small, silk-like pouch. This part was somewhat annoying as it was difficult to open. The top of the pouch did not want to open wide enough for the toy to slip through. After several minutes I gave up and cut the string of the pouch to remove it.

The Love Candy is latex free which is good for those who are sensitive to it. It is made out of polyurethane coated plastic which is very smooth to the touch with much less friction than some of the other materials that I have seen in the past. This makes for a smooth glide with little to no lubricant required. This lovely, little novelty is also waterproof and unlike other toys that are said to be, this one seems to actually hold true to that claim. So take it in the bath, shower, hotel pool, wherever you like!

Using this toy could not be easier. Just push the button, which lights up, and you are good to go! There is not a lot to chose from as it only has 3 speeds, but there is something to be said for simplicity. This toy is not the most powerful thing on the market. It is not going to make your bed shake or make your arm tingle, but it has enough vibe to get the job done (a few times) and is not so loud that it is distracting or that you would have to worry about someone outside the room hearing the buzz.

I personally found it good to use as a nipple and clitoral stimulator because of its thin design. It is long enough to be used for internal stimulation as well, though I found it to be a bit harder to hit the right areas and it did not give that 'pleasantly full' feeling that I rather enjoy.

Overall, this is a good toy for travel, beginners, or a quick pick me up at home, or on your lunch break at work. It is perfect for those times when you just want to be able to get in and get things done without having to scroll through half a dozen settings to find the one you want and pulling out the lube.
This product was provided free of charge to the reviewer. This review is in compliance with the FTC guidelines.

Thank you for viewing
Love Candy by Kendra the Splendor
– traditional vibrator review page!