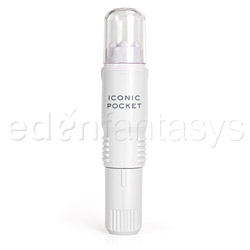 Iconic pocket
Pocket rocket
by Jimmyjane
"I'm travel-sized for your convenience! If I were my REAL size, your cow here would die of fright!"
As the name suggests, the Usual Suspects Iconic Pocket Rocket is everything society has come to expect from the pocket rocket: a discreet and tiny toy that provides a single moderately powerful vibration speed. But this particular pocket rocket has an edge over the rest, thanks to its sleek and information-laden packaging and understated design.
Published:
Pros:
Compact, discreet, well-made, conducts vibrations well, easy to clean and care for.
Cons:
Only one speed, may not be entirely waterproof.
I have a confession to make: I've never owned a pocket rocket. Oh, don't give me that look! I was a daring teenager; I hit 18 and I went straight for the big guns, the insertables with powerhouse vibrations and obnoxiously bright plastic covers. I like to think that I've learned a little more about sex toys since then and have developed more discerning tastes, but that doesn't mean I can't appreciate a cheap thrill every now and then.

The Usual Suspects Iconic Pocket Rocket, manufactured by Jimmyjane, manages to be one of those "cheap thrills" with an added touch of sophistication, thanks to its modifications to the classic pocket rocket design. It arrives in a sleek white plastic box with a front flap that opens to reveal loads of information and the toy. The pocket rocket itself is made out of white hard plastic with the words "ICONIC POCKET" stamped on the front of it. The top of the toy has 4 raised nubs on it, and a plastic cap keeps these nubs clean when the toy is not in use. The toy has raised nubs around its middle to provide wet hands with a better grip. As its name suggests, the Iconic Pocket Rocket is "pocket-sized" and can easily fit in the palm of your hand.

Operating the Iconic Pocket Rocket is surprisingly simple. The textured bottom of the toy is actually a dial that can be turned to three different symbols: an upside down triangle (which pops the bottom off, revealing the battery compartment), a square (which turns the toy off), and a triangle that points right (which turns the toy on to its single vibration speed).

This particular vibrator only takes 1 AA battery (provided with the toy), so I was expecting something gentle and quiet. Imagine my surprise when I turned the dial to the right for the first time and was met with moderately powerful vibrations, as well as an audible buzz! The vibrations are on par with the Turbo Glider or XTreme Pack's middle settings, and while the toy definitely makes noise, it's easily muffled by a couple of blankets and cannot be heard through a door. Vibrations are uniform throughout this tiny toy, and the raised nubs on the head provide a little extra sensation if you enjoy bumpier textures.

The Iconic Pocket Rocket is supposedly waterproof, but while the battery compartment locks tightly, there's no rubber ring on the inside of the toy. Hence, I would consider this vibrator "splashproof" at the most and avoid submerging it for extended periods of time.

Generally speaking, the Iconic Pocket Rocket is a great toy. Yes, it only has one speed, but that's generally how pocket rockets are manufactured, and this vibe's single speed is far from gentle. It's no match for the Hitachi, but I'm sure it could get the average user off. Furthermore, this toy is light and relatively discreet; the dial is tight enough that even if you chose to leave the battery in, the chances of the toy accidentally turning on in your bag or purse are slim to none. Pocket rockets are unintimidating and easy to use, making them excellent choices for beginners.
Experience
I've seen pocket rockets and had one used on me once or twice, but I've never owned one until now. And since I went in to my masturbation sessions with the Iconic Pocket Rocket expecting...well, the usual pocket rocket fodder (small, plastic, single-speed), I was not un-impressed. The single speed was more than adequate to get me close to climax (although I personally prefer to turn my toys up to a slightly higher speed to finish myself of), the nubs didn't hurt when I pressed the toy in to myself to provide more pressure, and the plastic material conducted the vibrations well. This isn't a toy I'll turn to regularly, let alone every time I open up my boxes, but it's definitely one of my top picks for when I travel or head to my parents' house on long weekends.

I would also like to note that this toy's box comes with loads of information about how to clean and care for it. The packaging is step above most toys in its price range.

The Usual Suspects Iconic Pocket Rocket is made from hard plastic, a relatively safe material that can be used with silicone or water-based lubricants. Because it is non-porous and phthalates-free, plastic is generally a safe material for sharing, provided you keep the vibrator clean with toy cleaner, soap and water, or a quick alcohol rub-down before and after each use.

Pocket rockets are made for external stimulation only. Their small size makes them unfit for any kind of penetration, and the texture on this toy could possibly tear the vaginal/anal lining if you attempted to penetrate yourself with it.
This product was provided free of charge to the reviewer. This review is in compliance with the FTC guidelines.

Thank you for viewing
Iconic pocket
– pocket rocket review page!