If every toy lived up to its promises like this one, we wouldn't need reviews
Strong and rumbly, this baby can satisfy in ways I never knew an affordable bullet could. Unlike its peers (I'm looking at you, Xtreme Pack), Bnaughty is sleek, classy, and it's actually waterproof. Bswish nailed it with this one.
Published:
Pros:
Rumbly, Powerful, Easy to clean, Pretty, Affordable
Cons:
It's too awesome?
I was blown away when I first turned the Bnaughty on. It's actually rumbly! A rumbly bullet, you guys!
I use the Wahl massager regularly, the jackhammer of clit vibes. I don't
need
crazy intensity, but I do need more strength than your average bear. This bullet is so rumbly that I can bring myself to edge on the second speed. Yes, the second speed.
Knocking it up to the third speed will finish me off. True story: I actually squirted with the fourth speed once. I squirt a little more easily than most, but still.
Performance & use
The Bnaughty has four steady vibration speeds. It's most rumbly (deep vibes) on speeds 1-3, but its fourth speed starts to feel a little on the buzzier side (surface vibes that don't travel through your body as well). Since rumblier vibes feel stronger than buzzier ones, the second and third speeds feel stronger than the fourth speed. The fourth speed is still rumbly enough to it for me, though.
The motor doesn't bind up when you apply pressure to the bullet, so those of you who like pressure on your clit may find a friend in the Bnaughty.
If you want to insert it (which you do because it's awesome), slip it into a condom first so you can pull it out without putting unnecessary strain on the cord. You really don't want to lose a bullet in your butt, you know?
Design, materials, & controls
The Bnaughty is 119% more classy than most bullets, especially for its price bracket. The Bnaughty isn't exactly a piece of art, but I'm a big fan of its simplicity.
It's made out of a silky, hard plastic that has only the slightest drag. The teensy bit of texture helps it "hang on" to lube better than super-slick plastics, though it doesn't need lube to be comfy on your sensitive parts. The toy had a plasticy smell fresh out of the box, but it went away after washing.
My camera ran away from home, but I want to give you a sense of its size. Let's try to make do with some crappy Photobooth pics until I can post some better ones.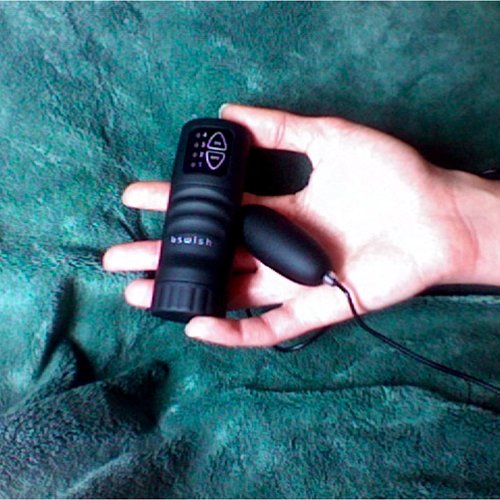 The bullet is 2.25" inches in length and 3.25" in circumference. The motor is in the tip of the bullet, not the middle or the butt, so it delivers pin-point stimulation quite nicely.
You can't see it in my crappy photo, but there's a seam running width-wise in the middle of the bullet. Surprisingly, it doesn't collect gunk. It will, however, collect stuff you can't see with the naked eye, so I wouldn't recommend sharing this with a friend unless you're fluid bonded or using a condom.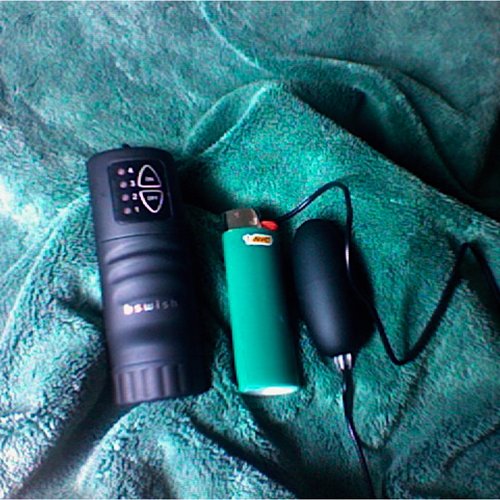 The buttons are seamless and simple "up" and "down" buttons. To turn it on, hold the "up" button. A red LED light will tell you which speed you're on. To turn it off, use the "down" button to scroll through the speeds until it turns off. Pretty intuitive, nothing fancy.
Care & maintenance
Bnaughty is waterproof, just like it claims. The wire is fitted snugly into the control pack and the bullet via a plastic grommet and waterproof sealant. Because I'm not sure how this connection will hold up after some wear and tear, I recommend checking the seal periodically if you plan to use this in water.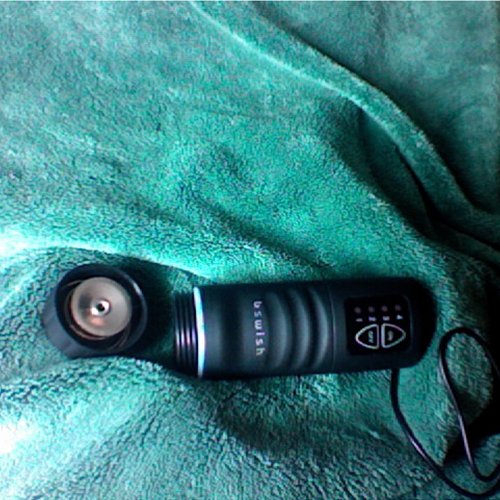 The battery compartment has plenty of threads, and they fit snugly with the cap. Notice the plastic washer: That creates a watertight seal when the cap is screwed on all the way. No water is going to sneak through there.
Since this toy is waterproof and hard plastic, you can clean with antibacterial soap under running water. Toy cleaner is another safe option. If you want to try to sterilize it with an alcohol or bleach solution, I recommend spot testing the toy first.
If you want to lube up, both water- and silicone-based lubes are safe to use with hard plastic.
Important tip
The Bnaughty takes two AA batteries, but this a classy bullet that will only take quality batteries. When I tried using it with cheap Sunbeam batteries, it turned itself off whenever it felt like it. When I tried it with disposable Duracell batteries, it worked like a champ--even when I kept it on for an hour and knocked it around a bunch to see if it would glitch again. It works just as consistently with rechargeable batteries, too.
Follow-up commentary
19 days after original review
I LOVE the frequency of the vibrations on this thing. Love love love it. I use this nearly daily for super lazy lounging-in-bed playtime, and I love that it's painless to clean afterward.

BUT, because there's always a 'but,' it does stall on me from time to time. I tracked the pattern carefully, and I think I've figured out the problem: Other reviews have said that if you jiggle the wires the wrong way, the vibrations cut out. I think that's right, but it only does it after the batteries have been used for approximately 1.5 - 2 hours. At that point, the batteries aren't drained, but they're not as fresh as the Bnaughty would like them to be, apparently.

Here's what I recommend: I use two rechargeable AA batteries, and I keep two freshly charged batteries on deck. Once the Bnaughty cuts out on me, I swap out the batteries and it works like a charm for another two hours or so.

I'd still strongly recommend this neat little bullet, but only to folks who use rechargeable batteries. If you're using disposable, the Bnaughty will get cranky at you long before the batteries are dead, so you'll have a bunch of half-used batteries on your hands.

Since it's so picky about batteries, I'd knock my rating down to 4 stars.
This content is the opinion of the submitting contributor and is not endorsed by EdenFantasys.com

Thank you for viewing
Bnaughty
– classic bullet review page!