If you are new to pegging like I am, you may want to start with another toy!
Perhaps someone more experienced would love this toy based on the quality of the materials, but the Sharevibe and I don't vibe well together. All things considered, I ended up with a pretty pricey dildo and wish that I would have spent more time researching before I purchased a toy for pegging. I lament the cost, but soldier on...
Published:
Pros:
Good texture and quality materials
Can swap bullet vibrator for another of similar size.
Cons:
Poor fit for my body.
It's heavy while the manufacturer states that it weighs 0.75 pounds!
The Fun Factory Sharevibe catches your eye the minute you see it! Upon further inspection, you can feel that the 100% Medical Grade Silicone toy is heavy and made with a velvety finish that feels good in your hand. The bullet is what I would consider being a standard vibe of its kind. It comes with a magnetic charging cord which is red! (kinda cool if you have a hard time organizing your various charging cables like I do). Unfortunately, like many rechargeable devices these days, it only has the USB cable and does not include the wall adapter.
Excited to embark on our next adventure, I set the bullet to charge straight away, washed the toy, then went to read the small, yet mildly informative instruction booklet that came with it.
As I stated before, I am entirely new to pegging. With this brand-new, hot looking toy in my hand, I was full of hope and had zero realistic expectations of how I was going to execute my sexy plan. I have zero experience, zilch, nada regarding pegging. I just recently discovered that my boyfriend has an asshole (and does not just play the part on occasion).
Needless to say, strap-ons or strapless strap-ons such as the Sharevibe, are not as easy to use as you might think! Men have put a little more practice and effort into using their appendage that one might have mistakenly believed before trying it out yourself!
The Sharevibe turned out to be very difficult for me to hold inside my vagina and therefore virtually impossible for me to maneuver as I had envisioned. For reference sake, I am 5'7" and weigh 150 pounds. I would describe myself as having an average build, with fluff around the middle, but not a seriously protruding gut. For comparison's sake, I'm considered long waisted in the fashion arena. Also, I have been told by doctors that my uterus is tilted forward. As a bragging right, I have been complimented on my serious muscle control in that region by medical professionals and lovers alike.
So, I believe that this design just wasn't meant for my body shape because I could not keep this thing in me to save my life! Multiple times, the Sharevibe shot out of me regardless of whether I was contracting my muscles or not. I have the WeVibe II and had a similar experience of not being able to hold it in place. If you have had trouble with older models of WeVibe for the same reasons, Sharevibe may not work you.
Despite not being able to use the Sharevibe in the manner it was intended, I improvised by using it as a dildo for anal penetration. The portion of the toy that is supposed to sit inside the woman, seconds as an excellent handle for anal penetration. The shape of the phallus itself lends itself nicely to anal penetration because it has a gradual taper design and smooth surface. However, when I could keep the Sharevibe inside of me, the dildo portion stood straight up and gripped my stomach. As I've said, I think it's the way I'm built. However, this made it very interesting to try and hold it in while trying to hit my mark resulting in more than one fit of laughter! Of course, laughing leads to shooting things across the room...you get the idea.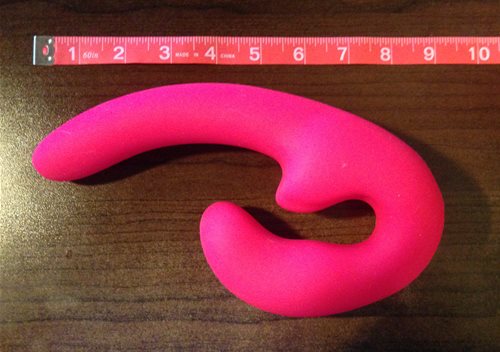 The bullet proved to be powerful, however, incredibly noisy considering the size. After 2-3 uses, the power button on the bullet would no longer make the connection to turn it on/off. Luckily, Fun Factory's warranty covered the unit, and they shipped me another with little stress.
I would rate the vibe around 4 Vrooms and 4 Bees, with more a rumble type quality to the vibe and the racket is considerable. So, unless you want little people wandering into your room in the middle of the night, I would recommend using background cover noise to mask the sound.
Experience
Retrospectively, I realized that perhaps I should have spent a little more time warming up to the idea of pegging! After doing some reading around the web, it seems as though I got WAY ahead of myself! Now I am in the market for a regular two strap strap-on with the most versatility in relation to quality for the money. I'm not asking much from a toy right???
Start wherever you feel comfortable, but I can say that I wish I would have gone for a beginner level strap-on versus something that requires more skill than I have available currently! As an aside, getting the bullet out of the the dong for cleaning can be a little challenging. I think it's necessary to take it out to clean properly because of the copious amounts of lube that I use and seeing that the slot where the vibe goes in would be a breeding ground for bacteria. The best advice I can offer is to be patient! I made a small crack in the bullet hole (I couldn't help myself there) by being too aggressive when trying to pry it out.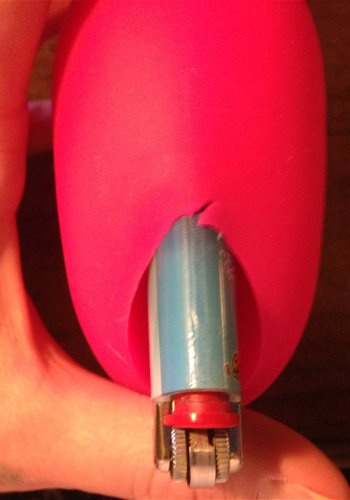 The only way I could manage to get it out is gently rocking the bullet back and forth till it comes free. The dong itself is a breeze to clean. I always dry toys like this on an old T-shirt or something that won't get lint stuck all over it.
This content is the opinion of the submitting contributor and is not endorsed by EdenFantasys.com

Thank you for viewing
Sharevibe
– vibrator for couples review page!