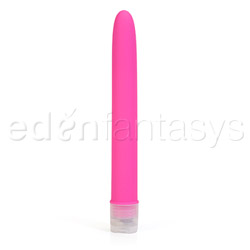 Velvet touch vibe slim
Traditional vibrator by Doc Johnson
In a nutshell, I love it
It's basic, and some people might even think it's boring. A straight-laced traditional vibe? Phooey. Don't pay any attention. Yes it is basic, and maybe it's dull. But it feels great, and it gives off a great feeling, and at the end of the day that's maybe the most important consideration.
Published:
Pros:
Great shape, good size, and no unnecessary bells and whistles to get in the way of a real fun time.
Cons:
Right now, I have to admit I don't have a single problem with it.
You know how it feels, opening your toy box to see what you can see, and suddenly feeling as though you'e on the flight deck of the Enterprise, moments after it has been overrun by the Strangely Shaped Silicone Beasts from the Planet Zarg... you know exactly the ones I mean. The nobbly dudes with the lumps and bumps, the external veins popping and a host of rigid tentacles that threaten to grab you in six places at once. With skin that feels like an over-cooked zucchini, and a color scheme that would blind you if you gazed at it too long.

Close the lid, then, and drift with me. Back to a day when things were simpler, back to a time when a vibe was a vibe, and not the kind of gizmo that gets rolled out at big budget high tech launch parties. Back to - oh, you get the picture by now. But when I say the Velvet Touch Vibe could almost be retro, believe me, that's a compliment. Because it's true.

Okay, not "retro" in an "OMG, my gran has one just like it" kind of way. For starters, it's the best feeling vibe I think I've ever had. No claims to realism, or skin-like texture. Just a smooth velvety finish (yeah, just like it says on the package) that is warm to the touch, even when it's in its packaging. A multispeed dial at the base of the shaft is easy to operate and doesn't mess around like some; and it's waterproof enough that showertime didn't worry it, and I don't think tub time will either. (I'll let you know if I discover otherwise.)

But it's the dimensions, I think, that impressed me the most. He's a skinny lad, this one, two-and-one-half inches at the base that taper down to two at the tip, a fat finger's worth of firmness that won't bend at the wrong moment. If you know what I mean. Six-and-one-half inches from top to toe is comfortable without getting greedy, and the gently rounded tip is contoured at just the right angle for direct stimulation.
The battery life seems good as well - I can't say I've given this the most vigorous work-out of its life, but the two double As that I popped in the first day the vibe arrived are still kicking it out, and I've got plenty of vibes that have lasted a lot less time than this.

I even like the color selection!

But if I have to come back to one killer feature, it's the finish that really wins me over. And makes me wish the rest of my toys were textured in the same fashion.
This product was provided free of charge to the reviewer. This review is in compliance with the FTC guidelines.

Thank you for viewing
Velvet touch vibe slim
– sex toy review page!