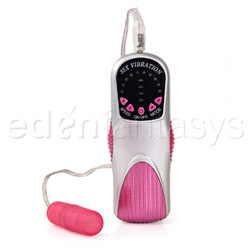 Xtreme pack
Bullet by California Exotic
"Invited to Techno Land…Wish I Could Have Come Sooner."
The Xtreme bullets seem to have developed quite a following, so when it came to picking a toy as my first verified review, it was no contest as to what I wanted to select, and the Xtreme Pack was quickly on its way to my front doorstep...
Published:
Pros:
Style, design, strength.
Cons:
Too "buzzy"…Varying patterns too distracting.
I loved the design, I liked the packaging, and I was quite excited to get this toy out and give it a go. First thing I noticed was the almost velvety finish on the bullet. It's not the typical finish on most bullets and that was an interesting and pleasant discovery.
Now, as far as its performance, that unfortunately fell a little bit short for me. Even though the bullet IS strong, it's more of a "buzzier" type strength. Those familiar with various sex toys will understand what I'm talking about. Even though it's strong, it's more on the surface, not going very deep, and has the tendency to get irritating if you don't watch it. It also gets hot quickly and VERY suddenly with little prior warning.
The reason for this is because of its size. The bullet is more streamlined than the typical one, which means the motor on the inside has to be smaller as well, and that results in this type of vibration.
Now, keep in mind that I am a self-proclaimed power queen. I love strong, deep vibrations. Although there are plenty of women out there just like me, there are more women out there who are not. They don't need as much stimulation, and they may prefer the way this bullet is made rather than its slightly larger cousins. The only other side effect of the bullet being smaller, is it is a bit harder to hold onto and apply where you want it, particularly once it and your fingers become slick whether from artificial or natural lubrication.
This toy was not a complete loss for me, however. Even though it does take me longer to come (about 20 to 30 minutes) I have had a few rather nice orgasms with it, but it just always had to be with some other type of stimulation, either with one of my favorite
anal plugs or dildos
, or G-spot stimulation. The G-spot stimulation was particularly interesting when used in combination with the second pulsing pattern available. This particular pattern, unlike the others, is constant, and goes a bit deeper than if the bullet is just on its highest level of vibration. It teases the orgasm out more, rather than giving you some instant gratification like other bullets might, but that is not necessarily a bad thing if you are going into the experience knowing that's the kind of orgasm you would like to have.
Now, as far as the other patterns are concerned, they do not make me happy in any way, shape, or form. There are some interesting sensations to discover here, but they don't stay on one of them for more than 5 to 10 seconds before switching them out on you and you completely lose any momentum you may have gained. This, for me, is the biggest flaw with this bullet. This bullet is capable of creating about a dozen different sensations from a tingle to a thrum to a thud or a buzz, but without the ability to "freeze" it on the one that you like the most it's a waste of time, at least in my opinion. There may be those out there that like the constant change in pattern, but me, I just find it horribly distracting and unhelpful.
But, despite its few drawbacks, it's still an interesting addition to my growing toy box. No, it is not the bullet that would have allowed me to happily dismember my flighty little
Pocket Exotics bullet
(which, for those who read my review of it, you know that I have had a bit of an unusual relationship with it! Ha!) but it is capable of creating some sensations that I haven't experienced before, particularly with that one constant pulse pattern. That was really the highlight of the entire experience, and one that has allowed this toy to graduate from a passport to a green card and take up primary residence in my toy box.
And, of course, it also has a lovely techno-like design, and the dancing lights definitely do make me think of putting on some dance music! Although, if I had been its designer, I would have gone the extra inch by making the bullet glow as well… But maybe that's just me!
;)
This product was provided free of charge to the reviewer. This review is in compliance with the FTC guidelines.

Thank you for viewing
Xtreme pack
– bullet vibrator review page!