Its a bullet with a cord....
The long lover is a remote controlled wired bullet. It has multiple setting and multiple uses; you can use it alone, during sex, or for some lite sensory play. It reasonably priced, and perfect for beginners and the advanced alike. You can use the lube of your choice. The only real and biggest down fall of the long lover is that it is not water-proof.
Published:
Pros:
Detachable cord, Multiple setting, Long bullet, Beginner friendly,
Cons:
Not water-proof, Can be slippery when used with lube, Not strong enough for some
What caught my eye with this one was the butterfly on the controller. I thought it was extremely girly. The first thing that came to mind was, I wish it came in different colors. It does not. The metallic purple is still a very pretty color. The long lover comes to you in the normal plastic casing, but it has more information on it. It advertises that it is power at your fingertips. It is multispeed. The casing is fully reusable and recyclable. You can give this as a gift in a privet setting; I would not think it is best to give at a birthday party. The paper inset that the information is on can be tossed, or you can keep it. I decided to keep mine. The back of the package has some information on it. It has battery instructions. You will also notice the manual that comes with it. The information in the manual is pretty much common sense.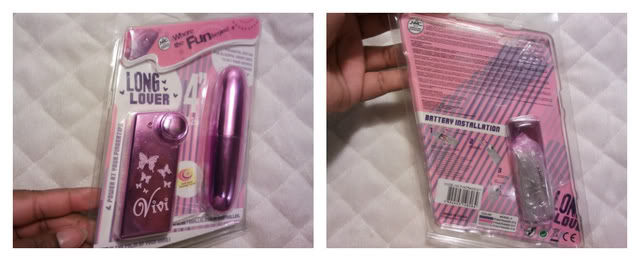 The long lover comes in three different parts. The first part is the bullet itself. It is a seamless plastic bullet that can be used with water, oil, and silicone based lubes. The bullet is 4 1/4" in length and is completely insertable. The bullet has no texture at all; it does have a seam that looks at if it has connecting to two halves into one bullet. The edges are rounded, so you do not have to worry about jabbing yourself by mistake.

The second part of the long lover is the control. The control is about the length of the bullet. It has one turn nob control that adjusts the vibrations; it has some lite art on it. It has 6 butterflies and the word "Vivi". The art on the control is not raised so you do not feel it. There is also one red light that lights up when you are using the toy. The turn nob that is used to control the vibrations is a bit annoying. You can not just use your thumb to adjust the vibrations. You have to grasp the button with two fingers for it to turn. This can be annoying when you are close to orgasm, and you want to speed up the vibrations to bring you over to that edge. It runs on two double A batteries.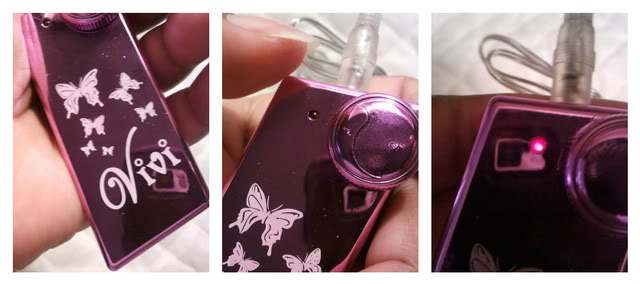 The last part is the cord that connects the bullet and the controller together. The removable cord is perfect because it keeps you from mistakenly breaking the cord. It also prolongs the life of the bullet.

The long lover does not have that many vibration settings; actually it lacks big-time in that section. It has the normal low, medium, and high. At the highest setting, the vibrations are quite deep and are kind of loud. You could hear it through the covers but not through a closed door. You can use the long lover for sensory play between you and your partner, or alone. You can use this also during sex; the size is not too large to slid in between you two. You can also use this anally, only because the cord is so long. If it was not for the cord, I would not recommend even trying it anally. The cord also allows you to insert it during when using it vaginally.
Experience
Continued
As just using it purely clitoral the vibrations are extremely good, sometimes it could feel a little rumbly. It does sometimes give you itchy fingers when you are using it. When using the long lover with lube it can become a little slippery. I did lose grip of it a couple times when using it with my own natural lubricants, so I know using it with any artificial lubricant you will have some slipping.
The long lover is NOT waterproof, which was a letdown for me. Neither the bullet nor the control is waterproof. The wire has a plastic covering, which made me think it was, but it is not. Do not take it into any kind of water, because it is not even splash-proof. When cleaning the long lover, you should always use a wet cloth or wet wipes. Do not fully submerge it, with the lack of cleaning abilities, I would recommend when sharing it to use a condom.

It is the perfect size for traveling; because the long lover has the ability to be taken apart traveling is simpler. You can take it apart and place it into a small carry-on, or luggage bag. It fits perfect in even an overnight bag. The vibration strong, but not super strong, by the size and the vibration strength it would be perfect for beginners. I would recommend this to a more advanced player who just wants something small, and still has some power.
Experience/Personal comments
I used this with my boyfriend, and he enjoyed it also. I wanted something that I could use for clit stimulation during sex. This is not my favorite one; I'd rather use my MIMI or high-intensity bullet. I do love the cord on it, because it made it, so I did not have to hold on to it. The length of the long lover made it a little more enjoyable to my boyfriend. We were able to lay it in-between us, with my legs wrapped around, and he pressed against me. In that position, the vibrations traveled along the shaft. It did slip a few times, making us have to readjust it. It was not a problem during that session, but in more of our high paced, high-action sessions. The slipping would have been a massive problem. I also felt that this would be acceptable for tribbing between two female partners. They could place this between them on both clits. I hope someone tries this, and it works out. You can also pair this up with your favorite dildo.
This content is the opinion of the submitting contributor and is not endorsed by EdenFantasys.com

Thank you for viewing
Long lover
– bullet vibrator review page!