King Kong Rotating Probe
The rotating beaded is the king of all probes Rotating head, and smooth texture. The beaded probe is made for both women, and men. The size can be a little overwhelming. The rotation of the head adds extra stimulation. The beaded probe is ideal for vaginal penetration as well as anal.
Published:
Pros:
Rotating head, Good for both men and women,
Cons:
Smell, Rubber, Not Waterproof, Not for beginners
Let me first off my saying that the beaded rotating probe is a beast of a vibrator. I have not had the best luck with rabbit styled vibrators. When I came across this, I wanted to try it. It did not have a "rabbit" part that stimulates the clitoris. I did not think it would be as large as, it was. When i received it in the mail, I was overwhelmed. I just could not believe it. My boyfriend was like, "OH MY GOD, THAT THING IS HUGE" It scared him. After getting over the initial size, I opened it.
The very first thing you noticed is the overwhelming smell. The smell just like karate kicks you in the face. I just could not believe it. I have had rubber toys in the past, but none that smelled as bad as this one did. Right now as I'm thinking about it, I still am in shock. The smell was just so repulsive. I had to let the vibrator stand out for a couple of days; I also washed it a few times. The smell dyed down tremendously after about four days of sitting in the air.
The colt is made of rubber. We all know rubber is not the safest it is a Porous material with exceptional wear-resistance, and extremely long lifetime. Rubber does not clean well, so to prolong the life of any of your rubber toys. You should always use a condom with them if you are using it alone, or with a partner. The colt probe can only be used with water, and silicone lubricant. The colt is not ideal for traveling. You would have to make arrangements for it. This is the toy that is only meant to stay home. The colt attracts so much lent and dust. It is almost like it pulls the lent right out of the air.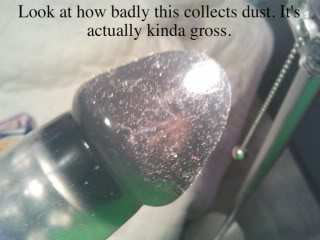 The colt rotating beaded probe is suitable for both men, and women. You can use it vaginally, and anally. It is long enough for solo play, but not too long to enjoy with a partner. The colt has rotating beads in the neck. This helps the neck spend. It spends in a complete circle. When in the vagina, it is still able to complete a full circle without any problems, or delays. Although you can see the beads moving, and feel them in your hands, you do not notice them when you are using it. Although, I wish you could feel it. I was unable to use it anally; I'm working my way up to it, and at this moment, I was unable to get properly insert it. Although I was not able to insert it, I love it for vaginal use.

The colt comes in clear plastic case. There are no pictures, or anything that has information on it. You are left to fend on your own when it comes to this. The plastic container opens up as a book. It can also be used over and again. This would not be ideal for gift giving. Not unless you want to freak out the person you are giving it too with its freakishly large size. The colt runs on three double A batteries.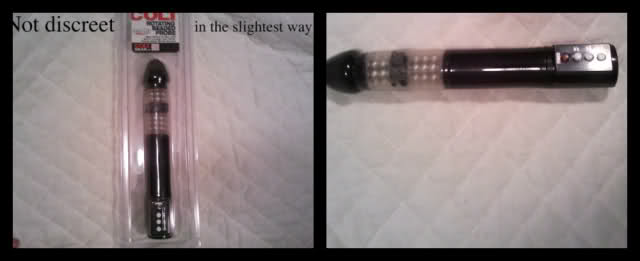 The control pad has three buttons,
1 On/Off
2 Low (3 bees, 2vrooms)
3 High (3 bees, 3vrooms)
The colt is an extremely large toy, but yet it is surprisingly quiet. You will not be able to hear it through the covers, and you cannot hear it through a closed door. The colt is NOT waterproof, nor is it splash-proof. When you clean it keep water away from the control pad.
Measurements of the colt are as followed:
Length:11"
Insertable
Length:8 1/2"
Circumference:5 1/4" Diameter:2"
Weight:1 lb

I thoroughly enjoyed the beaded probe. When I got past the size, and the smell I was able to fully enjoy this toy without any problem. I hope I can get to the point where I can use it anally, but until then I will enjoy this vaginally.
This product was provided free of charge to the reviewer. This review is in compliance with the FTC guidelines.

Thank you for viewing
Colt rotating beaded probe
review page!