Left Me a Few Wanks Short of an Orgasm
All in all, the Kangaroo is a well-made, powerful toy that will satisfy anyone who likes strong, buzzy vibrations and doesn't mind a little noise. It feels like it will last a while, as long as it's properly cared for, due to the jelly material. It's nice to see an animal, other than a rabbit on a toy. If you don't mind a separate control box, it's nice to have the toy free of the controller for hands-free use. Fortunately, you can't see the weird face when it's inserted!
Published:
Pros:
Strong (buzzy) vibrations
Robust rotating shaft
It smiles at you
Cons:
Jelly material
Noisy
It smiles at you
I was curious about a Vibratex toy. I have heard a lot about them over the years and they made the original
Rabbit Pearl
vibrator; the one that supposedly started the whole rabbit hype. So, when I got the chance to try this Vibratex Kangaroo toy, I jumped at the chance (or "hopped" at it?). The Kangaroo is a rabbit-type vibrator with a vibrating kangaroo as the "rabbit" part and a smooth rotating shaft, with a modestly sized head (complete with strange smiling face) at the end.
The Kangaroo came in a clear plastic box; fairly attractive packaging. There was information on the sides of the box about the toy's features and the toy (wrapped in an unsealed sheet of clear cellophane) and controller were displayed inside. This display would be okay for gift-giving, but not at all discreet, since the toy is on full view.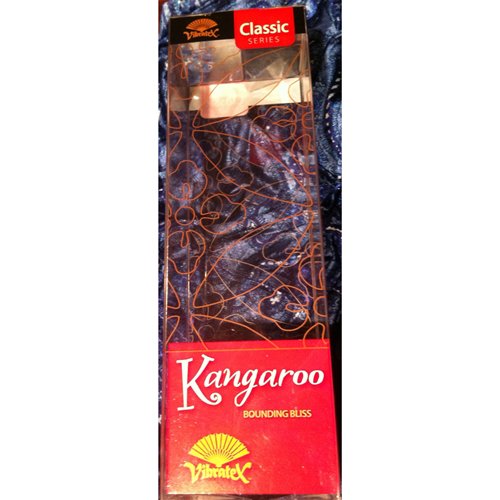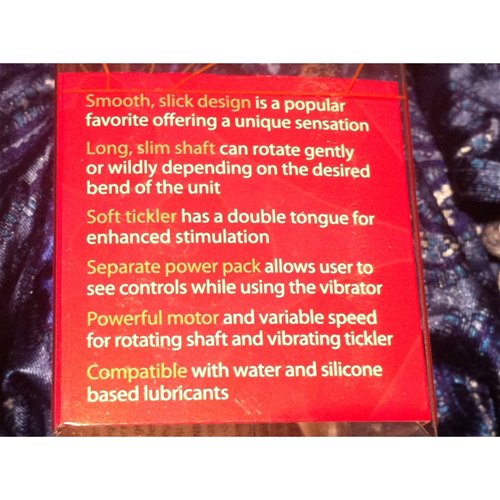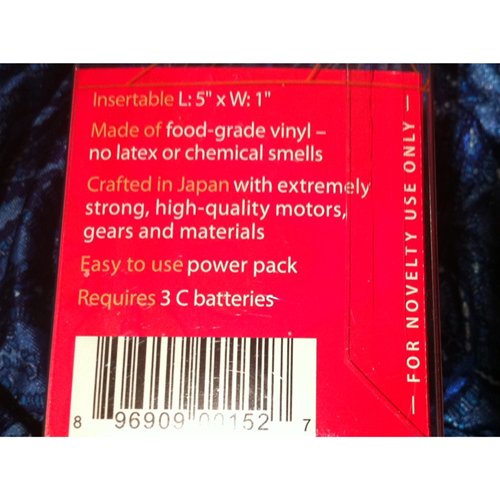 I opened it and my first impression was that the controller box was kind of strange. It's almost as large as the toy itself and opens to hold three "C" batteries.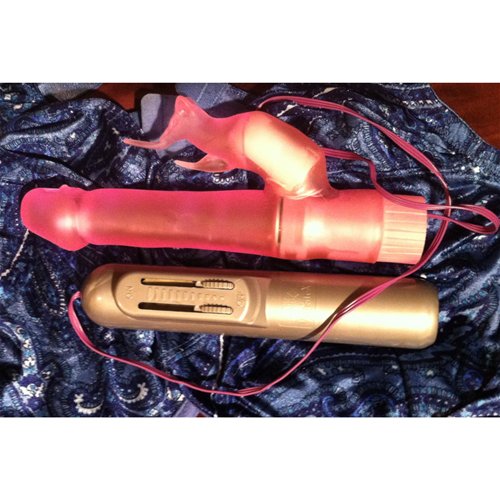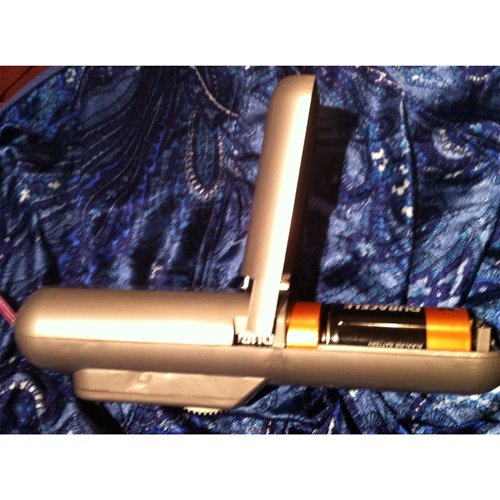 I took out the toy, feeling its soft exterior. The texture is smooth and velvety, not shiny like a lot of jelly toys and soft, but also quite firm. It is translucent and the inner shaft can be seen. This shaft can be gently bent to increase its rotating action. The vibrating bullet and wires can also be seen through the exterior. The pink color is pretty, with a nice matte finish on the outside. There was no noticeable smell, which is unusual for jelly toys.
The Kangaroo is made of translucent pink jelly (the product detail page on Edenfantasys.com lists the material as "jelly", while the box says "food grade vinyl". Jelly material is polyvinyl chloride, so I'm assuming that's what the toy is made of. There is nothing that says this toy is pthalate-free and jelly toys often have pthalates in them. The material is also porous and can't be disinfected completely, which earns it a measly "2" on Edenfantasys material safety scale. Please consider using a toy cover or condom while using this toy and be careful about sharing it. It should be stored away from contact with other toys, to help prevent the material from breaking down or "melting". You can use a water- or silicone-based lube with this toy. It can be cleaned with a mild soap and warm water. It is not waterproof, but I ran water over the shaft section for cleaning and that worked fine. The only place that would obviously let water in is at the base, where the cord attaches.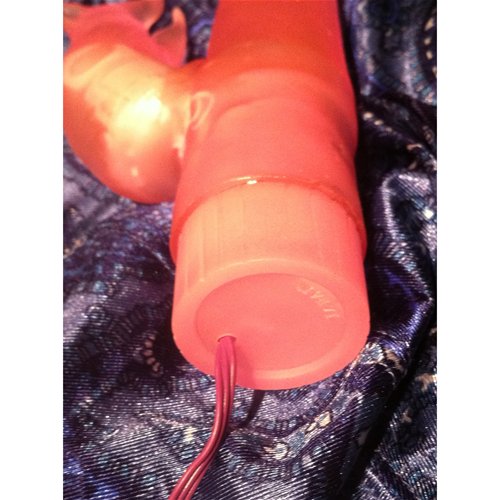 The Kangaroo vibrator measures almost 9 inches from top to bottom. The controller is separate; attached by a cord to the main vibrator. The cord is about 23 inches long. The cord length is adequate for using the controller when alone, but it could use a little extra length when using the toy during lovemaking with a partner. The controller is large; almost as long as the toy itself, which I thought would be awkward, but actually turned out to be fine. On toys with smaller separate controllers, I've found it easy to lose the controller in bed during sex, but this one was easy to find after letting go of it, in the heat of the moment.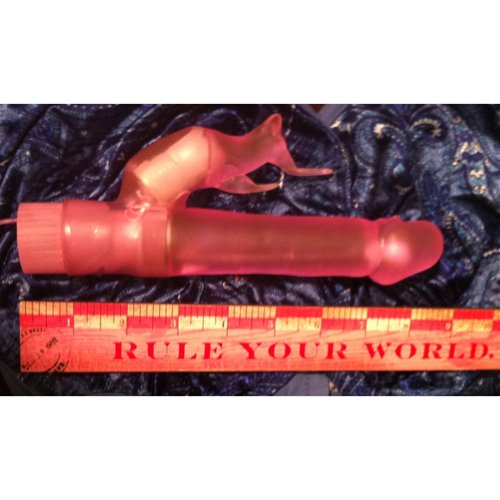 The insertable shaft measures about 5-1/2 inches long, with a modest circumference of 4 inches, and a diameter of just over 1 inch.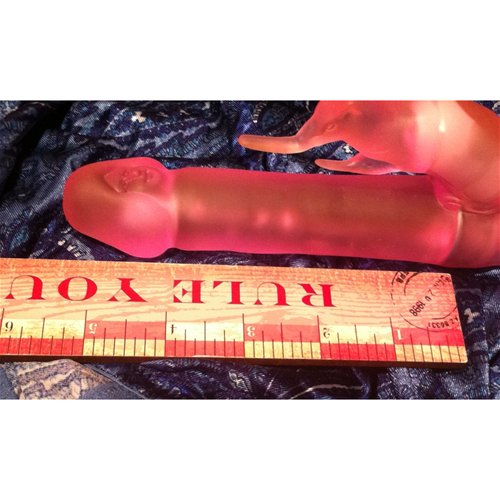 The head is a little larger, but this would be a good toy for beginners, as long as precautions are taken, due to the questionable safety of the jelly material. Speaking of the head, it has a hilarious face molded into it. Well, at least she looks happy!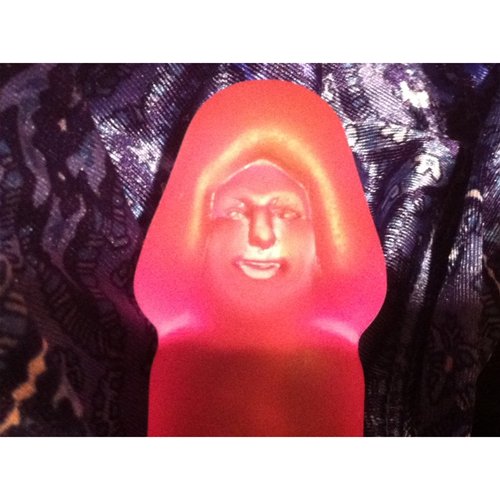 The "rabbit" portion, which in this case vaguely resembles a kangaroo with a joey in its pouch, measures a little over 4 inches. Because it has several points of stimulation (the joey's head and the kangaroo's head, both fairly long for this type of toy), there is good coverage of the vulva/clitoral area and it should work for a variety of anatomies.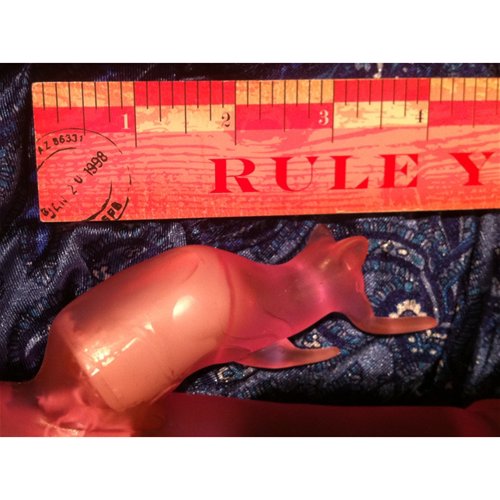 The controller has two sliding bars that control the vibration of the kangaroo part of the toy and the rotation of the shaft. There are marks that seem to show levels of intensity, but there aren't distinct separate levels; it has a smooth increase pattern from low (bottom) to high (top). There are no functions other than vibration and shaft rotation on this toy. To turn the toy on, you just slide one or both of the bars up in its channel and to turn it off, slide them all the way back down.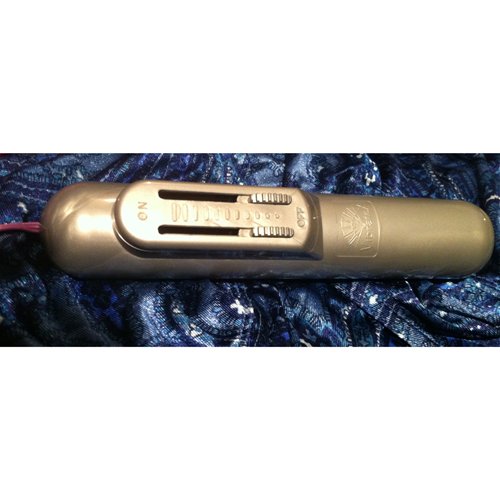 Experience
The Kangaroo's shaft was easy to insert without lube, due to its modest thickness. The insertable length is quite long and went past my G-spot, but after I bent the rotating shaft a little to increase the rotating action, it hit my G-spot nicely and had enough power to keep rotating, even when I squeezed my muscles against it. I find that most rotating toys stop when squeezed, so this was a nice surprise. The shaft rotation is among the strongest I've seen and that's a definite plus. Because the control box is separate, attached by the cord, this toy can be used hands-free. The kangaroo clitoral stimulation part has strong vibrations, even at the lowest setting. At the highest setting, they are very strong; not the strongest available, but close. However, they are also very "buzzy" and I prefer rumbly vibrations. After a few minutes, I felt pretty numb. If you like strong, buzzy vibrations, this toy is for you! The strong buzzy vibes didn't do it for me and I ended up using another toy to finish off.

This toy is quite noisy. It could definitely be heard in the same room and probably in the next room through a shut door and it sounds a lot like a power drill with the rotation going (although not quite as noisy as a drill). I turned some music on to dampen the noise, but it's still a little distracting. I much prefer quieter toys.

The Kangaroo seems to be well-made and durable. It's clearly better quality than the cheaper jelly toys I have had and seems like it would last a long time.
Follow-up commentary
2 months after original review
I think anyone who likes strong, buzzy vibrations would still be happy with this toy, but for me it's just not rumbly enough. I haven't felt tempted to grab for it again.
This product was provided free of charge to the reviewer. This review is in compliance with the FTC guidelines.

Thank you for viewing
Kangaroo
– rabbit vibrator review page!