Love G/How To Find Your G-Spot
Maybe you can't sterilize it, but you won't want to share anyway. The Love Vibes Love G finds its way to the g-spot like an expert tracker and offers enough variety for anyone.
Published:
Pros:
Has weight to it, curve is perfect for g-spot stimulation, waterproof, ten modes
Cons:
Lint magnet, can't sterilize
The Cal Exotics Love Vibes Love G lives up to its reputation for ten vibration patterns that'll give you a buzz that lasts all night, and the only cure for this hangover is a repeat the next morning!
First off, there are many toys that claim to be waterproof, but I am consistently hearing of ruined motors due to leaks or not closing the battery compartment tightly enough, etc. The Love G is truly waterproof. I submerged the toy for ten minutes without any water entering the battery compartment. The battery compartment is almost impossible to close incorrectly due to a track within it that makes sure it twists together tightly.
Now, let me let you in on a little secret…There are no instructions on how to get the battery compartment open. Trust me when I say that I furiously searched the net to no avail. You see, when I twisted the bottom, the end of the track kind of stuck and didn't pop right open. I, of course, did not want to twist any harder or pull because I was afraid I would break it. Finally, after messaging everyone else who has ever done a review on this product, I just put some force behind twisting the compartment open. Holy cow do I wish that someone would have given me a heads up and saved me twenty minutes!
The next thing I want to address is the instructions manual included with this item. It's absolutely useless. It shows battery diagrams with neither being a picture of the actual vibrator I received. It's obviously a manual that is given with several of their different items and says things such as "Clean your vibrator carefully with your preferred cleanser." I would say that certain cleansers wouldn't be advisable for the Love G. I personally used warm water and baby soap because it's made of jelly, and I don't trust anything with alcohol in it as a cleanser. I use baby soap because this product is only a 2 on the safety scale and advises against harsh soaps. This product can also not be sterilized, which means no sharing unless you use condoms with it.
Compatible lubricants include water and silicone based lubricants.
Store in a cool, dark place, as jelly is similar to rubber and can morph with heat.
Measurements:
The toy is 8 and a ½ inches long, with seven insertable inches. It's got a 5 and a ½ inch circumference.
This vibrator feels a little heavy in my hand, and it was definitely bigger than I imagined it. I would suggest that newcomers might not prefer this toy as an introduction to g-spot vibrators.
As noted, since this toy can't be sanitized and doesn't have a flared base, I would not suggest it for anal play unless you are experienced in this department and use condoms with the toy. Overall, it's probably too large for anal play for many anyways.
Toy Looks and Packaging:
The vibrator is ribbed, has veins, and even has nubs and hearts. I personally did not feel much of a difference with the texture, but this may be because the toy is very flexible instead of stiff.
The Love G/Love G packaging: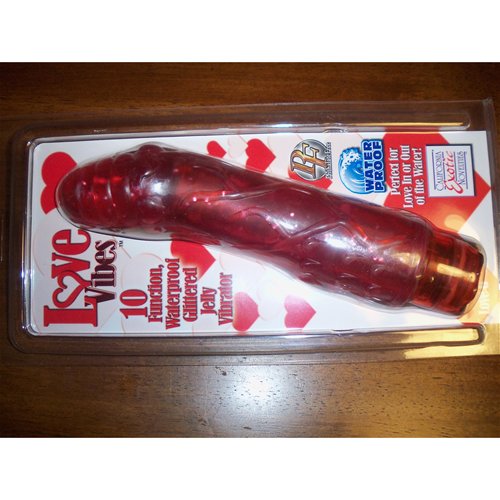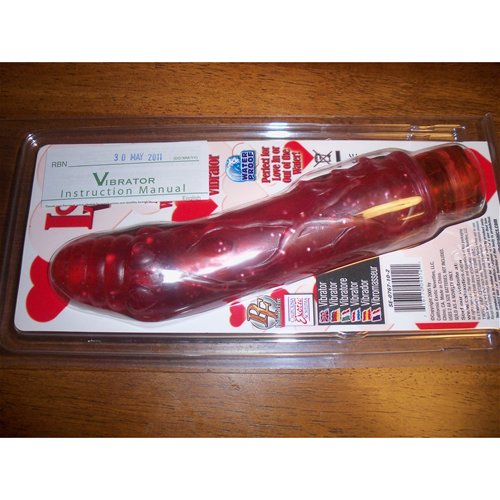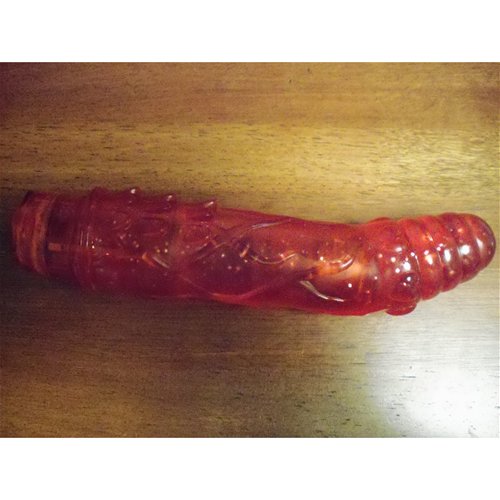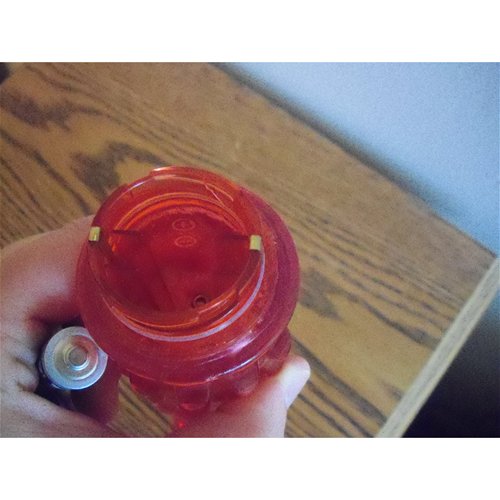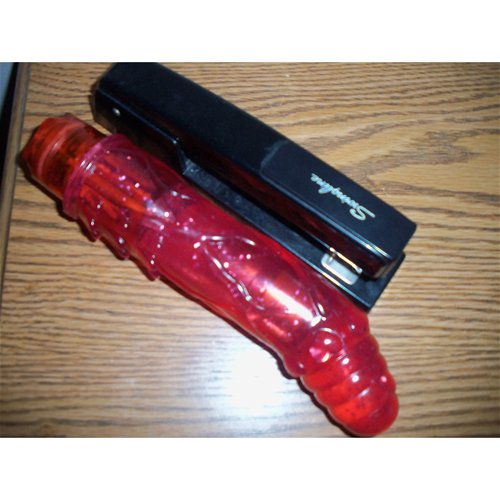 When removing the Love G from its packaging, the vibrator felt almost greasy, but definitely not sticky.
Smell and Taste:
The Love G smells like rubber. It's not an overwhelming scent and does seem to fade, but it will never be completely scentless.
Bees and Vrooms:
You can definitely hear this toy through the covers depending on the setting it's on, but it couldn't be heard through my closed door. Also, depending on the settings, vrooms range from a 2 to a full 5. There's definitely a lot of power behind this toy!
The Love G can be used for clitoral stimulation, but since it bends, I had a hard time adjusting the toy until I felt the vibrations were strong enough. It really is all about fidgeting with it until it's in the right position, at which point it feels amazing!
I'd explain all the modes, but I'd go over the review limit. I will include these in the follow-up! Sorry!
Finally, some instructions for finding your g-spot!
1. Insert finger to second knuckle.
2. Put pressure on anterior wall (up towards urethra).
3. If you're in the right spot, you should feel it swell up and become firmer after stimulation. This area may feel ridged.
4. A firm thrusting motion will eventually cause a bulge at the top of this area, which is the g-spot.
Hope this helps!
Experience
If you're into nipple stimulation, the Love G's hard end can be lightly and quickly rubbed against nipples for stimulation. The Love G can also be used while vibrating to stimulate the nipples, but since the Love G bends, it is harder to achieve stimulation. I also lightly slapped the Love G across my breasts because of the weight, which I found enjoyable.

If you do find your g-spot with this vibrator, it is normal to almost feel a sensation like you have to urinate. This feeling often disappears after stimulation has occurred for awhile.

I found that the Love G is a little difficult to insert without any lube based on the girth, so I'd recommend a water-based lube unless you're going for shower play! If showering with it, use a silicone lubricant.
Follow-up commentary
14 days after original review
As promised, the ten vibration modes are:
1. strong solid buzz
2. medium solid buzz
3. low solid buzz
4. 4 or so strong pulses
5. Waves
6. Similar to a cell phone vibration if on a hard surface
7. long followed by series of short
8. low buzz pulses
9. medium length pulses
10. lowest pulses

My favorites are #1 and #4. Although I doubt I could orgasm solely by using #4, it is a unique pattern and definitely creates an interesting sensation.

One last note: Despite the complaints that this vibrator is jelly, I am a huge fan. You may not be able to sterilize it, but I still found it easy to clean. It's probably too large to use anally for most anyway. Most recently, I noticed that this was on sale for under $20, and I think it's worth far more.
This product was provided free of charge to the reviewer. This review is in compliance with the FTC guidelines.

Thank you for viewing
Love vibes love G
– g-spot vibrator review page!