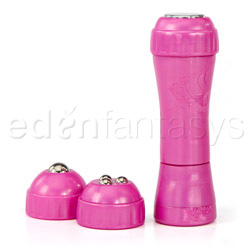 Mini-marvel
Pocket rocket by California Exotic
Mini, Yes. Marvel, Debatable.
If you're not into strong vibrations, or if you're new to the world of vibrators, the Mini Marvel might be the perfect toy for you. But if you're wanting strong vibrations that leave your body shaking, you won't find them here.
Published:
Pros:
Comfortable and easy to hold. Interchangeable heads lock into place. Quiet!
Cons:
Middle and high vibration settings are too similar. High setting could leave you wanting more.
The Mini Marvel has plenty of wonderful features, like an easy to hold shape, interchangeable/locking heads, and easy push button control. That being said, the Mini Marvel is somewhat lacking in the vibration department. That's not to say that it isn't a good toy and wouldn't please anyone, but for some the power is not going to be enough. Unfortunately, I am one of those people. I've always been very fond of having strong vibrations when it comes to clitoral stimulation, and the Mini Marvel just didn't deliver for me, at least not 100% of the time, and when it comes to vibrators I expect them to deliver every time.

Even though I was somewhat disappointed with the Mini Marvel's ability to pleasure me, I'm still overall very happy with this toy. I really feel like there was a lot of thought put into the making of this vibrator, it just doesn't seem like it was made with vibration hounds like me in mind. At first glance, yes it does look a little like a pepper mill or shaker, but that curved design makes it very comfortable and easy to hold onto compared to a straight or tapered pocket vibrator. And the push button is very easily accessible, as long as your fingers aren't super slippery, which can make the smooth plastic vibrator harder to hold onto. I've read on other reviews that people weren't crazy about the screw-on, locking, interchangeable heads, but I personally found them ingenious. My last pocket vibrator had interchangeable heads that you just pressed on, and after a few uses these heads would start to crack around the edges so that they wouldn't stay on well. This screw on design eliminates this problem, keeping the heads on tight during normal play. I suppose it could be possible for them to be "rubbed of" if you're a little rougher with the toy but I never had that problem no matter how much I turned the Marvel during use. And because the toy is made up of smooth, hard plastic, as well as being waterproof, it is extremely easy to clean up with just a little soap and water.

Possibly the best feature of the Mini Marvel is how extremely quiet it is. This is probably partially because the vibrations aren't quite as strong as other vibrators, but even the lowest settings on other vibrators can sometimes be noisier than the highest setting on the Marvel. Therefore I find that this vibrator would be perfect for anyone looking to keep things quiet, whether it's someone with a college roommate or still living with their parents. I would have loved having this thing at my last apartment where the walls were super thin!

One last thing I found strange about the Marvel is the difference in strength between the vibration settings. The Marvel has three settings, which are easily changed by the press of a button, making it easy to cycle through the strengths. The first two settings are perfect, in my opinion. I found that the difference in power was very pleasing as I cycled through them, starting with a very low vibration to get things started and then moving into a higher vibration that really gets things warmed up. But from there on I found myself disappointed as the final vibration setting was really not much higher than the middle setting. My first encounter with the Marvel left me craving more because of this, and I found that it just wasn't quite enough to allow me to achieve an orgasm.

Outside of the actual performance of the toy, I also found it frustrating to use during partner sex. Solo use is just fine as there is nothing getting in the way of finding the right angle, but adding in my husbands body I was unable to maneuver the Marvel into place. In certain positions it works ok, mostly only during rear-entry, but forget about trying to use it during missionary or cowgirl! The few times I tried to use the Marvel during lovemaking I got so frustrated I had to switch over to my old pocket vibrator in order to finish, which was extremely annoying. So if you're looking for something to use with your partner, this is not the vibe you're looking for.

For some, the Mini Marvel could potentially be the perfect vibrator, offering a wonderful design and a decent amount of vibration. But for others it could potentially leave them wanting more, in which case you might still enjoy this vibe for some very sexy teasing during partner play before getting to the main course. Anyone looking for softer vibrations, or new to the world of vibrators, would definitely like the Mini Marvel, and the price is very nice for what you're getting.
Follow-up commentary
6 months after original review
I wasn't all that crazy about the Mini-Marvel to begin with, but I have since thrown this little pepper-mill looking vibe out as our relationship began to get even worse. After trying to give the Marvel a few more chances it began to develop at chattering sound, as if the motor inside had gotten out of place and was starting to vibrate against the plastic casing. I also discovered that the interchangeable heads had small crevices between where the metal contact points met the plastic and that these were attracting lube and bodily fluids. To make matters worse these little crevices are nearly impossible to clean. I hadn't noticed these crevices when I wrote my original review because I normally do not use lube when I am using a small vibe like this and so it wasn't getting all that dirty to begin with, but I just happened to use it again during a very slippery sex session with the hubby and so the crevices then had a chance to wreak havoc. With these two new developments I now feel that I gave the Mini-Marvel more credit than it deserved.
This product was provided free of charge to the reviewer. This review is in compliance with the FTC guidelines.

Thank you for viewing
Mini-marvel
– pocket rocket review page!