My Faulty Finger Friend
I fought hard to find a good use for my new little bunny friend. Sadly it is just not meant to be. First the bullet breaks right off, not that I would have kept that part long anyways, I hate replacing watch batteries. However, I was delighted to see that it fits on a regular bullet vibe too!! Too bad little bunny is so ridged! Sorry little bunny friend but I see a dumpster in your future!
Published:
Pros:
silicone, easy to clean, sleeve fits other bullets
Cons:
bullet was faulty, hard material
The Bunny Finger Friend is a great concept! It is a silicone sleeve that slips over a slender bullet for clitoral stimulation. It has a loop in the back to make it easier to maneuver and control during play. This toy is completely waterproof making it great for in tub or pool or shower. I've found it can also fit on your standard silver bullet vibe that like almost everyone has! While this is not a waterproof option in most cases, it will help you out with stronger vibrations as the included vibe is terribly small and very weak.
The sleeve is made of pure, nonporous, body-safe silicone. Which is great!! Silicone is waterproof, easy to clean and completely sterilize. The sleeve has little bunny ears and a little textured bunny face, both of which can be used for extra stimulation, the ears are a little on the ridged side so they may not be everyone's favorite part of this cute lil' fella. On the bunny's back is a silicone finger loop that is stretchy enough to possibly go around two fingers or fits one nicely as it is. It comes with a small blue plastic bullet vibe with small clear button at one end to cycle through the functions. It has a nice thick silicon ring to seal off that battery compartment which holds 3 tiny watch batteries. The vibrations were so weak I couldn't even tell you what the different vibration patterns were.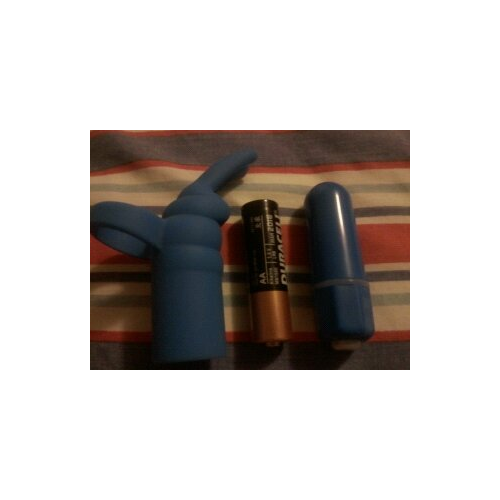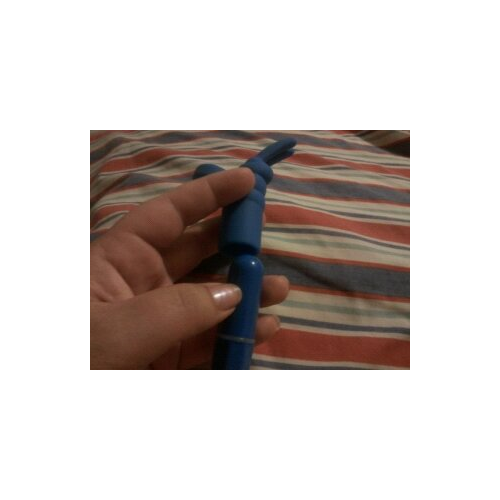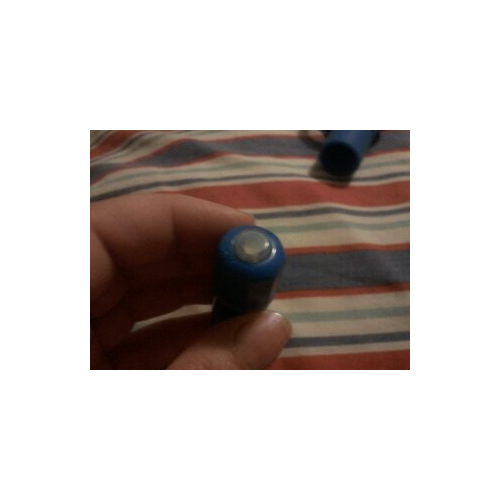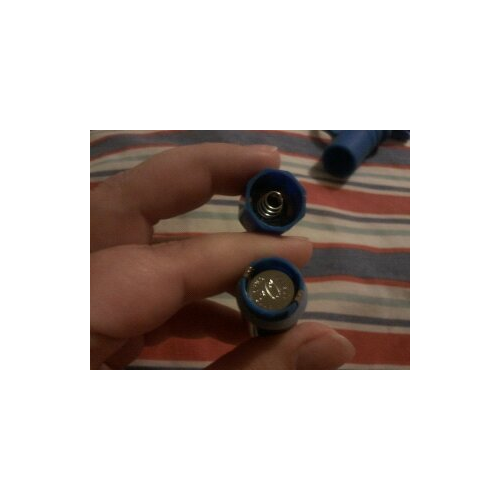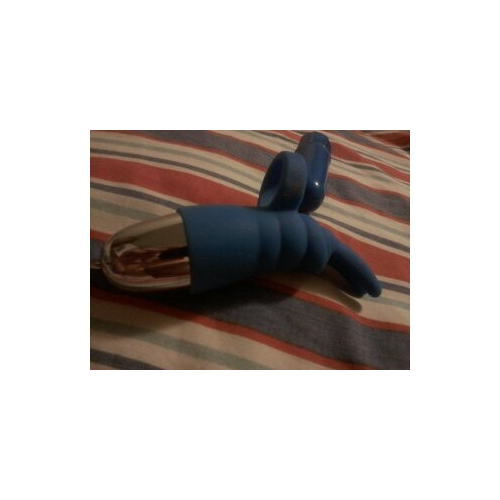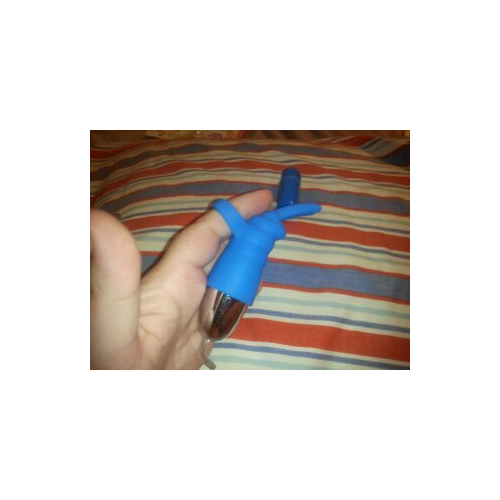 Care for this guy is very easy, as is storage. It is silicone so it can be boiled if necessary but generally speaking unless your sharing this toy, simply washing it in antibacterial soap and warm water or using a cleansing wipe on it will do fine. Same goes for the bullet as far as cleaning except you wont want to boil that as the plastic may crack. The package it came in is perfectly fine for storing it in or you can do like I do and just toss it in the the rest of the toys.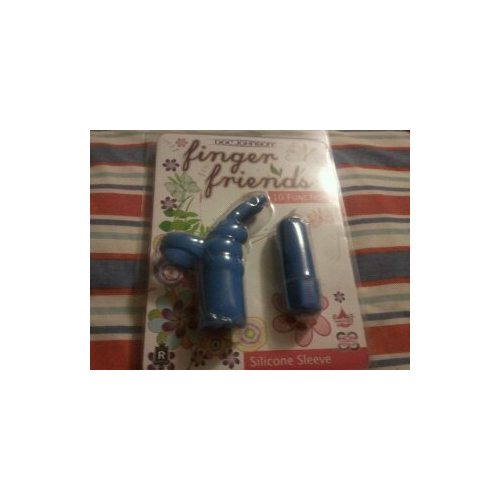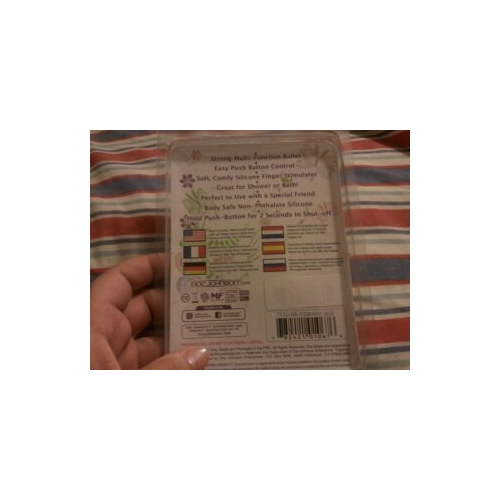 Experience
Ok so me and this toy didn't exactly get along... it is a great concept and I reallllllly wanted to enjoy it. But for starters the vibe didn't function properly. First I couldn't get it to turn on, then when it finally did the vibrations were so weak I could barely feel them even holding it in my hand. I tried to cycle through the different vibration patterns but I honestly couldn't tell you if it ever changed or not it was just too weak. Then I couldn't get it to turn off! The instructions say to hold the button for two seconds and it will turn off, but nope... that didn't work. So, in order to make it stop I had to take off the battery cover and dump out the batteries.... OUCH!!! The batteries were so hot after just like 1min of being on that they actually burned my hand! I was completely shocked by this! This is a very unsafe bullet and has since been disposed of! I was saddened by this because the concept it great, so I started looking for alternative uses. Turns out the sleeve will easily stretch to accommodate a larger silver bullet style vibe! YAY I can still use my new bunny friend and have more VROOOOOM!! I was so excited I had to try it out right then. Well this method definitely works better! Sadly he was still a little too ridged for my clit, I still didn't enjoy him like I had hoped. BUT this will hopefully cheer up those of you that were also saddened by the faulty little bullet that comes with it. There is hope for the bunny yet! He will find a friend I just know it! It just won't be me.
Follow-up commentary
28 days after original review
Little bunny fubar took a hop into the waste basket. The bullet was faulty and went in the trash the first day. It was a dangerous little fella and I was afraid to try to use it again for fear of being burned. The bunny sleeve itself was really cute but wasn't going to get any more use from me. All in all a cute idea, this one just wasn't quite there.
This product was provided free of charge to the reviewer. This review is in compliance with the FTC guidelines.

Thank you for viewing
Bunny finger friend
– finger vibrator review page!