Next!
This vibe is great for anyone who can get off on a vibrating cell phone. It's handy because it's waterproof, and doesn't require a special battery. Super simple to use and operate. If you're looking for something to get you off, I suggest you keep looking. Personally I'm saying, "Next!"
Published:
Pros:
Easy to use, AA battery, Easy to clean, Waterproof
Cons:
Weak, buzzy vibrations
Uses:
The SITS vibe's primary purpose is external stimulation. You can use it clitorally, on the perineum, on the scrotum, the shaft, the head. How you want to use it is up to you, as long as it doesn't involve a hole. Since it's made of plastic, you can use any type of lube with it. The fact that it's water proof allows you to use it in the shower, bath, pool, lake, rain storm (no lightening please). That also means you can toss it into a beer, if you're trying to make a beer batter.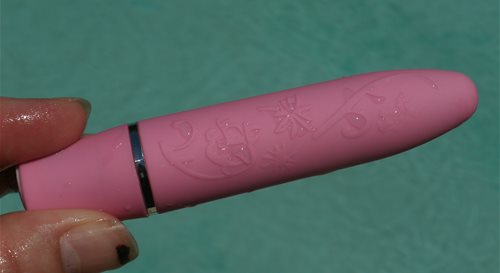 Material/Texture:
The Sex In The Shower vibe is made of plastic. It's a great material that rates an 8 on the
Eden Safety Scale
. It non-porous and phthalate-free. It's a hard material with no give whatsoever. That doesn't mean it's not breakable. It's plastic and if you were to twist on the end too hard, it could break the threading. Or you were to run it over with your car, the car is going to win. There is a metal ring that's sits just under where the end screws back on. There is also an o-ring that sits just below the threading, this allows this toy to be waterproof. So don't pick at it. The button on the end, is made of what I'm assuming is rubber. One nice thing about it being plastic is that you can use all types of lube with it. Which great if you're a lover of silicone lubes.
The texture along the shaft of the toy is a raised print. It consists of elegant looking stemmed flowers. It took me a second to realize what I was looking at, but I think that's what it's supposed to be. The texture can't really be felt during use.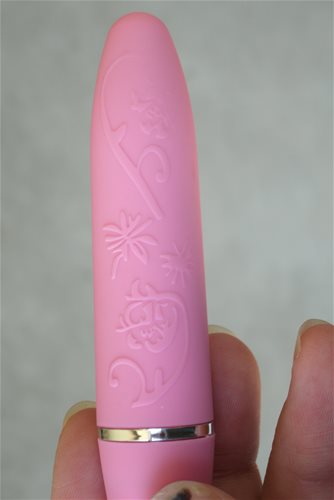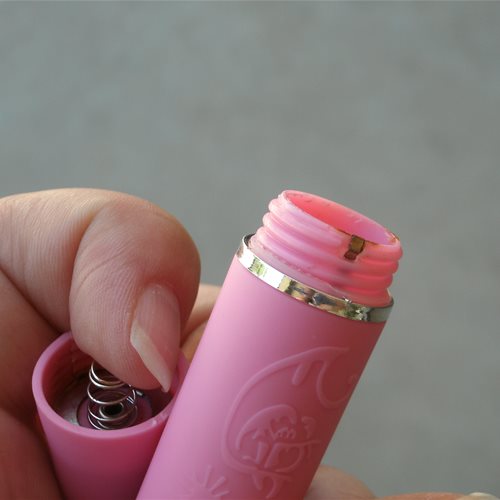 Design/Size/Shape:
The design of the SITS vibe reminds of a long tube of lipstick. It has a rounded, almost conical tip, and is widest towards the middle. It does taper down a tiny bit, when you get past the metal ring and to the control end. The button is easy to use, as all you have to do is press it for this toy to start working, but it's placement can be difficult to use, if you're operating it single handed. The small size does work well if you hold it in the palm of your hand and rub the desired area. Since it is so slim and has no flared base, I suggest keeping all play external.
Overall length - 4"
Widest circumference – 2 5/8"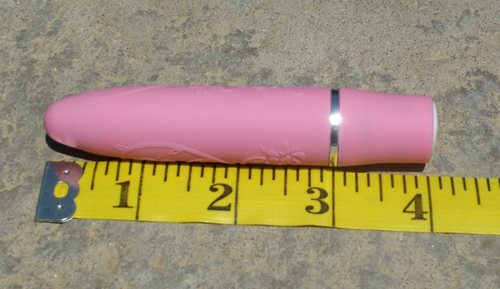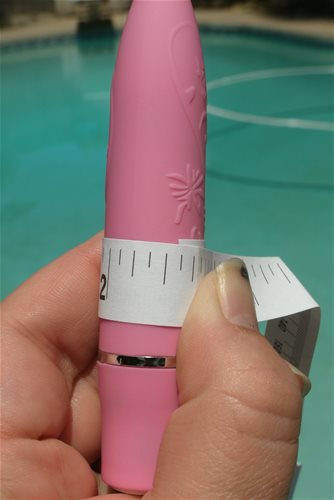 Performance:
The Sex In The Shower vibe is extremely easy to operate. First you unscrew the control end and place in a single AA battery. Inside there is a diagram to show you which direction to place it in. Then you push down on the button for 2 seconds, and it starts on its first speed. It's not really a low setting, but more of a medium. To make it go to the higher, and last setting, you press the button again. The toy's vibrations are extremely buzzy. It's a very topical vibration. This is great if you can get off at the tickle of a butterfly's wing, but if you're looking for heavier vibrations, this may not be for you. The motor inside of the toy is not quiet. It isn't the loudest toy I've ever heard, but you can definitely hear it under the covers. You can't hear it behind close doors, but it can be heard over the water in a shower. Still, since it's waterproof and easy to hold in the palm of your hand, it might be what you're looking for when it comes to adding an inexpensive extra to the mix. To turn it off, you hold the button down for three seconds. When you start it back up, it starts on the first setting.
Experience
Care and Maintenance:
Caring for this toy is extremely simple because it's made of plastic. You can clean it with soap or toy cleaner and water, use an Eden Wipe, or wipe it down with isopropyl alcohol. I personally wipe it down with an Eden Wipe or baby wipe. Storing this toy is super simple too. I found the packaging to be too large and cumbersome for efficient storage, so I put it in with the recycling. I keep all of my completely plastic vibes together in a small plastic storage box. You can keep it pretty much anywhere, but if it's somewhere that isn't isolated, you may need to wipe it down before use.
Packaging:
The packaging for this little vibe is in no way discreet. The white box that it comes in has a plastic window, that shows the toy and below it is says "WATERPROOF 2 FUNCTION VIBRATOR". On the back of the box, is where it really blasts what its purpose is. On the back there is a picture of a man kissing a woman's neck, as she fakes an orgasm for the cameras. The only information about the toy is on the front and back. It says that it takes 1 AA battery and that it's not included. The toy is held in place by a white positioner. The toy comes with a pamphlet but not about the toy. It covers other items in the Sex In The Shower line. I found the packaging to be way too big to store such a small vibe, so in the recycling it went.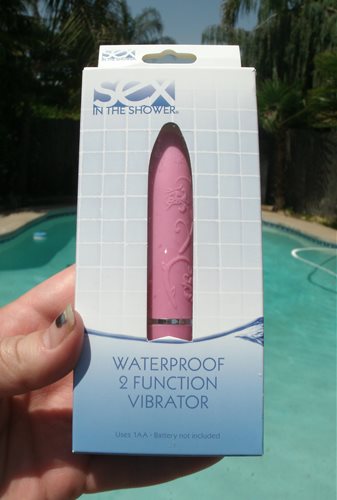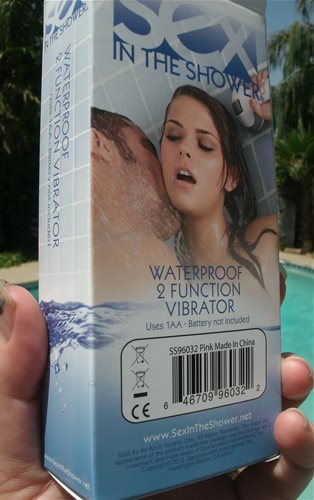 Experience:
I bought the SITS vibe because the other waterproof vibe that I have doesn't have the vibrations I like. When I received it, I was a little disappointed in how little information about the toy was provided. It's packaging reminded me of something I'd find a flea market. Bare bones. I figured great toys don't need a lavish introduction, so I got a battery and started it up. I liked the button. I have a luxury vibe and its buttons are extremely hard to push. The button on the SITS vibe is easy to push and doesn't require much force. I liked that it only had two settings. I'm not one for 36 vibration patterns. Simple is preferred. The vibrations sounded and felt intense in my hand, so hopes were high. When I took it into the shower, I used it with my
Vixen Creations Leo
. The vibrations just weren't there. It was as though as it was pressed against flesh, the vibrations diminished drastically. It wasn't enough to get me off, even with my Leo. I ended up putting the vibe down and finished with Leo. In the bathtub, the results were no better. After a couple of minutes it got benched. I don't have a clit of steel, but this vibe just didn't do it for me. If buzzy light vibrations are what you seek, look no further. I'm just thankful I didn't spend a ton of money on it.
This content is the opinion of the submitting contributor and is not endorsed by EdenFantasys.com

Thank you for viewing
Sex in the Shower waterproof vibrator
– g-spot vibrator review page!