Not a Heartbreaker... But a Nice Back Massager!
This massager may not be a heartbreaker, but it could do wonders for relieving muscle tension with a little help from a willing partner. I wasn't thrilled with the lack of controls, but I consider the rechargeable quality of this toy a HUGE plus! Overall, I think many users will find some good out of this toy if they can be a little creative!
Published:
Pros:
Rechargeable
Great for muscle massage
Multiple patterns
Cons:
Can't change speed
Not great for clitoral stimulation
This massager is very versatile. It has many uses, but the best one is for a nice back massage before or after intimate time, or just after a long day to relieve stress. This is a great massager for couples to use together because it can be used on any part of the body externally. I wouldn't recommend trying to insert this anywhere; the shape is just not meant for that. The Heartbreaker can be used for clitoral stimulation, but I wasn't fond of the nubs on the bottom of the massager. I prefer my clitoral vibrators to be smooth. I was able to use this for external anal stimulation though; it felt great grinding into the massager this way. I think with a little imagination, this toy can please anyone who tries it in some way.
The Heartbreaker massager is rechargeable, which is a huge plus for me! I love rechargeable toys as long as I have a couple of charged backups ready at all times. It's very convenient to just plug it in after using it. The Heartbreaker is waterproof, but make sure the charging port is covered with the tiny cap before getting this wet at all. I wouldn't fully submerge this toy, though, because it seems like water would get in the charging area easier than with toys that have magnetic chargers. That being said, I wouldn't recommend this toy for use in the bath or shower.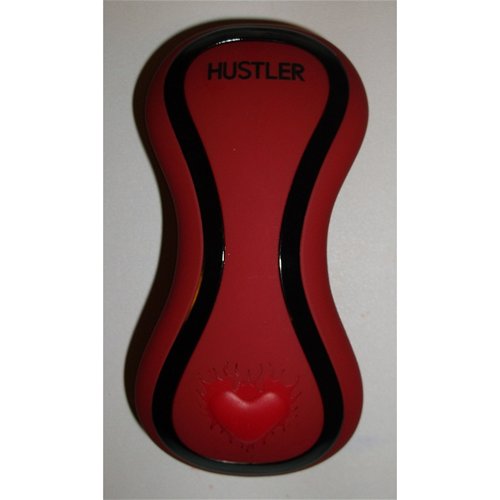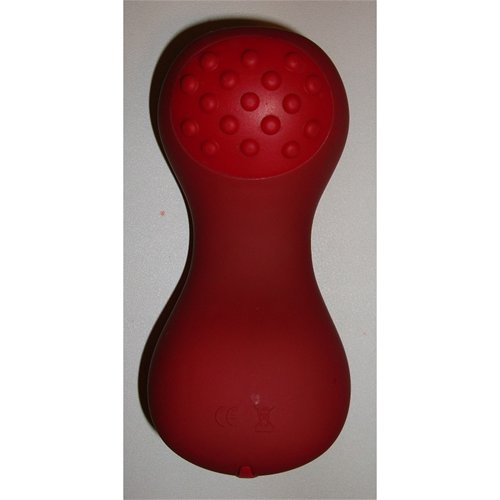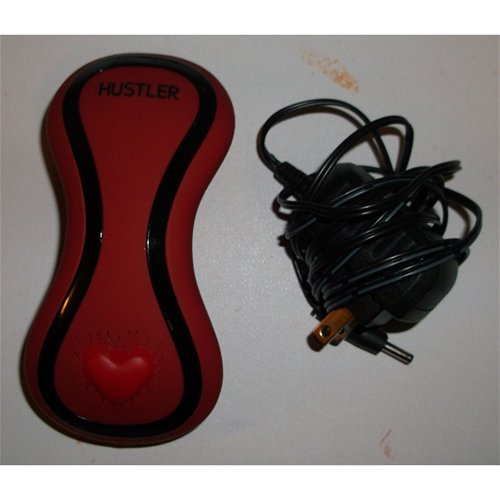 The massager is made of hard plastic. I had to look this up actually because there wasn't any info about the material on the Eden page or on the packaging of the massager itself. The button and the nubs on the bottom of the massager are made of some type of soft squishy material, but I can't verify what type of material this is. I'm guessing that it is just another type of plastic. The massager had a slight odor to it when I first opened it, but it wasn't overwhelming and it seems to have faded after washing.
One issue I have with this massager is the lack of control over the intensity of the vibrations. There are three different patterns to choose from (including one pulsating function) but there is no way to change the speed of the vibrations. This was a turnoff for me because I like starting out with slow, rumbly vibrations and working up to faster, more intense ones. The vibrations of this massager are not rumbly at all; they are rather buzzy and could probably lead to some clitoral numbness if used for any prolonged amount of time. This is why I have recommended the Heartbreaker massager for other types of body massage such as back massage. The vibrations felt wonderful on my achy back muscles! This toy would be wonderful to start off with in the bedroom, but it probably won't be enough to escalate things.
There is just one button to turn the massager on and off with as well as to change the vibration pattern. It just has to be held down for a few seconds to either turn it on or off and pressed again while already on to change the pattern. I do like the cute heart design of the button. It lights up when the massager is on and blinks in different ways depending on the pattern being used. This is also the part that lights up when the massager is charging and goes off when charging is complete. Most of the toy is smooth, but there are some nubs on the bottom as I stated before. The massager is about 6 inches long and about 2 1/2 inches wide at the largest parts. This massager is strong enough to be pleasing, but not extreme. It can be rather loud though; it can definitely be heard through covers.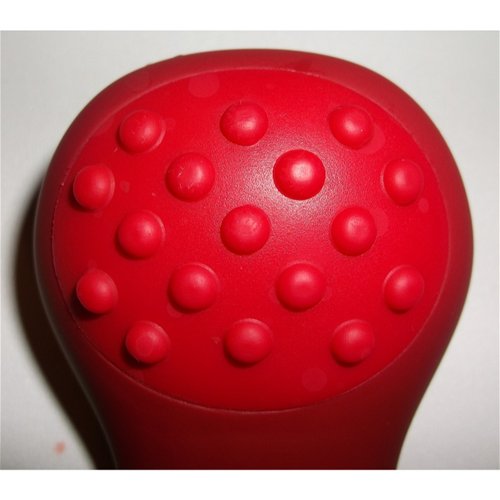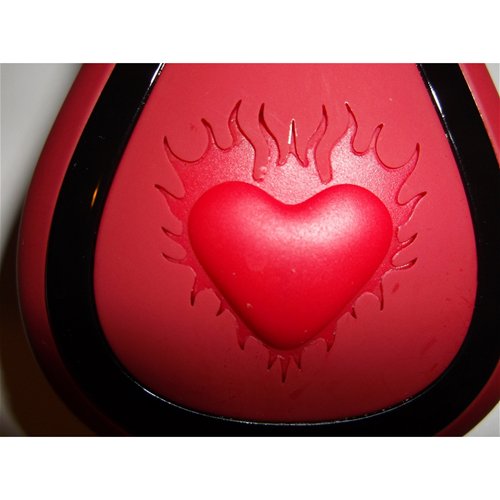 This massager is easy to care for. All it needs is a wash with warm water and antibacterial soap. It obviously can't be boiled or anything crazy like that, but since it generally wouldn't be inserted anywhere, I wouldn't think that it would get all that dirty anyway. This toy should be easy to store also because it isn't very large and it's discreet. It honestly just looks like a regular massager for body massage anyway, but it does say Hustler across the top.
The packing that the Heartbreaker came in was fairly simple. It was inside of a piece of plastic in a plastic box. The front of the box is clear so you can see the product inside. There is some info on the back of the box about the massager as well as a small instruction manual inside.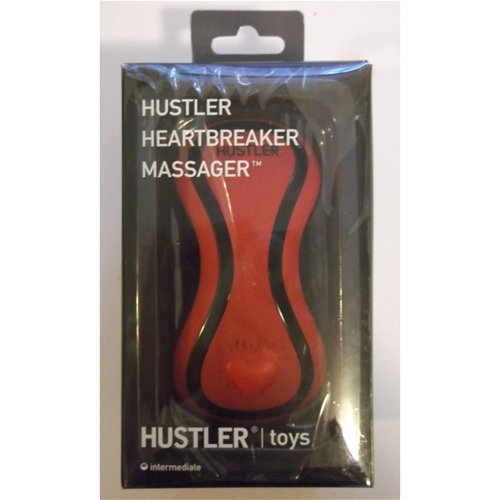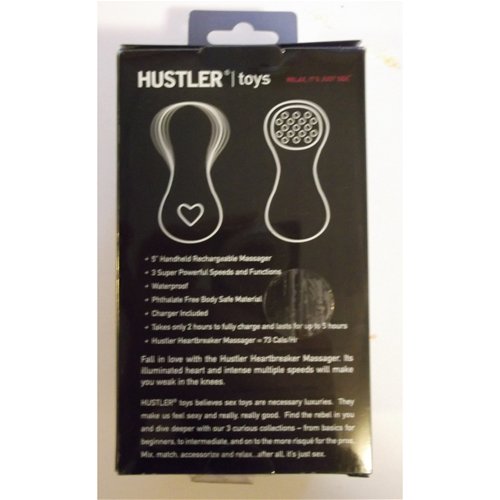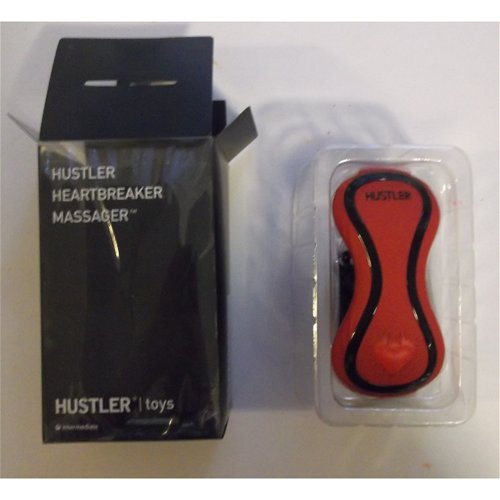 Experience
Although I wasn't able to use this massager for what I originally intended, I was able to be a little creative and still have some fun with it. I wasn't able to climax from this toy, but I did get a nice back massage out of it! I also really loved the sensation of using this massager for external anal stimulation. The vibrations were pleasurable in that area of my body.
This product was provided free of charge to the reviewer. This review is in compliance with the FTC guidelines.

Thank you for viewing
Heartbreaker massager
review page!