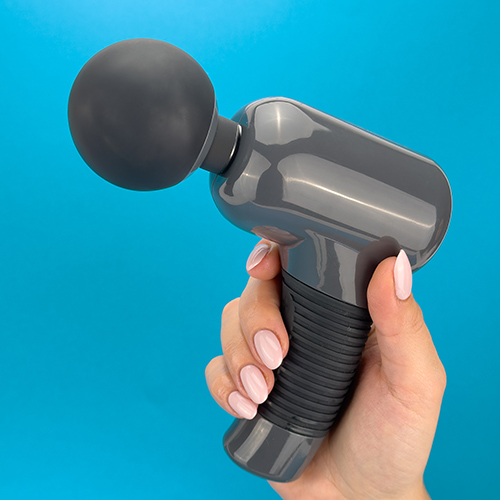 Massage gun
Hand pistol wand massager
by EdenFantasys
NOT for the faint of heart
If you have a pussy of steel, this massage gun is for you. Anyone else will want to tread with caution. Seriously, do NOT underestimate the power of this toy!
Published:
Pros
VERY, VERY POWERFUL; nicely built; silicone
Cons
too powerful for most; heavy; buttons slightly hard to find
The massage gun vibrator is what it says on the tin: a gun-shaped vibrator with a wide, 2" vibrating silicone ball head and a handle equipped with power and speed/intensity control buttons. The buttons are flush with the material of the handle and can be slightly hard to see - I always have to squint at it a bit before locating them, but they are fairly straightforward. It charges via a USB cable which plugs into the back of the handle. The massage gun is heavier than I expected it to be but should be fairly comfortable for most people to hold (but beware if you have wrist injuries or very small hands). The silicone is high quality, and the massage gun appears to be well-made.

Now on to the performance section.
This massage gun is not for the faint of heart ... or for the faint of clit.
SERIOUSLY.

While the massage gun has several levels of intensity, even the first one is comparable to the highest level on my Magic Wand vibrator - the strongest wand vibe I own. The very highest level of intensity on the massage gun is borderline uncomfortable for me, even after I've "warmed up." Typically, in my sessions, I work up to very powerful toys, so after testing this one and realizing it definitely belongs in that category, I made sure to re-test after having built myself up to the task with some gentler play via other vibrators. The massage gun was still ... a bit much. It was pleasurable when I managed to get just the right angle, but it was so powerful, and the wide head makes it so tricky to pinpoint any of the stimulation that I didn't manage to get off as well as I can with my other toys. Such strong vibrators also have a temporary numbing effect, so after a while, the stimulation becomes void. This one will stay in the toy box for a while, I think.

On the other hand, it did momentarily make me forget my computer password as I tried to log in and write this review, so if you're out for a vibrator strong enough to scramble your brain, this one is a good bet.

It's also noisy - think power drill level of noise. If you have thin walls, you might want to set up some plausible construction equipment outside to fool your neighbors because they will most likely be able to hear this. This noise level is standard for high-powered toys and isn't a dealbreaker per se, but you will want to give some consideration to when and where you'll use this, especially if you live in a situation with shared spaces or flimsy walls.

Personally, this massage gun isn't quite my thing (yet ... I've said this about toys before and changed my mind). For beginners, mid-level toy users, and even those who are experienced with vibrators but have sensitive clits (or other bits), I'd say you should stay away. But if you're looking for something really turbo-powered, if other wand-type vibes have disappointed you, or if you want a toy built for overstimulation, this vibe is probably right up your alley!
Experience
After trying this a few times, including after some build-up with other toys to ease myself into it, I have to conclude that the massage gun is not my cup of tea; I don't consider myself too delicate after testing MANY toys but this one definitely overpowered me. For now, I'll stick to some gentler vibrators.

In the interest of fairness, however, I'm giving the massage gun a 4/5 star review. While it's not my cup of tea, it is a sturdy toy with some SERIOUS power, and I can't fault it for that.
This product was provided free of charge to the reviewer. This review is in compliance with the FTC guidelines.
Thank you for viewing
Massage gun
– massager review page!