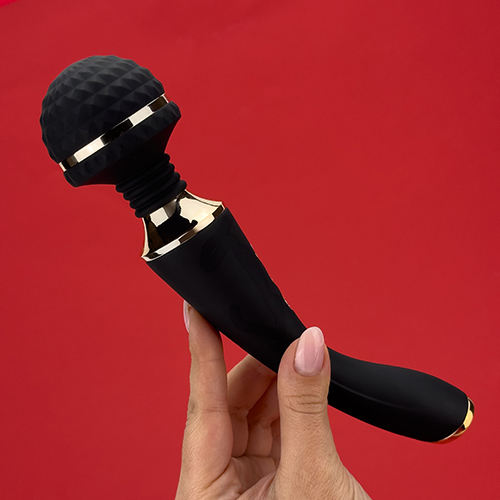 Inara
Medium wand massager
by EdenFantasys
Orgasms from Heaven!
I'm in LOVE with my Inara wand! It has powerful and strong vibrations, and yet it's pretty quiet. It's made of luxurious soft velvety silicone and has a unique design. It has a lovely warming feature that feels amazing. It's waterproof and easy to clean. It's USB rechargeable, so I don't have to worry about batteries. It gives me the best orgasms ever. It's honestly the best vibrator I've ever owned!
Published:
Pros
Silicone, waterproof, warming, strong vibrations, variety, unique design, USB rechargeable
Cons
Not small or discreet, takes 3 seconds to turn off, water-based lube only.
The Inara is a vibrating wand massager. It has a warming function and is powered via USB. Edenfantasys provided this toy to me for free via the mentor program in exchange for my honest review.
My package was shipped discreetly in a small plain brown cardboard box with "Web Merchants" on the shipping label. The Inara Wand was covered with plain brown packaging paper. It comes inside a plain white cardboard box that's sealed with clear plastic. The toy inside was sealed in a clear plastic bag. The USB charger is also included. My first impression was how nicely it was packaged. It's made of silicone, and it looks and feels velvety soft to the touch. The gold buttons and detailing make it look extra fancy.
The Inara wand doesn't take any batteries, yay! It's powered by a USB cord, and you can charge it over and over again with your laptop. It's almost invisible, but there is a tiny hole in the middle/back of the wand to fit the USB plug into. I used my laptop to charge it. When it's plugged in, the 3 buttons will be outlined in a pulsing white light to let you know it's charging. When it's finished, the lights will all be off. The first time it took me about 30 minutes to fully charge.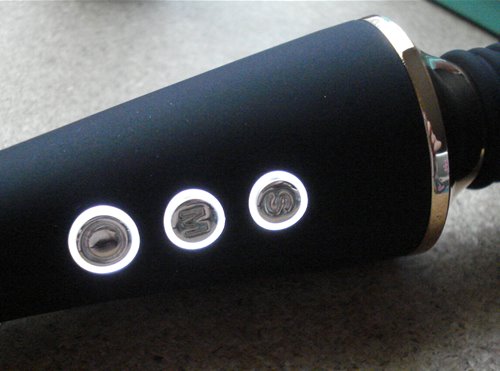 This toy is made of soft, velvety luxurious silicone. It's hypo-allergenic, latex-free, and phthalates-free. It's non-porous and doesn't harbor bacteria. It rates 10 on the Edenfantasys safety scale and is the best material in my opinion. It's very soft and velvety to the touch. The gold details feel like plastic to me, but it doesn't look cheap. It's a very pretty and nice looking vibrator. To clean it, you can wash it with warm soapy water and rinse clean. You can also use any type of toy cleaner. The silicone wants to attract lint, so I find it best to air dry it on a clean towel. It's waterproof, so you don't have to worry about being too careful when you wash it.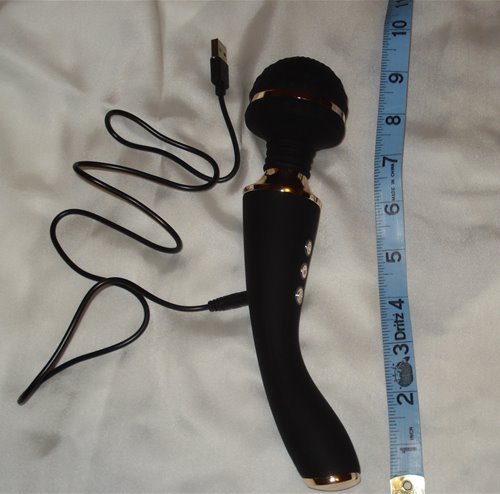 The entire length of the wand is about 9" inches. The head of the vibrator is about 1 3/4" tall and measures 6 3/4" around. From the top view down it looks to be about 2" inches wide. It's slightly flexible at the neck. I'm impressed by how lightweight it feels.
I love the curve in the handle of the Inara. It's so much easier to hold in the right spot when using solo. It feels very comfortable in my hand. Not only is the curved shape comfortable to hold, but the soft velvety silicone feels so good! I've even held it behind me to massage my sore lower back.
I looked up the name "Inara", and apparently it is an Arabic name. It's a very beautiful name meaning "heaven-sent" or "shining light." I'd have to agree that this vibrator is heaven-sent. It has strong vibrations that feel amazing and surprisingly not very loud. I'm impressed with the volume of the vibrations being quiet enough not to be heard through walls. I prefer vibrators that are as quiet as possible. It has a very relaxing but strong humming vibration sound. On the highest settings it might be noticeable through the wall, but overall I would describe it as a solid 3 out of 5 when it comes to vibrations.
To turn the Inara on/off, you press and hold the circle/power button down for 3 seconds. It starts on the lowest vibration setting, which is pretty strong! To cycle through the different vibration patterns, you push the middle button with an M on it. There are 10 different vibration patterns. They are varied in speeds and pulse patterns, including constant vibrations. The top button has an S on it. You can make the vibrations stronger up to 5 times! Woah baby, it's strong! Amazingly it works on each setting, so you can go through all 12 settings 5 times on each strength. I've never had a vibrator with so much variety.
I've never had a vibrator with a warming function before. Thanks to the other reviewer, I was able to figure out how to turn it on. When the toy is on, press and hold both the S and M buttons down for 3 seconds. All three lights will turn red, letting you know the warming function is activated. It takes a few minutes, but I can definitely feel it warming up. It gets nice and warm and feels amazing! I love this feature! It's great for solo play but also works amazingly on sore muscles too.
Experience
My experiences with Inara have been so much fun! I get turned on just thinking about playing with my new vibrator. It leaves you wanting more in a good way. I love it soooo much. The head of the vibrator is pretty wide, so I don't use it vaginally. I use it as a clit massager and have the best orgasms. I've also used it on my sore lower back, and it feels great, especially with the warming feature. The vibrator is made of silicone, so use water-based lubes only!

The head of the massager has a texture to it. It has a geometric triangle type of texture. It's just enough to add a little bit of something if that makes sense. It feels ever so slightly bumpy to the touch. It feels like it sticks closer to the body than if it were just plain and smooth. When I first saw the picture of this toy, I was unsure about the curve in the handle and the texture. I'm very pleasantly surprised by both of these features. It makes the Inara unique, and it's amazing!

This vibrator is also waterproof, yay! I can't wait to play with it in the shower. I'm not sure if it can be submerged in the tub, but maybe someday I'll try it. I'll have to write more when I do a follow-up review. This is my new favorite vibrator! I think it's definitely worth it to upgrade to a nicer toy now that I've been able to try one.

If you want to treat yourself or a loved one, the Inara is a great choice. My fantasy of the perfect gift would be the Inara wand, some sexy extras, all lovingly tucked inside a glossy black gift bag. How dreamy!

You can use the plain white box it comes in as storage. This is what I'm currently doing. I think it would have been even better if they gave you a nice bag to store it in. You can always find and buy something nice to store it in later.
Follow-up commentary
2 months after original review
The Inara wand is awesome, and I love it! All of the key features of this toy are fabulous. It's well made and high quality. Besides giving me great orgasms, I've used it (along with the heating function) on sore muscles as well. I love the texture on the head and how the handle is curved. The Inara wand takes care of me, and I take good care of it. It still looks brand new. It's pretty, isn't it? I think it's worth it. I don't have anything negative to say about it other than don't lose the cord to recharge it.
This product was provided free of charge to the reviewer. This review is in compliance with the FTC guidelines.
Thank you for viewing
Inara
– medium wand massager review page!