Pretty Good For the Price
This is a decent toy for its price. But it eats batteries and it's LOUD. If you live in a dorm like I do, there's no WAY you can use it with your roommate in the room without getting caught. Also, make sure that you know your (and your partner's, if applicable) body well, before purchasing, because it may not work on your G-spot. And the clitoral stimulation may not be strong enough for those with more stubborn clits.
Published:
Pros:
Cheap, Not jelly, Powerful enough, Multiple speeds, Great for my g-spot.
Cons:
LOUD, Battery guzzler, Won't fit all anatomies.
Since my girlfriend and I were looking for a toy to fill the void while we save up for
THIS
lovely toy, we decided to get this one for the heck of it. It was on sale at the time and pretty dirt cheap when we used our Eden Points.
So, we didn't have high expectations. And at this price, and if you do your research, you honestly shouldn't either.
It arrived promptly (as Eden products always do) in a rather indiscreet package: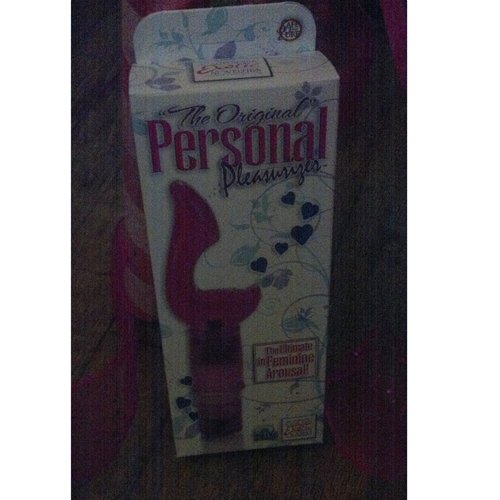 Come on. Even my girlfriend's five year-old, Mormon, niece would know that's a sex toy. But, as I said, we weren't expecting Lelo packaging. At least everything was sturdy and there's nothing pornographic on it. The toy even came sealed in a plastic wrap: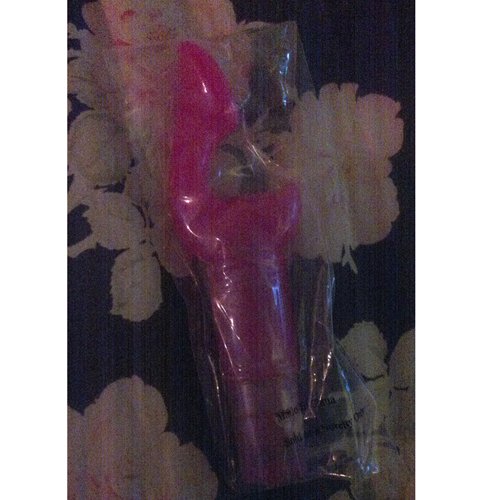 But...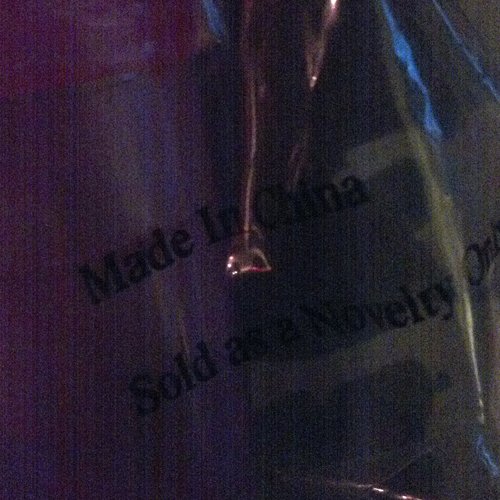 ...as you can see, the plastic wrap DOES say that it's Made in China, which isn't surprising. But if this is something that bothers you, you might want to pass on this toy. So, yeah...
Upon opening the protective wrapping, neither of us noticed a particularly strong smell. That's what's great about TPR--feels a lot like jelly, but it's not as smelly and it's a lot safer. Still, I wouldn't suggest using this toy at a play-party or anything like that. TPR is STILL not the safest material available and it'd be pretty hard to put a condom on this thing. If you know of a condom shaped like this, PLEASE let me know.
So, we popped the two AAA batteries in and went to try it out. There are three settings on this thing, and the button is on the bottom. Press once and you get a nice rumbling vibration that's maybe 2 vrooms and 3 bees. The second time you push it, it's probably 3 vrooms and 4 bees. The final setting is, I'd say, 3.5 vrooms and 4.5 bees. This little guy is pretty freaking loud, no matter what you do. It's not as loud as a Hitachi, but for its power level, it's noisy to the point of being really distracting. We ended up having to play music on full blast to give OURSELVES some sanity.
Though it doesn't heat up too badly, it dies within an hour or so. And, to be honest, it doesn't stay at full power for much longer than ten minutes. Every five minutes you use it after that, it seems to get weaker and weaker until the vibrations are just a (still noisy) flutter. Then, it dies. Thankfully, that's enough time to get me to orgasm a few times (because this thing hits my g-spot pretty well, especially when thrusting), but for my girlfriend, it didn't make her orgasm at all. Granted, she has one of those "clits of steel" and her g-spot is unusually deep, but it's important that you know before buying if this toy is right for your needs.
This content is the opinion of the submitting contributor and is not endorsed by EdenFantasys.com

Thank you for viewing
The original personal pleasurizer
– sex toy review page!