Silver Staple
For a great, sturdy, and gentle vibrator that you won't mind replacing take a look at the Silver Six. It's not going to blow your mind with power, or stunning good looks, but it will provide some pleasant play that could ratchet up to mind blowing in the right circumstance. It might not look like much but it is a great little toy!
Published:
Pros:
Sturdy, good materials, well made
Cons:
Delicate where wire connects, not waterproof
Sometimes you get an item that looks like it is too cheap or simple to measure up to the more expensive toys you may have that do the same thing. If you are like me you decide to give it a whirl anyway, and discover a diamond in the rough.
Though this toy was a promotional item it has quickly been co-opted by Sigel and has been added to his toy box! I guess it is perfect for adding just the right touch of sensation to prostate massage or electro-stim play. Though the wand on this toy looks metallic it is actually only plastic covered with a thin metallic shell. The shell is rather tough, however, and hasn't cracked or shown any peeling, chipping, or scratches. It has been dropped forcefully, stepped on lightly, and treated with general disrespect but it is still chugging along as though I just pulled it out of it's packaging. I have had really, REALLY, expensive vibrating stimulators that died after being set down on a flat surface!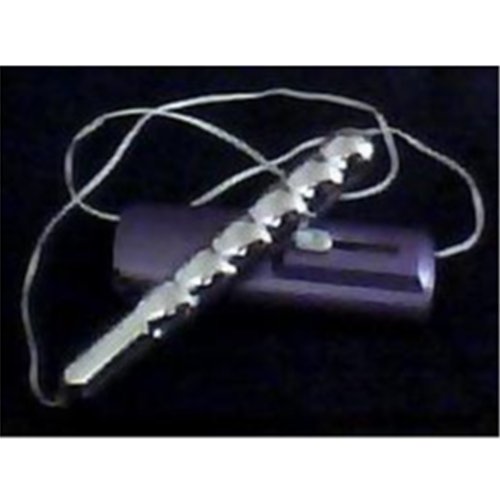 Now let's have some facts about the toy, shall we? This toy is composed of two major pieces connected by a thin cord. The cord is about 25 inches long which is plenty of length for most uses. It isn't long enough to get all wrapped up around things during play, but isn't so short that it will pull out of the wand or battery housing.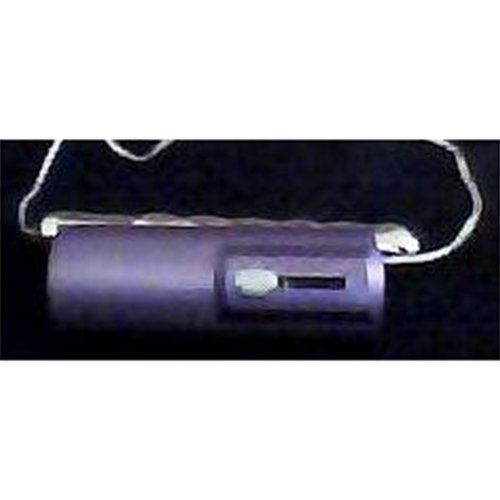 The battery housing (2AA) is composed of hard and smooth plastic,and also has a slide on it that controls the strength of the vibrations of the wand. The wand is about 5 inches long and 2.25 inches around. It has a series of six bubbles (hence the name) beginning at the tip of the wand and continuing evenly down to the last inch or so of the base of the wand. The cord is attached to the wand with a thick and fairly large, soft plastic plug for the base of the wand, presumably to protect the cord from kinking or pulling forcefully out of the toy during use. It doesn't act as a water barrier. This is not a waterproof toy, which can be considered a downside.
The vibrations from the Silver Six aren't spectacular and won't please most clits'o'steel but they are pleasant. This toy might not be enough to get you off but it makes a great warm up toy. What Sigel like to use it for is to add vibration to a dildo that is hollowed out to accept a bullet vibe. He likes the fact that the cord is much longer than some of our other vibrators which means he doesn't have to contort himself to adjust the strength of the vibrations.
The vibrations start out pretty quickly in the slide, and are quite energetic. They start firmly in the buzzy spectrum though the vibrations are deeper than most lower priced bullet vibes of this sort. The real issue I have with this toy is that as you push the slide farther the vibrations do not increase noticeably.
The lowest and highest speed isn't that much different. Sigel likes this fact but I like to have a pronounced ramp up in my stimulators. My clit likes to be warmed up!
This is a fairly quiet toy that can be heard through light covers but not through a comforter, and definitely not through a closed door.
These vibrations are great for general stimulation and add a special flare to a blowjob without being unpleasant for the giver. I don't know about you but my facial nerves, particularly the ones in my cheeks and tongue, are sensitive to vibration. This vibrator is a bit more gentle but is still easily felt. It doesn't vibrate so forcefully that it causes discomfort to the testes. It also feels great resting up against the taint, nipples or other erogenous zones. It doesn't do much for knotted muscles, but what did you expect from a $15 bullet vibe?
Cleaning the vibe can be a bit tricky given that it isn't waterproof. Warm water and soap is fine but what I do is get a washcloth damp and soapy, wash down the plastic parts, rinse the washcloth and then wipe off the soap. You will probably leave a slight residue of soap on the toy using this method so if you want to insert the wand I recommend using a small toy cot or condom. If you do insert the wand, (vaginally only please!) be sure to pull it back out by the base of the wand not the cord. Usually the places where the cord connects to the toy are the weakest parts of the toy, if it's going to break it will be there!
Experience
You could use a commercial toy cleaner or 10% bleach and water solution to clean your toy. Keep in mind that the toy is plastic and still porous, though certainly less porous than other materials. Sharing a toy like this between orifices or friends is not recommended with a condom or toy cot. It is also not recommended as an anal insertion toy.

Store the Silver Six with the cord gently doubled a few times and secured with the twist tie provided. The toy is pretty sturdy so it could be kept in a drawer with other toys but if you are worried about the metallic portions being scratched you could store it in the original clam shell plastic package with the suggestive paper insert removed. There is no denying that this is a sex toy so leaving it sitting out could raise some eyebrows. It is small enough to be rolled into a pair of bed socks for travel if you fear snooping agents. Be sure to remove the batteries to prevent draining them inadvertently or having them leak into the battery housing.
Follow-up commentary
10 months after original review
Well to be fair it's not so much that I don't like it anymore as it is that I don't have it anymore. After a year of faithful service this toy has gone to toy heaven and i am forced to look for a replacement for those times I just want a no nonsense orgasm. Up until it stopped working I really liked this toy...
This content is the opinion of the submitting contributor and is not endorsed by EdenFantasys.com

Thank you for viewing
Silver six
– bullet vibrator review page!