So Much Potential Wasted on a Buzzy Vibrator
It looks so nice in the package, it feels so nice in your hand, the buttons work great, everything points to this being your favorite toy ever, but the vibrator is buzzy and high pitched and just doesn't feel good, and at the end of the day that's the only thing this toy is supposed to do, buzz pleasantly on your ladyparts. It fails at that, at least if you like rumbly rather then buzzy vibrations.
Published:
Pros:
Great feeling materials, good build quality
Cons:
Buzzy vibrator
To begin with the boring details, this is a bullet type vibrator, slightly larger (both in length and girth) then most I've seen.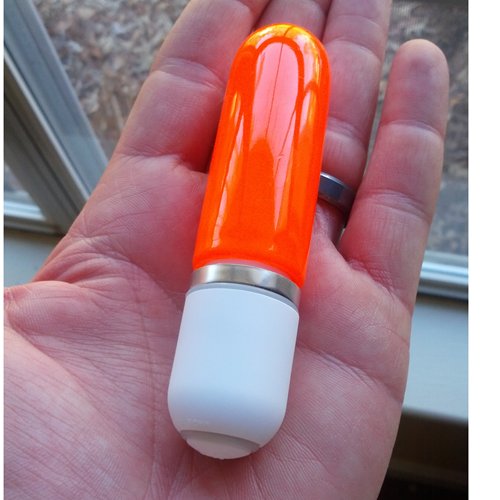 It's a tube shaped object with a button on one end and a sleeve of interesting material (which I'll get to presently) on the other. It could be thought of as discreet but not really; it looks like a nice, high quality vibe and it runs on a single AA. Love it when you don't have to go to a specialist place to get batteries for these things. The plastic is coated in a good feeling, soft touch material that feels velvety and high end. Looking at the description I wasn't sure what to expect. Glow in the dark? Lighted? I wasn't sure. The materials looked strange. I'd never heard of Sil-a-Gel, although the manufacturer insists it's body safe, and I'd assume they can't just lie. Any new material should give one pause though. Only time ever tells if something is as advertised. It's also fairly quiet.
In this case, I'm willing to give it a go. The Sil-A-Gel sleeve on this feels delightful. Smooth, with a little bit of give, somewhere between cushiony and hard, it's great. I was really excited. It also feels really well built, the button clicks definitively, the joints are solid and the whole thing just feels like it was built well and carefully. I assume the Glo moniker comes from the fact that the ring around the power/function button lights up to indicate power level (so it flickers on pulsation settings). Gimmicky, but fun. I could see using this toy in the dark and it being fun that it provides just enough light to see what you're doing.
Which brings me to operation. The button works great, you push it to turn on, push it again to get to the next setting, hold it to turn off, and glory of glories, IT STAYS AT WHATEVER SETTING IT WAS AT! Let me say that again, if you turn it off on medium constant vibration and then turn it back on it comes back on at medium constant vibration(or pulse or ramp or whatever other fun pattern you like). I can't tell you how much I like this feature. Everything needs to have it. It also has about ten pulse patterns (I'm so not into the patterns I don't pay much attention) but if you like the patterns this probably has your favorite.)
The vibrations are pretty darn powerful, easily enough to numb your hand, but, in the words of my wife, "They're buzzy, too high pitched maybe? They got the job done, but it wasn't great." She went on to say that it always felt like too much vibration and too little at the same time. In essence I think we have the too little mass issue here. They have a vibration motor that runs very fast, very powerfully, but it's not moving enough mass to give you that nice low frequency rumble that makes the most enjoyable vibes most enjoyable. This seems to be a common problem among the mid to low end toys on the market and a reasonable reason to step up to some of the very high end toys (even at their insanely high prices).
I really wanted to like this toy. It feels great, works really well, the materials are new (to me anyway) but it's totally let down by a vibration mechanism that doesn't do the job.
If you're into strong, but buzzy and high pitched vibrations then this is definitely the toy for you. NO downsides. For us, it's going into cold storage (ok, we'll give it one more chance, but that's it!) maybe we'll dig it out in a year or two, see if our tastes have changed, but for us, a failure.
Experience
This thing is a story of couple's failure. Every time I've used it on her (and we've tried several times) it's been too much for direct use, not fun for indirect use and just a generally bad experience. She reported solo success, but with kind of a big shrug. We both really like the size and shape and build quality and controls, but with the unpleasureable vibrator it's kind of a dud. The light's fun though.
Follow-up commentary
3 months after original review
This is still in cold storage. We might get it out again someday to see if her vibration preferences have changed, but until then, I'm not happy with it, and it'll sit, lonely, in the depths of the closet.
This product was provided free of charge to the reviewer. This review is in compliance with the FTC guidelines.

Thank you for viewing
Glo mini
– bullet vibrator review page!