SuperSlim and SuperShiny
Overall: This is a slightly unusual vibrator due to its length, but it has a great amount of power and is easy to use. The box is great for storage or if you wanted to give it as a gift. It has the bonus of being quiet too.
Published:
Pros:
Shape
Size
Easy to use
Cons:
Slightly deeper vibrations
When it arrived, the first thing that I noticed was that it comes in a lovely display case and its long, slim appearance makes it look like a rather high end pen rather than a sex toy, and it is very shiny. I have never wanted a gold toy before, but when I saw this I instantly loved the color.

On the back of the box is a brief description of what the toy does and a diagram of how to insert the batteries into the toy. It comes with batteries already inside it, which is great; no waiting around as soon as you get it, it is ready to go.

The vibrator is made of plastic and is solid, it doesn't have a soft touch covering, but it is lovely and shiny. As it isn't silicone it can be used with any lube, but I would still advise that you use a good quality waterbased lubricant with it.

The shape of the vibrator is quite clever; the vibrations seem to be concentrated towards the tip of the toy, and with the toy having a pointed end and a longer length, you can easily direct those vibrations exactly where you want them and hold them there for as long as you need.

It has a simple, single push button operation, the button being on the base of the toy. Push it once to turn it on, and then repeatedly to flick through the settings. Hold it down for a few seconds to turn it off again. I much prefer toys with this sort of operation as it means that they are easy to turn on and off, it doesn't remember the last setting that it was on, but very few toys do.

I found this to be a good, powerful bullet, I think that this is due to it taking 2 N batteries. N batteries are slightly less standard than the usual ones that you might buy, but trust me when I say that they are easy to get hold of; they are sold in most major supermarkets as they are pretty common in remote controls.

To change the batteries, you just unscrew the base and pop them into the centre of the toy. There is a diagram on the inside of the toy to show you which way round the batteries should be inserted. As with all toys of this kind, do not take out the insert in the battery compartment as this can be there to prevent the toy from shorting out and therefore it is not just packaging.

There is also a small disc of card in the battery compartment between the battery and the connector, you don't have to keep this, but I always do, it helps prolong the battery life when not in use, and as they are not connected, also helps prevent them from leaking.

As I have said I found this to be a good, powerful bullet, it has about the same strength of the Tracey Cox bullet (maybe a touch more). If I had to mark it out of 10, I would give it a 5, bearing in mind that this is just a bullet, that is pretty good. The vibrations aren't particularly deep, but they aren't the sort that buzz and turn you numb either, I found them to be fast and powerful, in a good way.

This bullet is a lovely, quiet toy, making it ideal for anyone who lives in a shared house. It is quiet enough for play without raising any eyebrows, and also waterproof, so great if you like to play in the bath or shower. The fact that it is waterproof also makes it lovely and easy to clean, as you can submerge it in warm water to give it a good scrub, without worrying that you are going to damage it.
Experience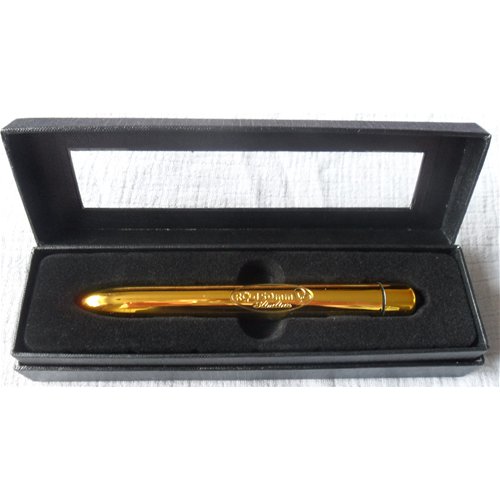 This content is the opinion of the submitting contributor and is not endorsed by EdenFantasys.com

Thank you for viewing
RO-150mm slimline bullet
– bullet vibrator review page!