The Sentinel that Fell Asleep on Duty
I'm unsure why this little curly sperm-looking bullet is called a sentinel. But if it was one, it'd be the kind in immaculate garb, with dozens of achievement medals, and perfect in just about every way... except it falls asleep on duty. With so much going for this cute little guy, it was downright surprising when it just didn't do it for me - at all. Perhaps with some tweaking, the sentinel version 2.0 could really be impressive.
Published:
Pros:
Silicone, Inspired Shape, Good size, Great Packaging, Lots of Included Information
Cons:
Watch Batteries, One Setting, Weak, No Vibrations in the Tail
Job Description
This little 'guard' of a vibrating bullet is meant for insertion, and it's one of very few toys that can be used either vaginally or anally. The O-ring handle is a fairly reliable safety measure to prevent slipping too far into the anal canal to the point of getting stuck as well as an easy hold for retrieval. The slightly pointed tip also allows for easy insertion, no matter the orifice you choose.
Not impressed yet? Let me continue. The sentinel has a thin and flexible tail to add stimulation to an external area. If you insert the bullet vaginally, you can turn it forward to stimulate the clitoris or backwards to add a teasing to the external anal sphincter. If you insert it anally, you can stimulate the vaginal opening or the ball sac, depending on your gender, obviously.
I do absolutely recommend using a condom over the whole thing if using this anally with the vibrating bullet inside. Though the silicone is a perfectly body safe material, it's the tiny little vibe motor that could grab and hold onto bacteria and can not be sterilized. And once that mini-bullet is tainted from anal play, it makes vaginal insertion a high risk for infection of many kinds. Not to mention any fluid that gets inside can permanently damage the motor and battery compartment. So either remove the bullet or put a condom on it. (You can do this for vaginal insertion as well, of course, but sharing
those
bacteria are far less risky as far as statistical odds as well as the intensity of infection.)
Uniform and Dress Code
The material of this vibe is the best out there - silicone. It is nonporous, contains no irritating compounds like latex or phthalates, and can be sterilized for safe sharing between partners
and
orifices. The head of the bullet is very firm and won't squish or bend which lends itself to a great 'filling' sensation when inserted. The tail is the exact opposite and is super flexible to the point of being able to tie it in a knot and is only going to provide a tickling stimulation.
The design of this toy is incredibly ingenious. It's adorable as well as shaped to maximize stimulation. However, the execution of that blueprint didn't live up to the concept. The bullet head itself is great at it's job but that little, super flexible tail doesn't carry any vibrations. At all. I mean zip, zero, nada, zilch, nil. It completely failed as a clitoral stimulator. But when I turned the bullet around and let it sit against the perineum and anal orifice, it felt great! Like a stealthy sentry applying just enough sensation for me to know something's back there. So it's not a total loss but it would have been amazing if it worked as a clit stimulator.
And for interested parties, this bullet is also fairly comfortable as a plug. It's not the best anal plug I've tried but it's definitely not the worst! It's a jack of all trades. (And of course you'll want to remove the micro-bullet if you're using it this way because of aforementioned health and sanitation issues. Just a friendly reminder.)
The Armory
The sentinel has the most unique motor/bullet I have ever seen. It's a micro-bullet that uses watch batteries. Of course that rather explains the lack of power behind the vibrations but I will give them credit for creativity. And maybe it's just me, but this thing looks like a maggot... Ok, yeah that was gross of me.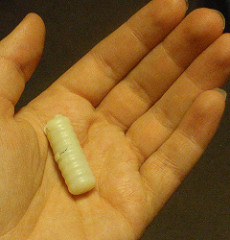 You can see in the EdenFantasy photos on the product page that this little guy hide in the bulbous part of the toy. It's not too hard to get in, but getting it out is really an adventure. The toy comes with a "key" of sorts that's a little metal rod with a ring at one end to hold onto and a slight hook on the other. You put the rod into the sentinel where the micro-bullet is between the plastic and the silicone. Once it's all the way in, you turn the key 90-degrees so that the little hook grabs onto the end of the micro-bullet and then you slowly pull it out. Pretty unique, right?
Experience
In the Line of Duty
So onto the power of the micro-bullet, because the sentinel is, after all, a vibrator.
It's weak. There, I said it. It creates plenty of high pitched buzzy sounds when turned on but it only provides that itchy type vibration when used externally. When inserted, the noise level drops to barely audible but the actual vibration also declines. It goes from buzzy and a bit irritating to weak and almost completely ignorable. It did absolutely nothing for me as an internal vibrator.
In the little booklet contained in the packaging, it promises that "all our motors have multi-speed controls or 5 different modes". And in the back, it illustrates the 5 types of vibration patterns the Touche products provide. So now let me say that I've done everything I could to this little pill-sized motor and there's no way it indicated to me to have more than one vibration setting of any kind. So perhaps it meant for their larger, more traditional vibrators and there's a generic info pamphlet that goes in all packaging?
Housing and Transportation
The packaging is drop dead gorgeous. A mighty fine picture of the front is available on the product info page provided by EdenFantasys but here is an image of the back of the box: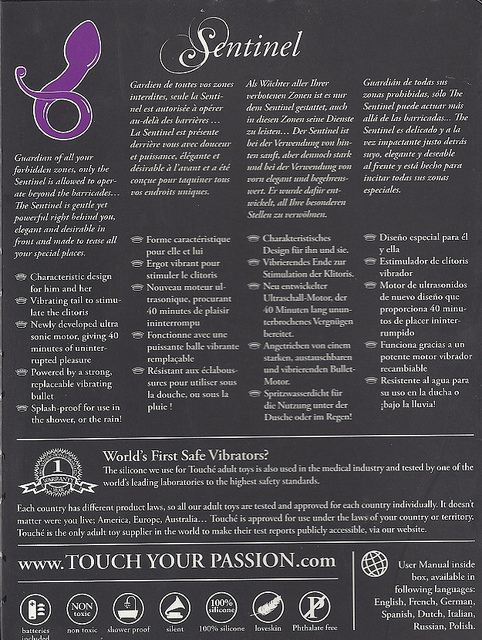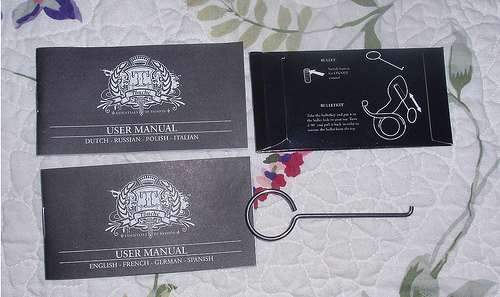 There is so much information - in multiple languages! Of all of the things this company may do wrong with the sentinel, the packaging and information is not one of them. There are also two booklets of the information to cover eight languages and then the key I mentioned earlier gets its own little envelope. And the box itself is very hard to part with because of how attractive it is, despite not being usable as a storage container at all (because the front of the box is completely open and you'd have to use the molded plastic insert as well).
Hygiene and Maintenance
Thankfully the care and feeding of your little sentinel is a cinch. But don't get me wrong, there are still rules to abide by.
First, the tiny micro-bullet is not, by any means, waterproof. So before cleaning, remove this from the sentinel. And if you have to clean it, use a Q-tip and little else.
Second, though you can use anything from antibacterial soap and water to toy cleaning spray or wipes, you can not use alcohol-based solutions. The instruction booklet the sentinel comes with highly emphasizes against this so just don't. And as this is a silicone polymer, I wouldn't try boiling it either. I'm not sure if anything bad would happen but it wouldn't be worth replacing the toy for me to try.
Along with the other warnings is one that says this shouldn't be used by pregnant or menstruating women. But I honestly think this is just a cover for the company against liability over that 1 in 10,000 case of something happening. Just know your body and make responsible choices (like cleaning your toys well). Another smart choice you should make when playing with your little sentinel is to only use water-based lubricants with it in order to prevent material deterioration.
So at ease, soldier! You may not be the most impressive infantry toy, but you make a fine sentry.
This product was provided free of charge to the reviewer. This review is in compliance with the FTC guidelines.

Thank you for viewing
Touche Sentinel
– egg vibrator review page!