They Give These Away?!
This bullet is high powered and my new best friend. I literally went from 0 to squirting just a few SECONDS after this bullet touched me on high. -Not for the faint of heart!-
Published:
Pros:
High vibration levels, rating of 8 out of 10, righty and lefty friendly, great "quickie" toy
Cons:
Not waterproof? Could cause numbness with prolonged use
Packaging & Toy
For $9.99 you get one heck of a bullet! It comes packaged in a little plastic bag with the manufacturer (EdenFantasys, also on the controller of the toy) and the name on the front, so it's not discreet and you probably wouldn't want to give this as a gift. Also, after you open the bag there's no closing it, so this isn't ideal for storage either. I store this with the rest of my toys in a large box, but you can store it in a panty drawer, bag, or anywhere else you find it fits and is safe.
In the battery compartment you find a slip of paper with instructions on how to install the batteries, even if you lose this slip of paper, there's a diagram pictured on the inside of the battery compartment. There are no other instructions included with this toy.
The remote's triangular shaped, making it very easy and comfortable to hold with the dial at your finger tips and the widest part in the palm of your hand. The bullet's also easy to hold, until lubed up, then it becomes slippery. You could avoid it completely slipping out of your hand by keeping part of the wire in in your palm and the toy in your fingertips.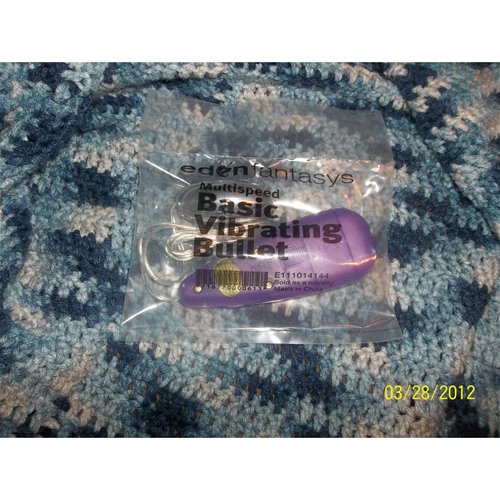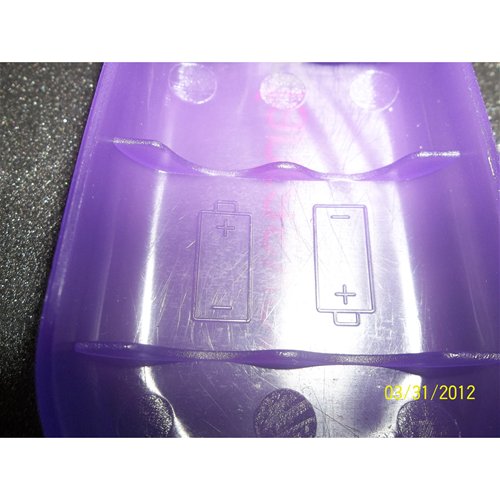 The bullet takes two AA batteries, which is amazing considering the punch this thing packs. The bullet's 2 inches in length and has a 1 inch diameter. The remote's 4 inches, and the cord's a little over 2 feet and 7 inches. It's controlled by a dial that's right-y and lefty friendly. There's a seam running along the middle of the bullet, but it can't be felt during use, and the overall texture of the toy's smooth. The cord's not meant to be detached from the controller or bullet. Despite looking cheaply made it seems like it's going to stay with us for a while, I'll let you know more on that in my follow up review.
Caring & Cleaning
It's not waterproof, so take care when cleaning. Since it's made of plastic you can clean it with antibacterial soap and water, your favorite toy cleaner, wipes, or wipe it down with isopropyl alcohol. It's electronic so you cannot boil it, stick it in the dish washer, or otherwise sterilize it, so even though it's non-porous you should take care and use a condom if you're sharing. Lucky for you, and anyone else who plans to use this bullet, it's phthalate-free. If you want to know more about phthalates, you can read up on it
here
. There's no noticeable smell or taste. And can also be used with any lube, but if you're vagina owner please note that oil based lubes are not vagina friendly.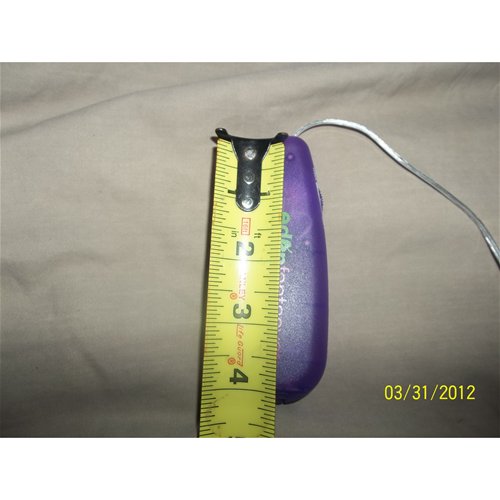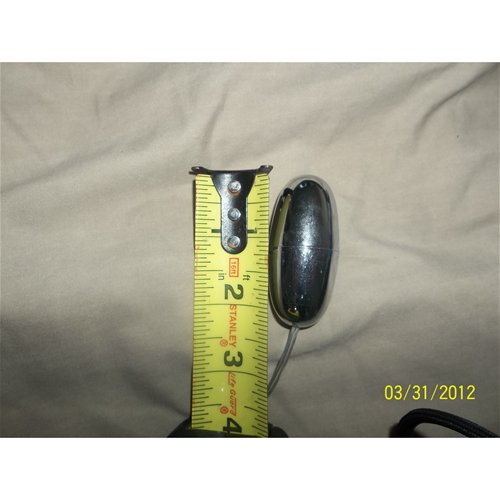 Use
It's small enough that if you took the batteries out this could easily be put in a pocket or purse and traveled with. As with most bullets this one's for clitoral stimulation, but can be used to tickle the outside of your vaginal opening or anus. This not meant for insertion, because if it goes in too far retrieval would depend on the cord and the cord's not meant to be tugged on. It can also be slipped into a stretchy cock ring, such as the
EdenFantasys vibrating ring
and be used that way, or you can tease your nipples with it. I have very tough nipples but this bullet had enough kick behind it to provide pleasing sensations when applied to mine. You can run this toy along the shaft of the penis or on the balls. My man likes to have his urethral opening and perineum teased with light vibrations, so this one's too strong for him (even on low).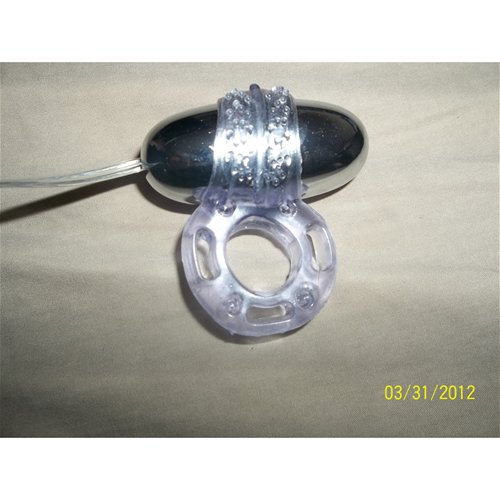 This bullet has the standard low, medium, and high vibrations, with no patterns. The lowest setting's rumbly rating at a 2.5-3 vroom with a 2 bee. The highest setting's kind of buzzy with a 4-4.5 vroom and a 3.5 bee. This may be too powerful for those new to the toy scene, but if you know that you're going to need strong vibrations, then this is the toy for you! If you live with someone you may want to skip over this one, or use it when your roommate's out or if you have a closed door between you and said roomate. It can be heard over a T.V but not behind a closed door. I rate it with halves because it's between the two described in the review guidelines, and I say 4.5 because this is the strongest toy I own (more on that later). Even though it does get kinda loud, it's well worth the vibration levels it supplies! May cause numbness with prolonged use on fingers and genitals.
Experience
Along with this I ordered some lingerie and my husbands first masterbator. After a long day of work he was surprised to find me at home wearing very little, waiting to play. We started with some light foreplay, tested out the masterbator, and being the gentleman he is, he was soon ready to return the favor. We put some batteries into my new bullet, played around with the settings, and got to it. After a mere few seconds (less than 45 seconds!) on high I had squirted twice! Not once, but twice, two times!! This was no surprise as we found out a while ago that I am a clitoral squirter, but what did surprise us was how I went from 0 to squirt! I was barely aroused and waiting for the warm up!! Ah. Maze. Ing. Toy.
Follow-up commentary
4 months after original review
My experience with wired bullets is limited to this one and the G-spot one I reviewed. This one has proved itself worthy, despite being cheap the wiring is still good and it still runs just as good as it did. I find that it's too bulky for regular use, but it does make an appearance more often then most of my vibrating toys. Still a good toy, I still recommend it.
This content is the opinion of the submitting contributor and is not endorsed by EdenFantasys.com

Thank you for viewing
Multispeed basic vibrating bullet
– sex toy review page!