They Just Keep Going and Going...
I found these N batteries by Energizer to be noticeable more powerful and longer lasting in comparison to cheap generic no name brand batteries that came free with bullet vibrators. While somewhat costly, it seems worth the cost for those extra minutes of play time. They are a great convenience to order, after all Eden Fantasy's is the sex shop you can trust!
Published:
Pros:
Noticeably better quality, Provided longer use of most products I used.
Cons:
Price, Only a 2 pack available.
Ah yes the lovely elusive N battery that can be quite difficult to find. Thankfully Eden Fantasy's gives us the convenience of supplying a 2 pack by Energizer for $4.99. While this is not the cheapest price, you can easily get sales and coupons or use this as an item to get you to the free shipping mark if you are short slightly. The N batteries are 1.5 volts and should not be confused with the similar sized
A23 Batteries
which are 12 volts. The N batteries are rather small which makes them minimal to store but can also be lost easier.
These batteries are designed more for higher-end electronic and digital devices to supply them with a high quality long lasting battery. These typically look just like your AA or AAA batteries on the market minus their reduced size. They still have a flat negative side with a nub on the positive side. They are about 1 1/8" tall and almost 1/2" wide so overall small and compact. These are indeed alkaline batteries; there is no mercury or other toxins of this nature inside. One difference between Energizer name brand vs. a lot of other cheap no name brands is the quality of the materials inside. Energizer batteries are designed to last longer and more efficiently in electronics by using higher refined materials that tend to last longer. Disposing of any battery in the trash is illegal in California, so I would recommend verifying for your city if you can throw out batteries in the trash. I personally throw out my alkaline batteries in the trash, but if you prefer, you can recycle batteries. The easiest way to find out is at this
offsite link
where you can locate places to recycle them.
There are a few applications for the N type of battery, assuming the product specifically uses these batteries you might find them in; small flashlights, wireless microphones, laser pointers, small desk clocks, door chimes, glucose meters and here at Eden Fantasy's, sex toys! Generally you will find these used in various vibrating bullets here on Eden Fantasy's for example---The
Intensity Bullet
and the
High Intensity Bullet
. But also some other types of sex toys come with vibrating bullets that also require N batteries. I have the High Intensity Bullet and 2 other toys that came with bullets that use the N battery. When I received them all, they came with N batteries that were basically the equivalent to a no name brand. Suffice to say they did not last long at all, however the energizer batteries lasted longer and more powerful.
If you don't generally use a sex toy often that requires these batteries, after use you should remove the battery from the toy. What tends to happen (for reasons I am unsure of) the battery will eventually leak out the contents inside. This happens not only in sex toys but many other products too. I have used energizer batteries in LED flashlights and after 6 months without use, a crystalline structure formed inside where the contents inside had leaked out. With that in mind, you should also always keep your batteries in a dry and cool place, no direct sunlight is recommended. I personally keep all my batteries of various sizes in an airtight plastic container. This keeps moisture out and prolongs the overall life of the battery.
There are always things to take into consideration when buying batteries. First, they work differently with every product they are used in conjunction with. Sure they give about the same power output, but certain devices are more demanding than others. So while you may have a collection of vibrating bullets, these batteries might work great in some, but die out fast in others. It can also boil down to the quality of the motor inside the toy itself, some are very efficient while others are power hogs. I do recommend you keep a few of these batteries on hand, you really wouldn't want to be on the verge of climax and the battery dies out on you without a replacement handy. Overall I do recommend higher end batteries such as energizer as I have personally found them more reliable in sex toys.
Finally, if you are looking to buy these in a local store, I generally see them at places like RadioShack, Camera shops, Electronic stores and usually in the electronics section of most department stores such as Wal-Mart and Target. The convenience of ordering them on Eden Fantasy's is a plus rather than trying to remember to pick them up at a store. The price of these is somewhat higher in range, you can feel free to compare to other online retailers, but I will always purchase them from Eden Fantasy's for the convenience and trust.
Experience
All in all I have found these batteries to be quite effective in powering my vibrating bullets I own. I have the
High Intensity Bullet
and other various bullets that came free with the purchase of various sex toys. Most of the bullets do take this N battery and all came with a generic battery installed. The generic batteries are utter crap to be frank. They do not last long and all the juice is sucked out of them incredibly fast. My hope was to spend the extra money to buy Energizer brand. I've never personally cared about what brand I buy, but as I become more aware of the advantages of higher end batteries in higher end products, I definitely try to get the better ones.
Because the generic batteries I received were a one-time use, I did not keep track of how long they lasted exactly. I can say it was not long at all. Using the Energizer N batteries I noticed many differences. First, the vibrations on various bullets seem more powerful and consistent and second, they last at least 50% longer than any other battery brand I have used. In my High Intensity Bullet I was able to get at least an extra 15 minutes of use out of it. Every minute of use counts in these types of toys whether you are a male or female.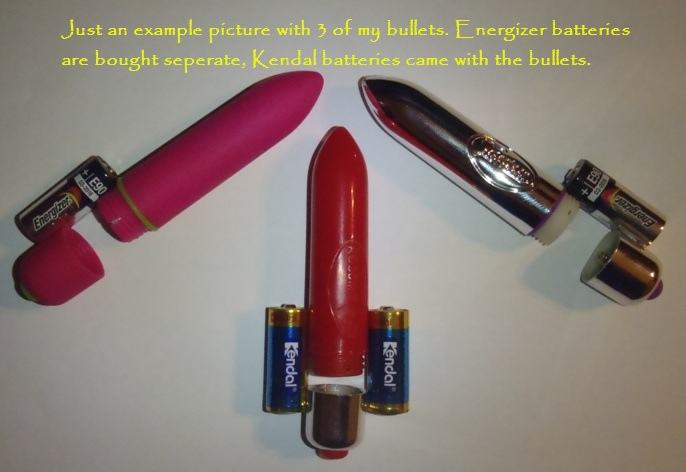 Follow-up commentary
1 day after original review
I have honestly used these batteries for years for various purposes, but more so since I have been on Eden Fantasy's. While this follow-up review will seem like I am writing it only after a day of owning them, the fact is I have been using these for many years now. Are these batteries going to be a 5 star product that is out of this world and give you a large wow factor? No of course not, they are just batteries. The important thing to remember with these is that they will usually last longer and that every minute and second counts. You might as well get the most out of your batteries and toys.
This content is the opinion of the submitting contributor and is not endorsed by EdenFantasys.com

Thank you for viewing
N batteries 2 pack
review page!