N(o) Complaints.
I have no real experience with N batteries, other than the one toy that I have (which I got these for), which came with a battery when I got it. So, I can't really compare these from a cost perspective, but I trust this brand to make batteries that last. The package is minimal and small, easy to store or carry with you.
Published:
Pros:
Small & convenient pack, two to a pack, reputable brand
Cons:
Could be a bit pricey?
I got these solely to replace the battery that came with my High Intensity Bullet. That toy actually came with a battery, thankfully, but I had never used a toy that took N batteries before that. I was surprised by how much I actually like the toy, and how much use it's been getting; of course, not wanting to get stuck having a favored toy with no batteries, I ordered these. I have ordered other batteries from Eden in the past, but these ones actually came in a package from the company that the batteries are from. All of the other batteries I have gotten on Eden in the past came in
a pretty much label-less, discreet package
. I kind of like that these came in a package that was clearly from Energizer, it matched the batteries and is what I would expect when buying batteries.
Personally, I have no idea where you find N batteries, or how much they cost; hence, why I ran straight to Eden once I realized how much I liked my latest bullet. Thankfully, Eden does carry N batteries, and this particular package is the only one, the only brand, currently available on Eden. I'm not sure that I've ever even seen N batteries even available in stores before, so I doubted that I would be able to just go pick up a pack once my bullet dies. I'm not even sure what sort of devices take this sort of battery, other than this one particular bullet. I don't know how common these are, but this is actually the first time I've needed them - and I've had plenty of bullets in the past (they all took watch batteries).
Because these are Energizer batteries, I am expecting them to last significantly long. I will be able to give detail on that in a follow-up review, but in the meantime I believe they will last a while. I now have two of the High Intensity bullets, so I am glad that these come in packs of two! Though, it would be nice if they came in greater numbers. Also, I am not sure of the pricing on these. I am able to get packs of any other kind of standard battery, even watch batteries, for $2 or less. But, given that I have never really seen this particular sort of battery (or maybe just wasn't looking for them ever), I can't really compare prices.
I like that the packaging of these is minimal, and small. I've even gotten packs of watch batteries before, and they were all bigger than this package! This is tiny, fits in the palm of your hand. You could easily slip it into a purse, backpack, storage case, or wherever you keep your toys or spare batteries. The packages didn't really have any info on it, though it did say that these are made in the USA.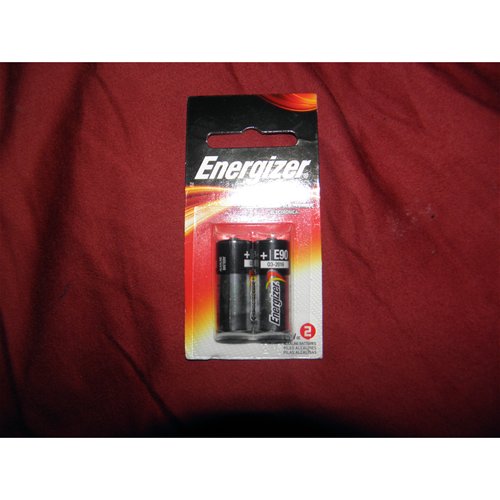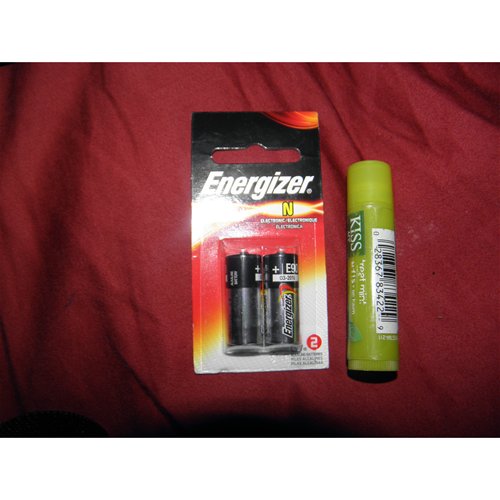 Here it is compared to the bullet, and the battery that came with the bullet. It is the same size and everything, the only difference is the actual labeling of the battery.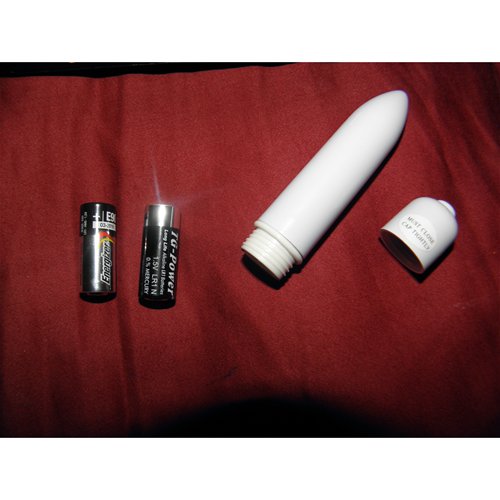 These work just fine, but I am expecting them to last a little while, as they are Energizer. Because they are such a well-known brand, you pretty much know what to expect of them when you get them.
Follow-up commentary
2 months after original review
These are okay, but I wish they came in packs of more than 2. They last long enough, but I'd like it if they lasted longer, especially given that $4.99 for 2 batteries seems kind of pricey to me.
This content is the opinion of the submitting contributor and is not endorsed by EdenFantasys.com

Thank you for viewing
N batteries 2 pack
review page!