This Stud Surprised Me
The G Power Stud is a powerful, girthy toy with a fantastic rumble. If you can overlook the material it's made of, and can handle its length and girth, I'm sure it will satisfy you. Exercise caution when you submerge the toy, to keep the waterproof seal working like new.
Published:
Pros:
Waterproof
Strong Rumble
Nice G Spot Hook
Cons:
Too Girthy for Some
Too Loud for Some
Possible Water Leak
The G Power Stud is a g-spot vibrator, as the name suggests. No doubt about it; it's a bigger toy. Not only is it plenty girthy, but it has the length to make an impact as well. Those new to penetrative toys, or who look for a slender toy should pass this fellow up. But, if you like a bit of girth and firmness to your toys, you love a deep rumble, and you can overlook the material this is made of, this guy might be your dream date.
The G Power Stud is marketed as a g-spot toy, but it can be used externally for clitoral stimulation as well. The rounded tip lets you direct the vibrations to a small area, without a pointy tip that may irritate you. As the vibrations are primarily felt in that g-spot hook, you can't rest the shaft against your clitoris and expect to get a lot of sensation that way. In this case, it's all about that hook. You can feel the vibrations in the handle, but not enough to bother me. I wouldn't recommend this toy for any sort of anal play, as it can't be sterilized and has no flared base. If you do use it to tease around the anal opening, be sure you use a condom.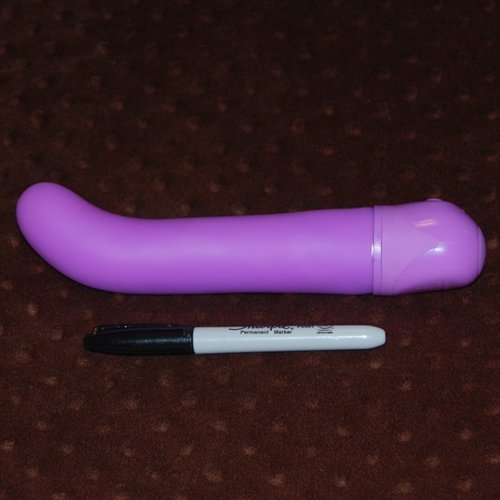 When you insert or thrust this toy, it makes its presence known. At 1 1/2" in diameter, this is not a skinny toy. The total length is 8 1/2", with 6 1/2" of insertable length. The base is short, so nearly all of the real estate of this toy is usable. The hook at the end is a nice curve, and the toy doesn't narrow as it curves, so you don't lose any girth or surface area. The G Power Stud does have quite a bit of length and it's rather firm, so use caution, and inform your partner to use caution, when you thrust the toy to avoid bruising your cervix. With no texture and a matte surface, there is only a slight amount of drag to this toy during use, but there is some. The surface isn't slick or shiny. The shaft of the toy is hollow except for the vibrator motor, so when you squeeze it you can feel the air trapped inside. It does have a bit of squish because of this, and feels like a firm thick balloon would feel.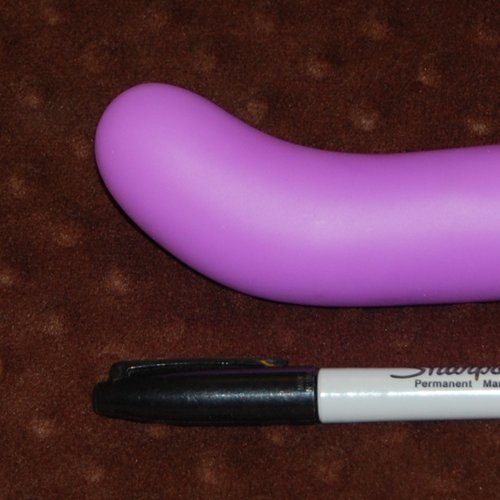 The G Power Stud is waterproof, and can be fully submerged, so it's up for all kinds of underwater adventures. It does make quite a bit of noise, and isn't a toy for those with roommates, as I think it could be heard over the radio or TV in most cases, even under a few blankets.
A single button controls the G Power Stud. Pressing the button once turns it to the low setting. Pressing it again changed it to the mid-level setting, and pressing it again changes it to the highest setting. A final press of the button turns the toy off. It couldn't be easier. No instructions were included with this toy, but none are necessary. It is controlled by 2 AAA batteries. The toy doesn't show you which way to insert the batteries, but trial and error will lead to your getting them in correctly.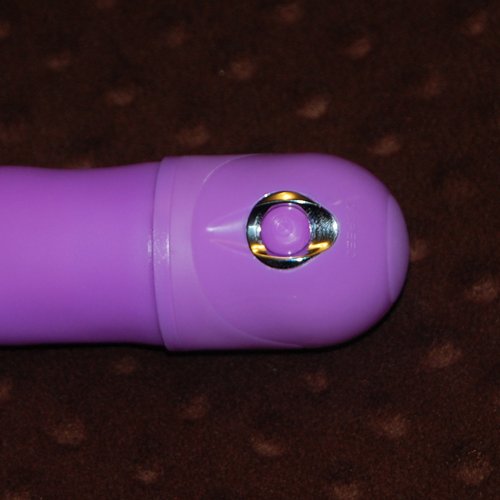 The G Power Stud is made of PVC, which is a porous material. If you intend to share this toy, please cover it with a condom. There is only a slight odor to the toy, and it all but vanished after its initial cleaning. It can be cleaned with soap and water or your favorite toy cleaner, but it can't be sterilized. PVC is compatible with any lube, so feel free to use water, silicone or oil based lubes with this toy. Storing the G Power Stud is easy; it can be stored in a drawer or your toy box. It doesn't tend to pick up lint or hair. It came packaged in a simple cardboard box with large lettering telling what the toy is, and was wrapped in a clear plastic bag inside of it. The box could be used to store the toy if you like, although it isn't very sturdy, it doesn't take up a lot more space than the toy itself. There is no way to lock the toy for travel, so if you intend to travel with the G Power Stud, be sure to remove the batteries.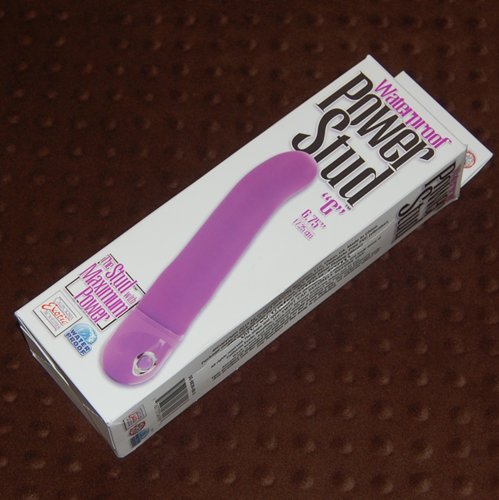 Experience
I was so pleasantly surprised by this toy! I didn't really think that a toy with this price point would amaze me, but this one did. The day it got to my house, I hopped in the bathtub, toy in hand. I did my usual round of testing to see if it worked underwater, cycling through the setting and assessing the toy overall, and then I got down to business.

I'm not a clitoral stimulation girl, and if I do choose to add some into my play it's almost always with my hand and not a toy. I tend to use vibrators for insertion or g-spot pressure only. I have to say I was surprised that I enjoy the power and feel of this vibrator for clitoral stimulation. The wide rounded head of the toy felt nice. I don't know if it was the fact that it's somewhere between broad and pinpoint stimulation, or if it has to do with the rumble, but I finished a few times with just external play. This is very odd for me, not because I can't have clitoral orgasms, as I have them all the time from hands or oral, but because I usually find toys either uncomfortable or ineffective in that department. My husband was shocked and thought I was kidding when I told him that I enjoyed it that way; at first he thought he didn't hear me right or I misspoke.

When I used the toy vaginally, I did find that it hit my g-spot nicely and felt very nice, filling me with a satisfying rumble of vibrations. Thrusting the toy felt nice as well, as the smooth shaft with that hook at the end massaged just where it needed to. The hollow shaft has just the right amount of give, a sort of "pillow of air" quality, to allow for some angles and positioning even though the toy is straight. It's a bit on the loud side, and probably best used in the bathroom when no one else is home, as the echo really helps the sound travel, but it has enough power to make the planning worth it. Each time I take this toy out I wish that it was made of silicone. I try to avoid PVC toys, but the design and rumble of this toy are so appealing, it's hard to resist.

After several trips to the tub with me, small bubbles now appear where the base meets the shaft while the toy is submerged, so I can only assume that a small amount of water is sneaking inside the toy. I have tried double checking the seal, and making sure it's screwed on correctly, but it appears the bubbles are coming from the factory seal between the PVC of the shaft and the base. It still functions the same as the first time I tried it, but in time the water may cause some permanent damage. I was rather rough with it while testing it, and did bend and flex it underwater to see how it held up, so it's possible that if you were more gentle with the toy this wouldn't happen.
Follow-up commentary
7 months after original review
Just as I was worried about, this one started to take on water and doesn't work the way it is supposed to anymore. It surprised me with its power and design, but the quality of the seal didn't stand the test of time.
This product was provided free of charge to the reviewer. This review is in compliance with the FTC guidelines.

Thank you for viewing
"G" power stud
– traditional vibrator review page!