Visualize your Fleshlight.
The VStroker by Digitech Media LLC adds a new level to your masturbation activities. Screw on the lightweight device onto any standard Fleshlight, download the free trial VStroker enabled video (other videos available), and control the action from blow job to climax. When you stroke your Fleshlight, the movement corresponds with the action on your screen, fast or slow. Different positions are offered for your viewing pleasure, and a number of stars are available as well.
Published:
Pros:
Adds visual interaction, downloadable content, keeps suction control.
Cons:
Requires movement, delayed control, requires subscription for new videos.
Use
So you have one of the top masturbators in the world. To many, the Fleshlight is the holy grail of sex toys for men, right?
Well, the folks over at Digitech Media LLC decided to take a good thing and make it even better, by adding a virtual aspect by way of an interactive device that screws on top of the Fleshlights. Once you have downloaded the VStroker enabled videos, you simply attach the device to your Fleshlight, plug the USB stick into a USB port on your computer, and turn it on. From there you control the scene and stroke it slow or fast; either way, your movements will mimic the action on screen. The free download gives you an intro clip and eight different views of the action, plus the "pop shot" for you to choose from.
Material / Texture
The VStroker is made from ABS plastic in a glossy black color. There are two pieces: one that attaches to the Fleshlight case, and one that houses the electronics. This is vital to cleaning, as the portion that houses the electronics is not waterproof. Furthermore, the attachment piece allows you to adjust the suction just like the standard cap of the Fleshlight.
Design / Shape / Size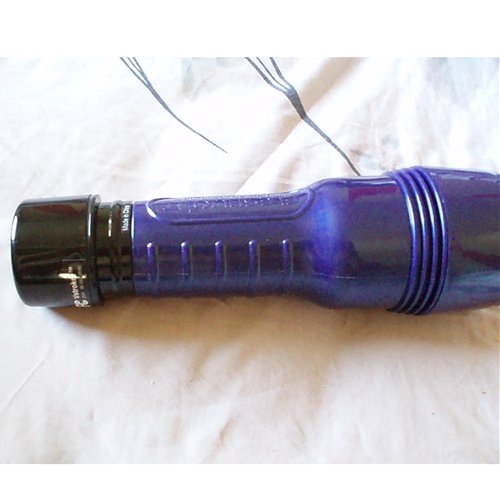 As you can see, the VStroker adds some length to your Fleshlight: about 2 1/2". It is pretty light, so most will not notice the extra weight.
The size will make it easy for travel in and of itself, but since you need a Fleshlight to go with it, you will have to plan around that. Now, if it helps, the VStroker does not HAVE to be attached for it to work. You can always just use it in one hand while your other hand is on your penis. By itself, the VStroker is pretty discreet, as not too many folks will have any idea what it could be.
Functions / Performance / Controls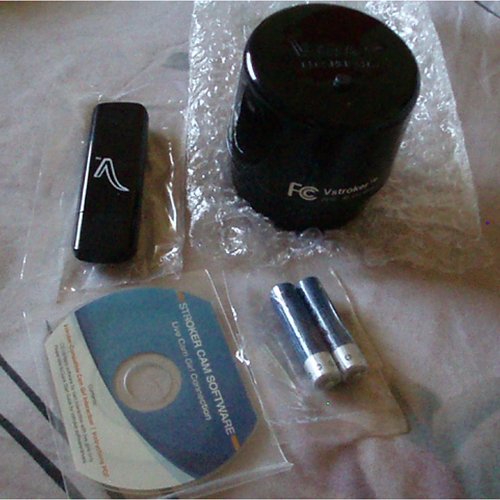 Everything you need to get started is included with your VStroker: the attachment piece, motion sensing device, wireless USB stick, program disk, and two AAA batteries.
Once you install the program you are given the option to give your email address: by doing this, you will receive updates for new content and special offers. Next, plug in the USB stick and let the driver install into your computer. Once the install is complete, there is a small button on top of the VStroker that you depress to turn it on and connect to the USB stick.
The instruction pamphlet gives you a web address that allows you to download your free VStroker enabled video: here you have the choice between a video of Victoria Ray or animated content. Once you download the content of your choice you simply have to 'Run' the program to start. I chose to download Victoria Ray.
Now, when the video starts you get an introduction to Victoria. This is similar to most porn that you may see and you can skip this if you want. There are eight different scenes offered with Victoria: two blow job positions, cowboy, reverse cowboy, Victoria on her back, doggie style, doggie style at the edge of the bed, and on her back at the edge of the bed.
The come shot has Victoria on her back, legs bent, with her hands holding her tits together as the guy/you come on her face and chest. This scene (and the intro) does not interact with the Vstroker, but you can click on it at anytime you wish for an instant pop shot.
With each of the eight interactive scenes there is a short intro as Victoria gets into position; the screen flashes, and you can then start the movements. I found there is a slight lag between my actions and the actions on screen, but nothing too bad. Slow movements are pretty close as far as my movements versus the screen. Fast movements are limited, though: it will go somewhat fast, but not as fast as I would have liked. Also, when you stop stroking, the scene changes to Victoria asking why you stopped or asking you to "Give it to me"; while a bit annoying, the scene does revert back once you start moving again.
All the video content is controlled by a tool bar at the bottom of the screen.

During the intros you can fast forward or rewind and pause. You have an option to adjust the sensitivity as well. Volume, full screen and instructions are available, as well as an option to minimize the tool bar and screen. During the interactive time there is a blue bar in the center of the tool bar that shows your speed.
Care and Maintenance
Care is just like the Fleshlight itself - rinse the attachment piece with warm water; you can also use soap and water if needed. One thing to remember is that the top portion is not waterproof, so take it off before cleaning.
Anther thing to keep in mind is that when you are done using the VStroker you have to turn it off as it does not turn off on its own. I forgot and it drained the battery even though it was just sitting in my toy box.
Packaging
Packaging is pretty minimal - you get a small box with everything packaged securely inside.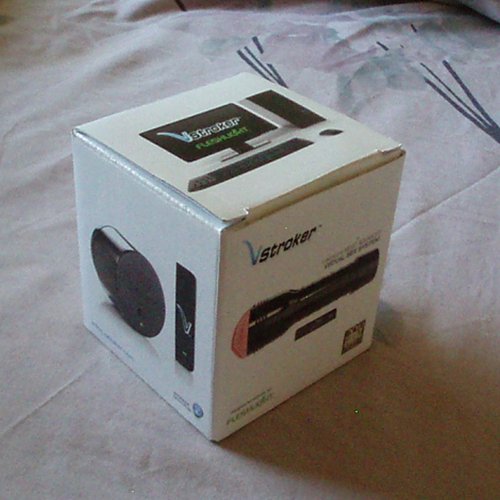 The box can be used for storage, or it can be stored any where you wish.
Personal comments
VStroker.com is where you go to get new videos to download. Currently there are thirteen videos offered, with stars such as Misty Stone and Asa Akira. Animated content includes games at Virtual Sex Villa and the virtual world of Utherverse.
So far only hetero content is offered, with only women being offered. I imagine that once the popularity of the VStroker grows there will be gay content offered as well.
You get a seven day free trial that gives you access to the Members area, allowing you to customize your video library. Once the free trial is over there is a membership fee of $29.95 for thirty days, then the same charge is automatically charged every month to your credit card. Videos range from $5.95 to $9.95 and are available for Mac or PC. One nice part is that the videos are downloaded directly to your computer, so once you buy them they are yours forever.
Experience
Overall I am pretty happy with the whole package offered with the VStroker. Since you download the videos to the computer, there is no need to connect to the internet to use it: a big plus over other virtual toys offered right now. I love the idea of my movements correlating to the movements on the screen: it really adds to the visual stimulation during my masturbation time.
My only real complaint is that the VStroker requires it to move to work right. You HAVE to stroke the Fleshlight, so you can't place it in between couch cushions or in a Fleshlight holder such as the Fleshlight Motion Dog Days. Sure, if you are pounding the hell out of it you will get
some
movement, but that is pretty limited. I was hoping that the action would be activated by the pressure differential caused by the penis going in and out, sort of suction related. I guess this kind of feature would be pretty hard to design and still keep the electronics safe from lube and fluids during use.
This product was provided free of charge to the reviewer. This review is in compliance with the FTC guidelines.

Thank you for viewing
Vstroker
– masturbator accessory review page!