Vroom...Vroom..Eh, whatever.
The vroom is an okay vibrator. It is not something that i would brag about. The vibrations are strong and can be used in the bathtub and shower. I would not recommend this item for a beginner. The vibration are a bit loud and may not be suitable for shared living.
Published:
Pros:
Multiple settings, Light indicators, Strong Vibrations, Loud
Cons:
Runs on C batteries, Texture, Size
I've never felt so awkward. That is what comes to mind when I think of the vroom royal. I do not know what the heck is wrong with me. I keep picking overly large toys, like I've lost my mind. I think maybe in my mind I connect large size with big boom power! Sometimes I'm right but sometimes I'm not. With the royal zoom, I was a bit of both. It is a powerful toy, but the size is just too much. I wish it was smaller but still packed the same punch.
The royal vroom comes in the average run of the mill plastic casing, with a paper insert. You can keep the insert or trash it. I kept mine. I like keeping things together. The package opens up as if it was a book, and it is totally reusable, which is perfect if you do not have any place to store your toy. The packaging is totally clear; you can see the toy in full. Which depending on who you are giving to and when. Those factors determine if it is good, for a gift. If you are giving it to a friend, then it should be perfect, for gift giving. The paper insert does have some information on it, such as how easy it is to use the toy, the coated texture, and information on how many functions.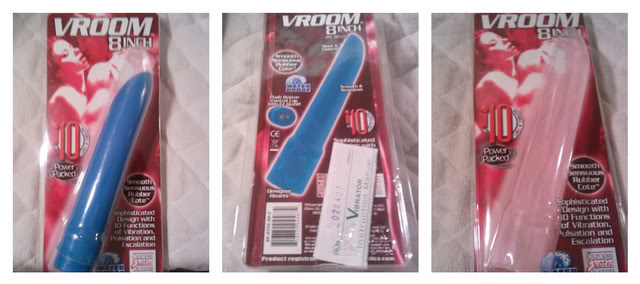 The royal vroom is not the most discreet vibrator. It comes in bright colors. It has the oddest shape. The royal vroom is made up of rubber, which kind of surprised me. When looking at it on the product page, it looks as if it was plastic. With the royal vroom being made of rubber, you can only use it with water and silicone lubricant. The texture of the vroom is somewhat of a velvet feeling. It is listed as a velvety texture. It feels like painted velvet if that makes any sense. When you run your fingers across it, your fingers just do not glide over it. You may have to apply extra lubricant when playing with this toy.
The shape of the vroom is in the traditional form, with an angled tipped end. The whole vibrator comes to a point. This can be a problem for some people, but it makes it perfect for clitoral pin point stimulation. The end is tapered, and smooth. This can be a problem for someone who likes to thrust; this may not be the best thrusting toy. The point of the end could cause you to hit your cervix or cause some unwanted bruising. You could use this anally when with a partner, I would not recommend using this solo because the toy is not long enough. I personally did not even attempt to use it anally because I was worried about the pointed end. Some people may not see that as a problem, if you feel it is safe enough to use anally I say go for it. The length of the vroom is Length: 8" Insertable length: 6 1/2" Circumference: 4" Diameter: 1 1/4.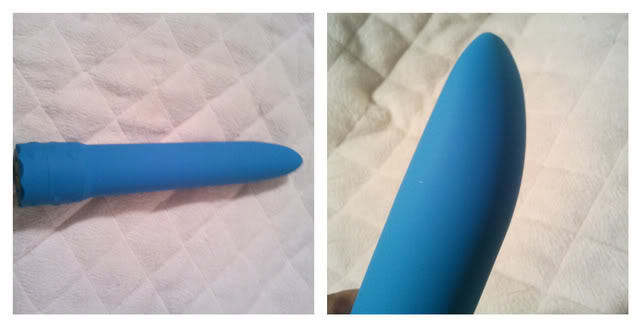 Experience
Continued...
When using it anally, you should use it with a condom. Rubber is not the safest of the materials. Even if it was the safest I would still recommend using it with a condom. Especially when sharing this toy, I would never recommend this toy between both openings without cleaning it, or using a condom. You do not want to bring what is in your butt, to inside of your vagina. That would not be a very pleasant mix. The vroom is fully waterproof, so you can take it into the bathtub or shower. When cleaning you can fully submerge it if you like, or you can just clean it with your favorite toy cleaner.
The vroom runs on two C sized batteries. The zoom luckily is not a battery killer. One sit of batteries could last me about 3 weeks on high settings, used about 20mins four times a week. It is operated by two buttons. The buttons are in halves. I've never seen a toy with buttons like this. One button is the on/off the other is a "next" button that takes you to the next setting. It also has a picture with a batter that has an X through it. That lets you know it is time to change the batteries. The vroom also has 10 different setting of vibrations, 6 of them are pattern vibrations. The vibrations are kind of loud, and you could hear it through a closed door. When using in the bathtub, the intensity of the vibrations does not change. The sound does become a little muffled. My favorite part of the toy is the handle. It is very girly. The handle has a bunch of harts surrounding it. The heart texture of the handle makes is perfect when holding on to it. You will not easily lose your grip. They are a little raised, but not to the point where it is uncomfortable.

This content is the opinion of the submitting contributor and is not endorsed by EdenFantasys.com

Forum
| Discussion | Posts | Last Update |
| --- | --- | --- |
| holding | 3 | |
Thank you for viewing
Vroom royal
– traditional vibrator review page!